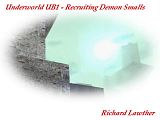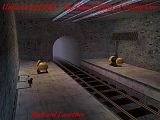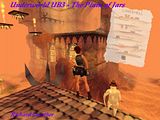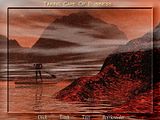 After I had succeeded meanhwile to play through the complete Underworld series of this ingenious level designer, inclusive the prequel "The Lizard King", and the Sequels "Heath Robinson Solutions", I would like to sum up some facts at this point once again, after my level reports. And I want to say "thank you", for the longest, most interesting and exciting series, which I have ever played in the section of Customlevels. It is more than impressive, what Richard Lawther has achieved here, the fantastic worlds, which he created, great stories with unusual turnarounds, marvellous characters next to Lara, and not to speak of all the further details, if textures, objects, or whatever. Graphics and sound at the highest stage, what could a fan like me still want more?
I want to show all this once in details. Therefore here first all my statistics, which I have worked hard for throughout so many hours and days, and on which I am so proud as nothing else, what I could ever achieve in playing Customlevels...
Prequel - The Lizard King: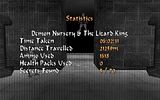 Part 1 - Underworld UB 1: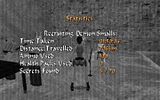 Part 2 - Underworld UB 2:
Part 3 - Underworld UB 3: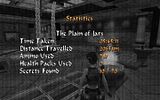 Part 4 - Underworld UB 4: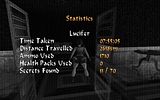 Sequel - Heath Robinson Solutions:
The efforts have been worth my while. By hard work I could achieve the following, in more than
60 hours
gaming duration, if I summarize the complete series once. This is more than quite the most full-prize games in trade do offer:
- all tasks solved on my own, without foreign savegames
- no cheat used at all
- 40 secrets found
- only one medipack used throughout the whole series
- all special medals won: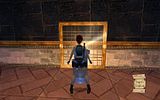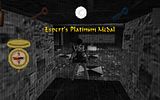 Annotation: in "Heath Robinson Solutions" the medal there actually should be a secret, as I understand it. Why it doesn't appear in my statistic, I don't understand, how above can be seen on the picture I have achieved this medal. And with this one it actually should be 41 secrets altogether...
I think, this is quite a complete statistic to really be proud on, and my ambition and motivation have never been higher than here, though of a lot of hardest tasks. This is what Richard has achieved with his unique levels and wonderful atmospheres, and this is my little thank-you at him therefore. This and my level reports - and the fact that the whole series now is also integrated into my adventure diary.
What a pity it is the end now. It is hard to say farewell to the Underworld, because this was an indescribable journey through great worlds and dimensions, which never will be forgotten again for sure. And in the end then my thank-you for Richard Lawther - and for Titak, who contributed at part 3 and 4, and also Trix and Bojrkraider, who contributed at part 4. This series now clearly is my favourite one...
---