Introduction/Einführung/Introduzione:
English:
After succeeding with this level, and yet while playing, it was whole clear to me I had to write a level report about it. Because this is a so much unusual level, as I did not encounter it twice so far. This is no exaggeration at all, and reading this report you will understand why. And why this is one of my favourite levels now.
So, interested in some unusual action and even more horror? And you also owe good, very good, nerves?
Then go on reading here. Really learn about a whole unusual game, and why two hobby level designers succeeded in a challenge, where official game developers fail time and again. To adapt official movies to good game versions.
And how successful they have been! Only view the official review, on all sites beyond 9. An earned success…
Deutsch:
Nachdem ich mit diesem Level erfolgreich war, und schon während dem spielen, war es für mich ganz klar, daß ich einen Levelbericht darüber schreiben mußte. Weil das ein so sehr ungewöhnlicher Level ist, wie er mir bisher kein zweites mal begegnet ist. Das ist absolut keine Übertreibung, und wenn ihr diesen Bericht lest werdet ihr verstehen warum. Und warum dies nun einer meiner Lieblingslevels ist.
Also, seid ihr an einiger ungewöhnlicher Action und sogar noch mehr Horror interessiert? Und ihr habt auch gute, sehr gute Nerven?
Dann lest hier weiter. Erfahrt tatsächlich über ein ganz ungewöhnliches Spiel, und warum zwei Hobby Levelbauer in einer Herausforderung erfolgreich waren, wo offizielle Spieleentwickler ein ums andere mal scheitern. Nämlich offizielle Filme zu guten Spielversionen zu adaptieren.
Und wie erfolgreich sie gewesen sind! Schaut euch nur die offiziellen Reviews an, auf allen Seiten jenseits der 9. Ein verdienter Erfolg...
Screenshots/Bilder/Galleria: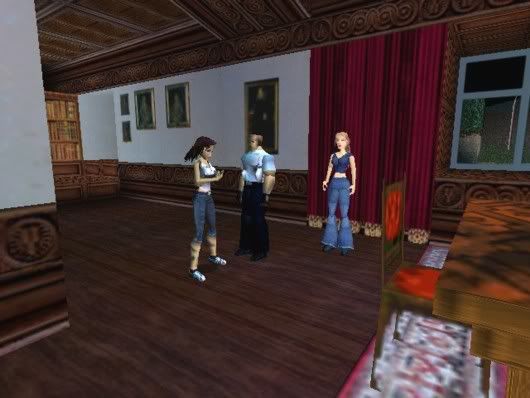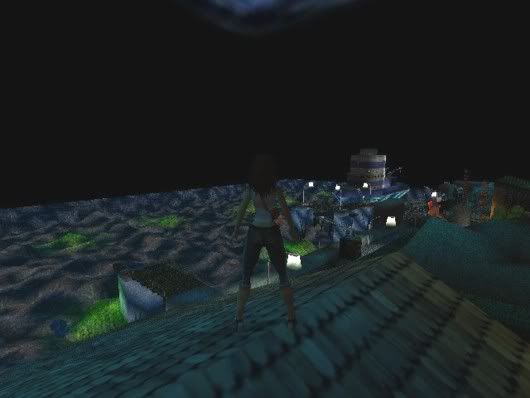 Level Designer/Levelbauer/Autore:
Clara/Germany/Deutschland/Germania
Hochgiftig/Germany/Deutschland/Germania

Author Information/Levelbauer Information/Informazioni sull'autore:
English:
Clara
Clara actually is a still newer name in the level editing community, as she first started with her debut project in 2005. And though I am whole sure her name is well known everywhere meanwhile, because all of her so far levels have been great and also partially unusual, where we could learn about her talent very soon. She also had two very big team work successes, with "Ice Age 2", where she worked together with Hochgiftig and masha, and now "I know what you did…", where she cooperated with Hochgiftig again. Her so far greatest success was another team project with masha, "I am Legend" - and another movie adaptation of the amazing kind. And another "must-play" level!
Also her solo levels also were successful, and we can already be very curious about her future projects.
Hochgiftig
Hochgiftig works with the TR Editor since 2003 yet. At the beginning still with less success, at least as the official ratings show, he became better and better, reaching the so far height with the two team projects "Ice Age 2" and "I know what you did…".
For his so far last projects Hochgiftig only worked in team projects, for example in the Levelbase Advent Calendary. And we could see his talent for level designing again and again. But since 2007 we sadly did not get anything again from him again. I am very sure we could still expect much from this author, and I can only hope, that he will stay within the community and level building as well as Clara.
Deutsch
Clara
Clara ist ja eigentlich ein immer noch neuerer Name in der Levelbau Community, da sie mit ihrem Debütprojekt erst 2005 begonnen hat. Und dennoch bin ich mir ganz sicher, daß ihr Name mittlerweile überall bekannt ist, weil alle ihre bisherigen Levels großartig und teilweise auch ungewöhnlich waren, wo wir sehr schnell ihr Talent erkennen konnten. Sie hatte außerdem zwei sehr große Teamwork Erfolge, mit "Ice Age 2", wo sie mit Hochgiftig und masha zusammenarbeitete, und dann mit "I know what you did…", wo sie wiederum mit Hochgiftig kooperierte. Ihr bisher größter Erfolg war ein weiteres Teamprojekt mit masha, "I am Legend" - und eine weitere Filmadaption der erstaunlichen Art. Ein Level der Sorte "muß-gespielt-werden"!
Auch ihre Sololevels waren erfolgreich, und wir dürfen schon sehr gespannt auf ihre zukünftigen Projekte sein.
Hochgiftig
Hochgiftig arbeitet seit 2003 mit dem Editor. Am Anfang zunächst noch mit geringem Erfolg, wie die Bewertungen zeigen, wurde er besser und besser, um den Höhepunkt mit den beiden Teamprojekten "Ice Age 2" und "I know what you did…" zu erreichen.
Für seine bisher letzten Projekte arbeitete Hochgiftig nur in Teamprojekten, zum Beispiel im Levelbase Adventskalender. Und wir konnten sein Talent für den Levelbau immer wieder sehen. Aber seit 2007 bekamen wir leider nichts mehr von ihm. Ich bin mir sicher, daß wir noch viel mehr von diesem Levelbauer erwarten könnten, und ich hoffe, daß er der Community genau wie Clara erhalten bleibt.
Author Interview/Interview mit Levelbauer/Intervista Autore:
trle.net (Clara/English)
Story/Storia:
English:
One night Lara wakes up in a movie theatre. The film has been over for a long time, the theatre seems to be deserted and Lara has no idea how to get out of the building seeing that the entrance is locked. So she tries to find a way to solve this problem. But having overslept the film proves her undoing...
Hint: This game is nothing for weak nerves!!!
Deutsch:
Lara wacht nachts in einem Kinosaal auf. Der Film ist längst zu Ende, das Kino scheint wie ausgestorben und Lara weiß nicht, wie sie hinauskommen soll, denn alle Ausgänge sind verschlossen. Also macht sie sich auf die Suche um das Problem zu lösen. Doch daß sie den Film verschlafen hat, wird ihr noch zum Verhängnis...
Hinweis: Dieses Spiel ist nichts für schwache Nerven!!!
Italiano:
Una notte Lara si sveglia in un cinema; il film è finito da molto tempo, la sala sembra essere deserta e Lara non ha idea di come uscire dall'edificio, visto che l'ingresso è chiuso.. così prova a cercare una soluzione al suo problema...
Gli autori sconsigliano questo gioco a persone deboli di nervi!!!
Levels/Livelli:
Level 1: The Movie Theatre
Level 2: The Movie
Secrets/Segreti:
4
Walkthrough/Soluzione:
Walkthrough
Release Date/Veröffentlichungsdatum/Data di Rilascio:
Aspidetr.com: 27.10.2007
trle.net: 27.10.2007
Larasevelbase.org: 27.10.2007
Download:
Larasevelbase.org
trle.net
Aspidetr.com
Official/Offizielle/Ufficiale Reviews:
Deutsch
English
Italiano
Size/Größe/Dimensione:
76 MB
Game Period/Spieldauer/Durata D'ascolto:
about/circa 2 - 3 Hours/Stunden/Ore
Levelindex for Clara/Levelindex für Clara /Livello Indice per Clara:
(Download page/Download Seite/Download Pagina)
Larasevelbase.org
trle.net
Aspidetr.com
Levelindex for Hochgiftig/Levelindex für Hochgiftig /Livello Indice per Hochgiftig:
(Download page/Download Seite/Download Pagina)
Larasevelbase.org
trle.net
Aspidetr.com
Degree of Difficulty/Schwierigkeitsgrad/Grado di Difficoltà:
(Easy/normal/difficult - Einfach/normal/schwer - Semplice/normale/difficile)
normal/normal/normale - difficult/schwer/difficile
English:
This is an unusual level. And this is the first I have to tell you, before talking about the possible difficulties. You will understand it all with further reading about the game details. But all in all we can see how such an unusual level really works great for Tomb Raider, if players are able to go through whole new experiences.
Well, actually I would classify this level as a "normal" one. But there are a few places with challenges beyond a normal limit, and this is where beginners or untrained players will have big problems then. I am talking for tasks as the jumps beyond a deadly ground, for example, where the safe floor tiles change within seconds and you have no time for mistakes. This was also the hardest part of the whole game to me, where I needed much trying before succeeding.
Also there are timed tasks. For example in the library (cinema part), or the double timed route in the movie, with running and jumping, to reach a high above ground. Those challenges will certainly overcharge not trained players – but if they have enough patience and won't be frustrated so easily, then they can try, of course.
Deutsch:
Das ist ein ungewöhnlicher Level. Und das ist auch das erste, was ich euch sagen muß, bevor ich über die möglichen Schwierigkeiten im Spiel spreche. Ihr werdet es alles verstehen, wenn ihr in den Spieldetails weiterlest. Aber alles in allem können wir sehen, wie ein ungewöhnlicher Level großartig für Tomb Raider funktioniert, wenn die Spieler in der Lage sind durch ganz neue Erfahrungen zu gehen.
Nun, eigentlich würde ich diesen Level als einen "normalen" klassifizieren. Aber es gibt einige Stellen mit Herausforderungen jenseits eines normalen Limits, und das ist es, wo Anfänger oder ungeübte Spieler große Probleme haben werden. Ich spreche über Aufgaben wie die Sprünge über einen tödlichen Boden, als Beispiel, wo die sicheren Platten in Sekunden wechseln und man keine Zeit für Fehler hat. Das war auch der härteste Teil des ganzen Spiels für mich, wo ich viele Versuche gebraucht habe, bevor ich erfolgreich gewesen bin.
Genauso die Zeitaufgaben. Zum Beispiel in der Bibliothek (Kino Teil), oder die doppelt getimte Strecke im Film, wo man rennt und springt, um eine höhere Ebene zu erreichen. Diese Herausforderungen werden ungeübte Spieler zweifellos überfordern – aber wenn sie genug Geduld besitzen und nicht so leicht frustriert werden können, dann dürfen sie es natürlich gerne trotzdem versuchen.
Detailed/detailliert/preciso:
Puzzles/Rätsel/Enigmi:
English:
The puzzles in this level are multifaceted. Beginning with the four well hidden secrets, over the needed items as keys and more, you will have to find, to the classical puzzles as with movable objects, you can find all elements you know from Tomb Raider Customlevels. But there is more, much more besides that.
So, what about a puzzle with movable crates, if a bad guy is in the area who wants to kill our Lara, who is even defenceless? Well, always keep your eyes open and think about how to do things in the right time would be a good advice. Or what about a big puzzle with two movable crates, which have to get at their right positions, but the problem is there are three floors in this area? Or how would you reach a needed item within a deadly floor? Could there be a possibility to make the ground safe in any way? And if you need a key, lying under a burning wagon, how could you reach it?
Those and more are the puzzles this unusual level will challenge you with, and all of this was a really great and unique experience to me.
Annotation:
If you are interested in collecting all secrets, you have to get the two of the cinema level within your first visit there. It won't be able to get them with returning from the movie part, because the ways are blocked then.
Deutsch:
Die Rätsel in diesem Level sind vielfältiger Natur. Beginnend mit den gut versteckten Secrets, über die benötigten Gegenstände wie Schlüssel und mehr, die ihr finden müßt, zu klassischen Rätseln wie mit verschiebbaren Objekten, könnt ihr alle Elemente finden, die ihr aus Tomb Raider Customlevels kennt. Aber daneben gibt es noch mehr, viel mehr.
Also, wie steht es mit einem Rätsel mit verschiebbaren Kisten, wenn sich ein Bösewicht im Gebiet aufhält, der unsere Lara töten möchte, die noch dazu wehrlos ist? Nun, handelt immer mit offenen Augen und denkt daran die Dinge zur richtigen Zeit zu machen, das wäre ein guter Rat. Oder wie ist es mit einem großen Rätsel um zwei verschiebbare Blöcke, die auf ihre richtigen Positionen müssen, aber das Problem ist, es gibt drei Ebenen in diesem Gebiet? Oder wie würdet ihr einen benötigten Gegenstand erreichen, der von einem tödlichen Boden umgeben ist? Könnte da eine Möglichkeit sein den Boden irgendwie sicher zu machen? Und wenn ihr einen Schlüssel braucht, der unter einer brennenden Lore liegt, wie könntet ihr ihn erreichen?
Das und mehr sind die Rätsel, mit denen euch dieser ungewöhnliche Level herausfordert. Und all das war eine tolle und einmalige Erfahrung für mich.
Anmerkung:
Wenn ihr daran interessiert seid alle Secrets zu sammeln, dann müßt ihr die beiden ersten des Kinoteils bei eurem ersten Besuch dort bekommen. Es wird nicht möglich sein sie nach eurer Rückkehr aus dem Filmteil zu erhalten, weil dann die Wege blockiert sind.
Traps/Fallen/Trappole:
English:
Of course you will also find traps in this level, as with deadly floor tiles or fire. But those are not the hard parts of the level, except if the way you have to go is also timed, as mentioned before.
The most difficult task for me in this level, besides the double timerun in the movie part, was near the end, with reaching the room with a floor traversed by energy. There are safe tiles, but they are always in motion, changing positions in a particular rhythm. You have to somehow cross this room with jumping on a safe block in the end – the problem is, the way is not only a straight stretch.
Well, I had to spend much time with this challenge, and saving after every successful jump was the only way to reach my destination here. And this task was enough yet for classifying this level as between normal and hard, for I know a lot of players won't be able to succeed here without a foreign savegame…
Deutsch:
Natürlich werdet ihr auch Fallen in diesem Level finden, wie mit tödlichen Bodenplatten oder Feuer. Aber das sind nicht die schweren Teile in diesem Level, außer, wenn der Weg, den ihr gehen müßt, auch noch getimt ist, wie schon zuvor erwähnt.
Die schwierigste Aufgabe für mich in diesem Level war, neben dem Doppeltimerun im Filmteil, nahe dem Ende, mit dem Erreichen des Raumes, der einen Energiedurchzogenen Boden enthält. Es gibt sichere Bodenplatten, aber sie sind immer in Bewegung, die Positionen in bestimmtem Rhythmus wechselnd. Ihr müßt diesen Raum irgendwie durchqueren, um am Ende auf einen sicheren Block zu springen – das Problem dabei ist, der Weg ist nicht nur eine gerade Strecke.
Nun, ich mußte einige Zeit mit dieser Herausforderung verbringen, und das abspeichern nach jedem erfolgreichen Sprung war meine einzige Möglichkeit mein Ziel hier zu erreichen. Und diese Aufgabe war bereits genug, um diesen Level als zwischen normal und hart zu klassifizieren, weil ich weiß, daß eine Menge Spieler hier nicht ohne fremdes Savegame erfolgreich sein werden…
Enemies/Gegner/Nemici:
English:
This is the most unusual part of the game. You will not encounter a lot of enemies here, but it won't be easy to survive them though.
In the cinema part you will have to face beetles, which can't be killed, so your only chance is to find a way of getting rid of them.
In the movie part you will encounter a deadly…, no, I won't reveal this yet, for not taking away the surprise. But also here you must find a way to survive without any weapons, for Lara has none.
The main enemy in this game however is the black man, also immortal, and hunting Lara throughout the whole game. He moves slow, so your best chance is running away – but also this is a problem sometimes. So for example in narrow corridors, or in a slow-motion part – a whole new and great experience! This enemy is a big challenge, especially for your nerves, for Lara can not defend herself. And with the atmosphere of continuously suspense during the whole game you will soon understand what I mean.
So, don't feel safe at any time, always keep your eyes open and be prepared for the black man. And if you don't have strong nerves or are easily scared, then you perhaps should better look for something else. Because there will be a lot of deep shock effects – at least definitely not suitable for children…
Deutsch:
Das ist der ungewöhnlichste Teil dieses Spiels. Ihr werdet hier nicht vielen Gegnern begegnen, aber es wird dennoch nicht einfach werden zu überleben.
Im Kino Abschnitt werdet ihr euch Käfern stellen müssen, die nicht getötet werden können, weshalb euer einziger Weg ist eine Möglichkeit zu finden, um sie loszuwerden.
Im Film Abschnitt werdet ihr einem tödlichen..., nein, das verrate ich hier noch nicht, um die Überraschung nicht zu nehmen. Aber auch hier müßt ihr einen Weg finden, um ohne Waffen zu überleben, weil Lara keine dabei hat.
Der Hauptgegner indessen ist der schwarze Mann, ebenfalls unsterblich, der Lara quer durch das ganze Spiel jagt. Er bewegt sich langsam, weshalb eure beste Chance ist davonzulaufen – aber auch das ist manchmal ein Problem. So zum Beispiel in engen Korridoren, oder in einem Zeitlupenabschnitt – eine ganz neue und großartige Erfahrung! Dieser Gegner ist eine große Herausforderung, ganz speziell für eure Nerven, weil sich Lara nicht verteidigen kann. Und mit der Atmosphäre von dauerhafter Spannung während des ganzen Spiels werdet ihr bald verstehen, was ich meine.
Deshalb, fühlt euch zu keiner Zeit sicher, haltet eure Augen immer offen und seid bereit für den schwarzen Mann. Und wenn ihr keine guten Nerven besitzt oder leicht schreckhaft seid, dann solltet ihr euch vielleicht lieber nach etwas anderem umschauen. Denn hier wird es eine Menge tiefer Schockeffekte geben – zumindest absolut nicht für Kinder geeignet...
Sound-Music/Sound-Musik/Musiche:
English:
This level contains the original music and sound effects of the movie, the game depends on, "I still know what you did last Summer". And this is a great experience, for we not only listen to short tracks, but have those changing music tracks all over the game. So the suspense never ends until reaching the end of the level – wonderful! Also there are included parts of dialogue in the game, taken from the original movie, and you can choose between the German or English version. Those cut scenes continue the story, and all those elements work very well, to make this level a very unusual experience. You have to experience this thrill for yourself to understand what I am talking about.
Deutsch:
Dieser Level beinhaltet die original Musik und Soundeffekte aus dem Film, der dem Spiel zugrunde liegt, "Ich weiß noch, was du letzten Sommer getan hast". Und das ist ein tolles Erlebnis, weil wir nicht nur kurze Musikstücke hören, sondern die wechselnden Stücke während des ganzen Spiels erleben. So endet die Spannung niemals, bis man das Levelende erreicht – wunderbar! Und es sind auch Teile von Dialogen enthalten, entnommen aus dem original Film, , wo ihr zwischen der deutschen und der englischen Version wählen könnt. Diese Cutszenen setzen die Geschichte fort, und all diese Elemente arbeiten sehr gut, um diesen Level zu einem sehr ungewöhnlichen Erlebnis zu machen. Ihr müßt diesen Nervenkitzel selbst erleben, um zu verstehen, wovon ich spreche.
Graphics/Grafik/Grafica:
English:
The authors have given us a great project, in every way. And I expected nothing less. No matter if textures, lighting or objects, all elements are great, and there will also be new things to discover.
Of course this is also a darker level, playing at night, but this is intentionally. And it supports the atmosphere very well. Anyway it's never too dark, I don't needed flares for finding my ways. And if the black man isn't too close at hand, well, take the time and have a closer look around in the areas. You will certainly be surprised about the fantastic world the authors created – and the effect will even be better if you know the original movie this level basing on. But also if you don't know it, no matter. This will be a great experience at all events, as I can assure you.
Deutsch:
Die Levelbauer haben uns ein großartiges Projekt gegeben, in jeder Weise. Und ich habe nicht weniger erwartet. Ganz gleich ob Texturen, Beleuchtung oder Objekte, alle Elemente sind toll geworden, und ihr werdet auch Neues entdecken können.
Natürlich ist das auch ein dunklerer Level, da er in der Nacht spielt, aber dies ist gewollt. Und es unterstützt die Atmosphäre sehr gut. Trotzdem ist es niemals zu dunkel, ich brauchte keine Fackeln, um meine Wege zu finden. Und wenn der schwarze Mann nicht gerade zu nahe ist, nun, nehmt euch die Zeit, um euch die Gebiete etwas genauer zu betrachten. Ihr werdet bestimmt überrascht sein von der fantastischen Welt, welche die Levelbauer erschaffen haben – und der Effekt ist sogar noch besser, wenn ihr den original film kennt, auf dem der Level basiert. Aber auch wenn ihr ihn nicht kennt, das macht nichts. Das wird auf jeden Fall ein tolles Erlebnis werden, wie ich euch versichern kann.
Conclusion/Fazit/Conclusione:
English:
No doubts about my recommendation this time. Except children and beginners every Tomb Raider player should make this unusual experience, for it is such a great proof also Tomb Raider can still be so much more beyond normal hunt for artefacts and treasures. I was very happy after succeeding this level, and I can really say one thing without any exaggeration – I never before experienced a level like this with such an incredible atmosphere of suspense and horror, throughout the whole game.
Of course there have yet been other good horror Customlevels for Tomb Raider, but this one is unique though. After this level I almost lost some of my fingernails, depending on the shock effects and the whole atmosphere, which always mad me fear to encounter the black man behind the next corner.
And so we can really see Tomb Raider levels can work very well in a whole different way than Lara always only being the tough heroine, she also can be the victim – working without weapons by using her puzzle abilities and tactics for succeeding. I like this kind of gameplay very much and hope it won't have been the last time to use it this way.
Well, I can only repeat, what an impressing experience! I love this level very much, and it already is one of my favourite ones now. And so, if you are strong enough for, especially with your nerves, and if you have enough patience for the few harder challenges, then load and play this level – you won't forget about it so soon.
If ever then at all…
Deutsch:
Kein Zweifel über meine Empfehlung dieses mal. Abgesehen von Kindern und Anfängern sollte sich jeder Tomb Raider Spieler an dieser ungewöhnlichen Erfahrung versuchen, weil es ein so guter Beweis dafür ist, daß Tomb Raider über die normale Jagd nach Schätzen und Artefakten noch viel mehr sein kann. Ich war sehr glücklich, als ich diesen Level erfolgreich beenden konnte, und deshalb kann ich eines ohne jede Übertreibung sagen – ich habe nie zuvor einen Level wie diesen erlebt, mit so einer unglaublichen Atmosphäre aus Spannung und Horror, durch das gesamte Spiel.
Natürlich hat es auch schon andere gute Horror Customlevels für Tomb Raider gegeben, aber dieser ist dennoch einmalig. Nach diesem Level hatte ich beinahe einige meiner Fingernägel verloren, aufgrund der Schockeffekte und der ganzen Atmosphäre, die mich immer fürchten ließ, dem schwarzen Mann hinter der nächsten Ecke zu begegnen.
Und so können wir wirklich sehen, daß' Tomb Raider Levels sehr gut auf eine komplett andere Weise funktionieren, als daß Lara immer die starke Heldin sein muß, sie kann auch das Opfer sein – ohne Waffen arbeitend, sondern ihre Rätselbegabung und Taktiken nützend, um erfolgreich zu sein. Ich mag diese Art des Gameplays sehr und hoffe, es war nicht das letzte mal, um es so zu gebrauchen.
Nun, ich kann nur wiederholen, was für ein beeindruckendes Erlebnis! Ich liebe diesen Level sehr, und er gehört bereits zu meinen Lieblingswerken. Und deshalb, wenn ihr stark genug dafür seid, speziell mit euren Nerven, und wenn ihr genügend Ausdauer für härtere Herausforderungen besitzt, dann ladet und spielt diesen Level – ihr werdet ihn so bald nicht wieder vergessen.
Wenn denn überhaupt...
My Statistics/Meine Statistik/Le mie Statistiche: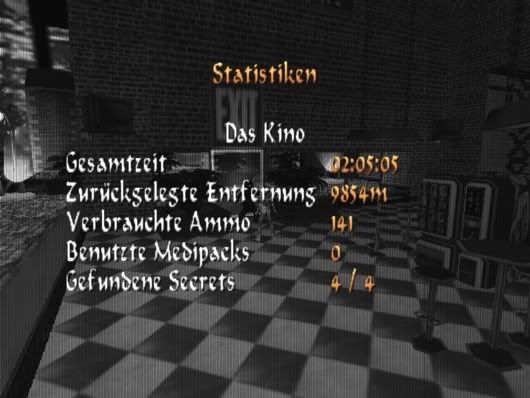 ---