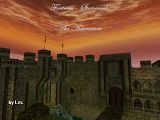 Introduction/Einführung/Introduzione:
English:
A debut level. Well, normally this would be enough to approach a level carefully at least. I have to admit, in recent times there have been such a lot of new level designers, presenting their debuts in the TR community. You can read about those levels in review of the big TR Customlevel sites as trle, the Levelbase or Aspidetr, for example. And frequently you will find very low ratings and horrible reviews about a lot of such levels. As you know, normally I am no friend of such reviews, as I prefer to underline positive aspects at first. But unfortunately yes, such ratings are possible, when levels are full of mistakes, bugs, even until they are really not playable. And sometimes I really ask myself what the reason for some level builders maybe to release such whole unfinished and buggy levels instead of working at them as long as they are complete in every way.
Okay, I am no level designer, but I would try as long as I could release the best version possible, no matter how much time it would need. Or I would not release it at all, if it would not work. And it is possible, as we can see in many samples, as in this one. On the contrary, this level designer shows a talent not often to be seen at the beginning of working with the TR editor.
Yes, I was surprised. totally surprised, and astonished. This level has nothing of a debut level, if you play you will thing l.m. has worked with the editor for a long time yet. But it really IS his debut, incredible. All the more as l.m. not simply began with a short single-piece level, no, he even started with a multi-part level at once.
9,7 points at all three great TR Customlevel sites, this is a clearly result, one that shows us a new star at the heaven of level designing was born. And of course I want to show you more details in this report...
Deutsch:
Ein Erstlingswerk. Nun, normalerweise würde dies reichen, um wenigstens erst einmal vorsichtig an einen Level heranzugehen. Ich muß zugeben, daß es in jüngster Zeit so viele neue Levelbauer gegeben hat, die ihre Debütlevel in der Community präsentiert haben. Ihr könnt über diese Levels zum Beispiel auf den großen TR Customlevel Seiten wie trle, der Levelbase oder Aspidetr lesen. Und nicht selten werdet ihr sehr niedrige Wertungen und schreckliche Reviews über solche Levels finden. Wie ihr wißt bin ich normalerweise kein Freund solcher Reviews, da ich es erst einmal vorziehe die positiven Aspekte zu unterstreichen. Aber leider ja, solche Wertungen sind möglich, wenn Levels von Fehlern und Bugs sind, sogar wirklich bis hin zur völligen Unspielbarkeit. Und manchmal frage ich mich wirklich, was die Gründe für manche Levelbauer sein mögen, solch unfertige und fehlerhafte Levels zu veröffentlichen statt so lange daran zu arbeiten, bis sie auf jede Weise komplett sind.
Okay, ich bin kein Levelbauer, aber ich würde so lange probieren wie ich kann, um die bestmögliche Version zu veröffentlichen, egal wie viel Zeit das benötigen würde. Oder ich würde es gar nicht veröffentlichen, wenn es nicht funktioniert. Und es ist möglich, wie wir an vielen Beispielen sehen können, wie in diesem hier. Ganz im Gegenteil, dieser Levelbauer zeigt uns ein Talent, das man am Beginn der Arbeit mit dem TR Editor nicht oft zu sehen bekommt.
Ja, ich war überrascht. total überrascht, und erstaunt. Dieser Level hat so gar nichts von einem Erstlingswerk, wenn ihr spielt werdet ihr denken, daß l.m. schon sehr lange mit dem Editor gearbeitet hat. Aber es ist wirklich ein Debüt, unglaublich. Um so mehr, da l.m. nicht einfach mit einem kurzen einteiligen Level begann, nein, er startete sogar gleich mit einem mehrteiligen.
9,7 Punkte auf allen drei großen TR Customlevelseiten, das ist ein eindeutiges Ergebnis, welches uns zeigt, daß ein neuer Stern am Himmel des Levelbaus geboren wurde. Und natürlich will ich euch in diesem Bericht mehr Details zeigen...
Screenshots/Bilder/Galleria:
Click on the pictures to magnify them / Bilder anklicken zum vergrößern / Clicca sulle immagini per ingrandirle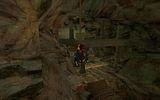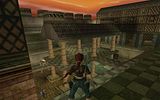 Level Designer/Levelbauer/Autore:
l.m./Germany/Deutschland/Germania
Author Information/Levelbauer Information/Informazioni sull'autore:
English:
As mentioned yet, this level, "Fortress Stonerock", is the debut of l.m., released in 2008. Meanwhile he has created three more levels, and guess what - not one of them on any site got any rating below 9 points. l.m could firm his high standard of level designing, and the first impression of him was totally correct. I am whole sure that we still can expect much from this level designer, and we can be curious for his future projects.
Currently he is working at a new big project, a series named "The legend of King Arthur - Part 1: The time Portal", which yet makes us hungry for playing it. And no doubt, it will be another great success...
Deutsch
Wie bereits erwähnt, dieser Level, "Fortress Stonerock", ist das Erstlingswerk von l.m., veröffentlicht 2008. Mittlerweile hat er drei weitere Levels veröffentlicht, und ratet mal - nicht einer davon kam auf irgendeiner Seite unter die Bewertung von 9 Punkten. l.m. konnte seinen hohen Standard des Levelbaus festigen, und der erste Eindruck von ihm war absolut korrekt. Ich bin mir ganz sicher, daß wir von diesem Levelbauer noch viel erwarten können, und wir dürfen auf seine zukünftigen Projekte gespannt sein.
Aktuell arbeitet er an einem neuen großen Projekt, einer Serie mit Namen "The legend of King Arthur - Part 1: The time Portal", die uns schon hungrig macht sie zu spielen. Und kein Zweifel, sie wird ein weiterer großer Erfolg werden...
Story/Storia:
English:
Lara has heard about the "Golden Mask" by chance. After a little research – Lara knows roughly where it is - at Fortress Stonerock. Also, she knows that she has to find two bullets, called "Bullet of Glory" to enter the Arena of Death, whatever this these things may be. But she is not alone, her enemies are already at Fortress Stonerock, and they want to find the mask, before Lara does. Will Lara find the mask before the enemies?
Deutsch:
Lara erfährt durch Zufall von der "Goldenen Maske". Nach diversen Büchern wälzen, weiß Lara den ungefähren Aufenthaltsort – Festung Steinfels. Auch hat Lara erfahren, dass sie ohne die beiden "Kugeln des Ruhmes" machtlos ist, und sie die Todesarena durchqueren muss…was auch immer das beides sein mag. Doch sie hat die Rechnung ohne ihre Feinde gemacht. Als Lara in der Festung antrifft, sind Ihre Feinde schon da. Wird sie es schaffen die Maske vor ihren Feinden zu bergen?
Italiano:
Primo livello per Leif Melles aka l.m.; storia: Lara sente parlare di una maschera d'oro chiamata "Golden Mask" e dopo qualche piccola ricerca viene a sapere che la maschera si trova nella Fortress Stonerock. All'interno del castello Lara dovrà inoltre trovare due pallottole chiamate "Bullet of Glory" che le serviranno per accedere all'Arena della Morte (Arena of Death). Ma anche altre persone conoscono l'ubicazione della maschera e vogliono recuperarla prima che lo faccia Lara. Riuscirà la nostra eroina a recuperare la maschera prima dei suoi nemici?
Levels/Livelli:
Level 1 - The Beginning
Level 2 - Deep Impression
Level 3 - Deep Awareness
Secrets/Segreti:
13
Walkthrough/Soluzione:
trle.net (English)
Release Date/Veröffentlichungsdatum/Data di Rilascio:
Aspidetr.com: 02.09.2008
trle.net: 02.09.2008
Larasevelbase.org: 02.09.2008
Download:
Larasevelbase.org
trle.net
Aspidetr.com
Official/Offizielle/Ufficiale Reviews:
Deutsch
English
Italiano
Size/Größe/Dimensione:
80 MB
Game Period/Spieldauer/Durata D'ascolto:
about/circa 4 - 5 Hours/Stunden/Ore
Levelindex for l.m./Levelindex für l.m./Livello Indice per l.m.:
(Download page/Download Seite/Download Pagina)
Larasevelbase.org
trle.net
Aspidetr.com
Degree of Difficulty/Schwierigkeitsgrad/Grado di Difficoltà:
(Easy/normal/difficult - Einfach/normal/schwer - Semplice/normale/difficile)
normal/normal/normale
English:
Several things are as unusual as pleasant in this level. The facts of a debut level, a well designed a multi-part level, and the fact of a degree of difficulty, that is not scheduled too high, as feared first. Very hard levels are quite a trend in this time, why beginning players often have no chance, just in high rated perfect level series of master designers. For me l.m. is also a master yet, an artist, who gives us levels in addition even beginners can play - without trained players being bored.
This level is full of all challenges TR level players will be pleased with, but you can find more about in the game details. Here I can only say now, you will also have to face time-runs and jumps, even with banana-curves, but all of this content does not have the highest degree of difficulty, as we experience it in series as "Underworld UB", for example. Here everybody can try, and only with a little patience and practice you will be successful, I am very sure about that.
At this point I can not often give a recommendation for beginning players, but here I want to do so. On the contrary, this level gives them a good possibility to exercise and grow, and so they should absolutely try...
Deutsch:
Es sind einige Dinge ungewöhnlich in diesem erfreulichen Level. die Tatsache eines Erstlingswerks, einem schön gestalteten mehrteiligen Level, und die Tatsache eines Schwierigkeitsgrades, der nicht zu hoch angesetzt ist, wie zuerst befürchtet. Sehr schwierige Levels sind durchaus ein Trend in dieser Zeit, weshalb Anfänger oft keine Chance haben, gerade in hoch bewerteten, perfekten Levelserien von Meisterlevelbauern. Für mich ist auch l.m. schon ein Meister, ein Künstler, der uns zusätzlich Levels beschert, die auch Anfänger spielen können - ohne daß sich geübte Spieler langweilen würden.
Dieser Level ist voller Herausforderungen, an denen sich TR Levelspieler erfreuen werden, aber darüber könnt ihr mehr in den Spieldetails finden. Hier kann ich jetzt nur sagen, daß ihr euch auch Zeitrennen und Sprüngen stellen müßt, auch mit Bananenkurven, aber all diese Inhalte haben nicht den höchsten Schwierigkeitsgrad, wie wir es zum Beispiel in Serien wie "Underworld UB" erleben. Hier kann sich jeder versuchen, und mit nur ein wenig Geduld und Übung werdet ihr erfolgreich sein, da bin ich mir ganz sicher.
An diesem Punkt kann ich nicht oft eine Empfehlung an Anfänger aussprechen, aber hier möchte ich es. Ganz im Gegenteil, dieser Level gibt ihnen eine gute Möglichkeit zu üben und wachsen, weshalb sie es auf jeden Fall versuchen sollten...
Detailed/detailliert/preciso:
Puzzles/Rätsel/Enigmi:
English:
There are a lot of things you can or have to find in this level series. Things as keys or hidden levers, to continue, 13 secrets, and other items necessary for your success. And also we have further puzzles to solve, such as with moveable objects, or even rolling barrels, which can be traps, but you have to use them in the right way the same time. Or you have to solve a puzzle with a pair of scales and water. Or the fountain, which must be activated again. Or I think at the underwater labyrinths. Traditional and new puzzles to have a lot of fun with, and solvable for everybody...
Deutsch:
Es gibt in dieser Levelserie eine Menge Dinge, die ihr finden könnt oder müßt. Dinge wie Schlüssel oder versteckte Hebel, um weiterzukommen, 13 Geheimnisse, und andere Gegenstände, die für euren Erfolg nötig sind. Und wir haben auch weitere Rätsel, solche wie mit verschieblichen Objekten, oder sogar rollenden Fässern, die Fallen sein können, die ihr aber gleichzeitig auf die richtige Weise benützen müßt. Oder ihr müßt ein Rätsel mit einer Waage und Wasser lösen. Oder der Brunnen, der irgendwie wieder in Betrieb genommen werden muß. Oder ich denke an die Unterwasserlabyrinthe. Traditionelle und neue Rätsel, um eine Menge Spaß damit zu haben, und für jeden lösbar...
Traps/Fallen/Trappole:
English:
Of course there are also traps in those levels, as the yet mentioned rolling barrels above, for an example. And you will have to face further challenges, such as underwater currents, deadly floor tiles - one time also again combined with a puzzle - a swinging trap, spikes and moving spike walls, even several traps in sequence, or sword-swinging statues and more. Much to do for Lara, but also here, nothing impossible, even for beginners...
Deutsch:
Natürlich gibt es auch Fallen in diesen Levels, wie die oben schon erwähnten rollenden Fässer, als ein Beispiel. Und ihr werdet euch weiteren Herausforderungen stellen müssen, solchen wie Unterwasserströmungen, tödlichen Bodenplatten - einmal auch wieder gepaart mit einem Rätsel - einer schwingenden Falle, Stacheln, sich bewegenden Stachelwänden, sogar mehrere Fallen hintereinander, oder Schwertschwingenden Statuen und mehr. Viel zu tun für Lara, aber auch hier gilt, nicht unmögliches, sogar für Anfänger...
Enemies/Gegner/Nemici:
English:
This is no shooter level, but though Lara will meet a lot of enemies on her way. Enemies as little spiders, bats, dogs or baddies, skeletons, and enemies also can appear very sudden and in narrower rooms. But most times you will have enough place to battle, and staying in movement Lara always has good chances to succeed. As you can see in my statistics, I made it through this level without using a medipack, it is possible, if you are fast enough, because there are no real nasty places - not even the room with four knights attacking Lara at once. Normally you would think this is very difficult - but the room is large enough to always get out of the way of the enemies and shoot them one by one. Anyway, you will find enough ammo and medipacks in this level, if you search all areas carefully.
And also great, the final boss battle is optional. Those statues will be a challenge, to always avoid their deadly rays, but if you find a secret way before, you can simple give them the runaround...
Deutsch:
Dies ist kein Shooterlevel, aber dennoch wird Lara auf ihrem Weg einer Menge Feinden begegnen. Gegner wie kleine Spinnen, Feldermäusen, Hunden, Schlägern, Skeletten, und Feinde können auch sehr plötzlich und in engeren Räumen auftauchen. Aber meistens werdet ihr genügend Platz haben um zu kämpfen, und in Bewegung bleibend hat Lara immer gut
e Chancen erfolgreich zu sein. Wie ihr in meiner Statistik sehen könnt konnte ich es durch den Level ohne Medipack schaffen, es ist möglich, wenn ihr schnell genug seid, denn es gibt keine wirklich fiesen Stellen - nicht einmal der Raum mit den vier Rittern, die Lara auf einmal angreifen. Normalerweise würde man denken, das ist sehr schwierig - aber der Raum ist groß genug, um den Feinden stets auszuweichen und sie nacheinander abzuschießen. Jedenfalls werdet ihr genügend Munition und Medipacks in diesem Level finden, wenn ihr alle Gebiete sorgfältig absucht.
Und auch großartig, der finale Bosskampf ist optional. Diese Statuen werden eine Herausforderung sein, immer ihren tödlichen Strahlen auszuweichen, aber wenn ihr vorher einen geheimen Weg findet könnt ihr sie einfach umgehen...
Sound-Music/Sound-Musik/Musiche:
English:
In this first project l.m used traditional sound effects and music tracks, as well as new ones. And for my opinion all of this creates a felicitous mix, supporting the whole atmosphere very well. I always liked the sound, as it never got too pushy or nerving, just as it should be in TR levels. Simply perfect in this regard...
Deutsch:
In diesem ersten Projekt benützte l.m. ebenso traditionelle Soundeffekte und Musikstücke wie auch neue. Und nach meiner Meinung kreiert all das eine gelungene Mischung, die gesamte Atmosphäre sehr gut unterstützend. Ich mochte den Sound immer, weil er niemals aufdringlich oder nervend wurde, genau wie es in TR Levels sein sollte. Einfach perfekt in dieser Beziehung...
Graphics/Grafik/Grafica:
English:
l.m started his work for TR in a time the more simple old editor was history yet. There were the new tools as the NGLE and TREP, and as mentioned in the readme, l.m used those tools from the beginning. Of course as a new level designer he also had much help - great when a new builder can count on that.
But putting together all elements in such a perfect way yet, and also creating his own fascinating world for Lara, we can only be impressed and raise or hat at l.m.. As far as I can see all things were well done, I could not discover bug or other mistakes. Great textures, environments, objects and lighting - absolutely perfect, especially for a beginning level designer...
Deutsch:
l.m begann seine Arbeit für TR in einer Zeit, da der einfachere alte Editor bereits Geschichte war. Es gab die neuen Werkzeuge NGLE und TREP, und wie in der readme erwähnt hat l.m. diese Teile von Anfang an benutzt. Nat6ürlich hatte er als neuer Levelbauer auch viel Hilfe - toll, wenn ein neuer Erbauer darauf zählen kann.
Aber alle Elemente in bereits solch perfekter Weise zusammenzufügen, und auch seine eigene faszinierende Welt für Lara zu erschaffen, können wir nur beeindruckt sein und unseren Hut vor l.m. ziehen. So weit ich es sehen kann sind alle Dinge gut geraten, ich konnte keine Bugs oder andere Fehler finden. Tolle Texturen, Umgebungen, Objekte und Beleuchtung - absolut perfekt, speziell für einen Anfänger im Levelbau...
Conclusion/Fazit/Conclusione:
English:
Written so much yet, what can I still add in the end as my conclusion? Most of all one thing - a perfect start from a new level designer, and a great new hope for us players. I can only repeat, this level is suitable for all TR players, no matter if trained or beginners, if young or old - load and try this game. You will be confined to this level for sure, and you will enjoy it for several hours. Experience the talent of l.m. - and look for his further games. A debut level as a masterpiece, don't miss it...
Deutsch:
Schon so viel geschrieben, was kann ich am ende noch hinzufügen als mein Fazit? Am allermeisten eine Sache - ein perfekter Start als ein neuer Levelbauer, und eine große neue Hoffnung für uns Spieler. Ich kann es nur wiederholen, dieser Level ist für alle TR Spieler geeignet, egal ob geübt oder Beginner, ob jung oder alt - ladet und probiert dieses Spiel. Ihr werdet an diesen Level gefesselt sein - und ihr werdet ihn für mehrere Stunden genießen. Erlebt das Talent von l.m. - und schaut nach seinen weiteren Spielen. Ein Erstlingswerk als Meisterwerk, verpaßt es nicht...
My Statistics/Meine Statistik/Le mie Statistiche: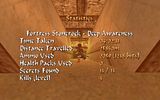 ---