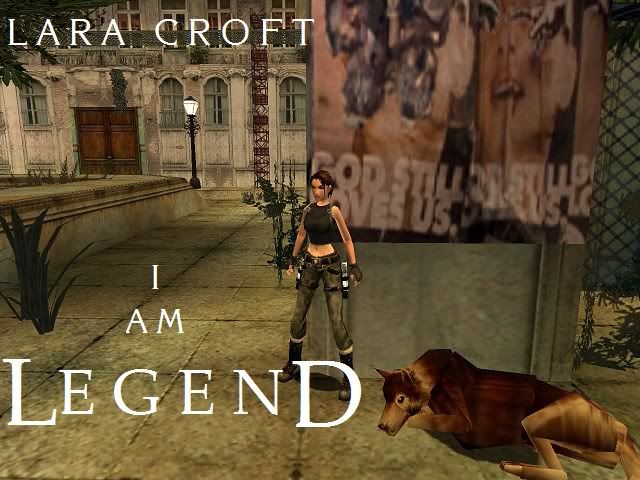 Introduction/Einführung/Introduzione:
English:
I had reported yet about another project of this team, "Silent Snowy Place", a special Christmas level. Sometime later masha and Clara joined again for another project, still bigger and more exciting than the first one.
Clara yet had experiences with creating a level after a movie, with her wonderful team project "I know what you did…". Now she started another one, together with masha, for the movie "I am legend".
I was very excited as I heard about it the first time. And here is the result. An incredible result, so, let me tell you about it…
Deutsch:
Ich hatte schon mal über ein anderes Projekt dieses Teams berichtet, "Silent Snowy Place", ein spezieller Weihnachtslevel. Einige Zeit später vereinigten sich masha und Clara wiederum für ein anderes Projekt, noch größer und aufregender als das erste.
Clara hatte schon Erfahrung mit dem erbauen eines Levels, der auf einem Film basiert, mit ihrem wunderbaren Team Projekt "I know what you did…". Nun startete sie ein weiteres, zusammen mit masha, basierend auf dem Film "I am legend".
Ich war sehr gespannt, als ich das erste mal davon hörte. Und hier ist das Ergebnis. Ein unglaubliches Ergebnis, daher laßt mich euch davon berichten…
Screenshots/Bilder/Galleria:
Click on the pictures to magnify them / Bilder anklicken zum vergrößern / Clicca sulle immagini per ingrandirle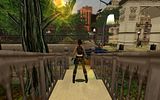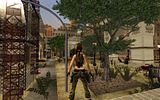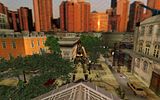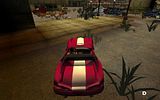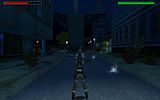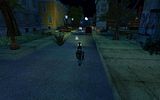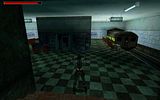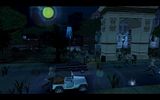 Level Designer/Levelbauer/Autore:
Clara/Germany/Deutschland/Germania
masha/France/Frankreich/Francia

Author Information/Levelbauer Information/Informazioni sull'autore:
English:
Clara
Clara actually is a still newer name in the level editing community, as she first started with her debut project in 2005. And though I am whole sure her name is well known everywhere meanwhile, because all of her so far levels have been great and also partially unusual, where we could learn about her talent very soon. She also had two very big team work successes, with "Ice Age 2", where she worked together with Hochgiftig and masha, and now "I know what you did…", where she cooperated with Hochgiftig again. Her so far greatest success was another team project with masha, "I am Legend" - and another movie adaptation of the amazing kind. And another "must-play" level!
Also her solo levels also were successful, and we can already be very curious about her future projects. At the moment Clara works together with masha and Spongobob at the joint project "The Jerusalem Project".
masha
masha has released her debut level , "Castle Riverrun", in 2003. Since then she worked with the editor until today, giving further 18 levels to the community so far. I have played a lot of them meanwhile, and I can only tell you one thing again and again: it's always a new great experience to explore her Tomb Raider levels! masha always stands for high quality work with the editor, exactly as Clara, and no wonder she reaches often high ratings beyond 9 points at the international TR sites.
Her greatest success so far is just this joint project with Clara, and after their so far wonderful collaboration it seemed only a matter of time when they would team up again. And right, they just do, in the ambitious project "The Jerusalem Project", together with Spongobob this time. And we can be very curious for the final result yet, after the brilliant release of the prequel level to this story, "The Jerusalem Project - Wesselys last will".
Deutsch
Clara
Clara ist ja eigentlich ein immer noch neuerer Name in der Levelbau Community, da sie mit ihrem Debütprojekt erst 2005 begonnen hat. Und dennoch bin ich mir ganz sicher, daß ihr Name mittlerweile überall bekannt ist, weil alle ihre bisherigen Levels großartig und teilweise auch ungewöhnlich waren, wo wir sehr schnell ihr Talent erkennen konnten. Sie hatte außerdem zwei sehr große Teamwork Erfolge, mit "Ice Age 2", wo sie mit Hochgiftig und masha zusammenarbeitete, und dann mit "I know what you did…", wo sie wiederum mit Hochgiftig kooperierte. Ihr bisher größter Erfolg war ein weiteres Teamprojekt mit masha, "I am Legend" - und eine weitere Filmadaption der erstaunlichen Art. Ein Level der Sorte "muß-gespielt-werden"!
Auch ihre Sololevels waren erfolgreich, und wir dürfen schon sehr gespannt auf ihre zukünftigen Projekte sein. Momentan arbeite Clara gemeinsam mit masha und Spongobob am Gemeinschaftsprojekt "The Jerusalem Project".
masha
Masha hat ihr Erstlingswerk 2003 veröffentlicht, und sie arbeitete seither mit dem Editor bis heute, mit dem sie der Community insgesamt 10 Levels bisher bescherte. Ich habe die meisten davon gespielt, und ich kann nur eines immer aufs Neue sagen: es ist immer wieder eine neue großartige Erfahrung ihre Tomb Raider Levels zu erleben! masha steht immer für hohe Qualitätsarbeit mit dem Editor, genau wie Clara, und kein Wunder, daß sie oft hohe Wertungen jenseits der 9 Punkte auf internationalen TR Seiten erreicht.
Ihr bisher größter Erfolg ist genau dieses Gemeinschaftsprojekt mit Clara, und nach ihrer bisher so wunderbaren Zusammenarbeit schien es nur eine Frage der Zeit, wann die wieder ein Team bilden würden. Und richtig, sie tun es gerade, in dem ambitionierten Projekt "Das Jerusalem Projekt", dieses mal zusammen mit Spongobob. Und wir können auf das finale Ergebnis schon gespannt sein, nach der brillanten Veröffentlichung des Prequel Levels zu dieser Geschichte, "The Jerusalem Project - Wesselys last will".
Author Interview/Interview mit Levelbauer/Intervista Autore:
trle.net (Clara/English)
Story/Storia:
English:
Somehow immune to an unstoppable, incurable virus, Lara is the last human survivor in Manhattan and maybe the world. Perhaps mankind's last, best hope, Lara is driven by only one remaining mission: to find an antidote. But she is not alone. Mutant plague victims lurk in the shadows...watching Lara's every move...
Deutsch:
Lara ist immun gegen ein Virus, das nahezu die gesamte Menschheit ausgerottet hat. Als letzte Überlebende sucht sie im menschenleeren Manhattan nach einem Impfstoff, um die verheerenden Folgen des Virus umzukehren. Doch Lara ist nicht allein. Lichtscheue Mutanten - die Infizierten - wollen sie vernichten...
Italiano:
Lara è l'ultimo umano sopravvissuto a Manhattan e forse del mondo a causa di un virus che ha spazzato via l'intera umanità. Forse esiste un antidoto ed è questa la sua missione. Ma non è sola, mutanti si aggirano nell'ombra e scrutano ogni suo passo. Questo gioco è basato sul film "Io sono leggenda"...
Levels/Livelli:
Level 1 - Manhattan - Sunset (Clara)
Level 2 - Washington Square, 11 - Sunset (Masha)
Level 3 - Laboratory (Masha)
Level 4 - Washington Square, 11 - Night (Masha)
Level 5 - Manhattan - Night (Clara)
Secrets/Segreti:
6
Walkthrough/Soluzione:
trle.net (English)
Release Date/Veröffentlichungsdatum/Data di Rilascio:
Aspidetr.com: 01.07.2009
trle.net: 01.07.2009
Larasevelbase.org: 01.07.2009
Download:
Larasevelbase.org
trle.net
Aspidetr.com
Official/Offizielle/Ufficiale Reviews:
Deutsch
English
Italiano
Size/Größe/Dimensione:
168 MB
Game Period/Spieldauer/Durata D'ascolto:
about/circa 3 - 4 Hours/Stunden/Ore
Levelindex for Clara/Levelindex für Clara /Livello Indice per Clara:
(Download page/Download Seite/Download Pagina)
Larasevelbase.org
trle.net
Aspidetr.com
Levelindex for masha/Levelindex für masha/Livello Indice per masha:
(Download page/Download Seite/Download Pagina)
Larasevelbase.org
trle.net
Aspidetr.com
Degree of Difficulty/Schwierigkeitsgrad/Grado di Difficoltà:
(Easy/normal/difficult - Einfach/normal/schwer - Semplice/normale/difficile)
normal/normal/normale
English:
I am always happy, if great and big projects as this one are not too hard with the gameplay, and here I can really tell you that. Of course you will find all the normal elements for a Tomb Raider level, as also time runs, but never in a too hard or short way. There will be enough time, so also a beginning player can try, and even if it needs more than several times to succeed, believe me, this level set is worth your attempt.
The main aspect are not time runs or jumps anyway, those are additions. You will have to solve a lot of puzzles, and you will have to deal with strong enemies. They do not appear too often, but when they come, then Lara really is in danger. Perhaps because of the number of enemies the biggest challenge in this level. I especially remember the house scene, with such a lots of enemies, if you are not fast enough to…
No. I won't take the surprise away, this scene is too exciting. So, find out what happens, and what to do yourself.
Anyway, as I said, everybody can try here. And I believe nobody really will be disappointed. For me this is simply a masterpiece, in all elements…
Deutsch:
Ich freue mich immer, wenn großartige und umfangreiche Projekte wie dieses nicht zu hart sind in der Spielmechanik, und hier kann ich euch das wirklich sagen. Natürlich werdet ihr alle gängigen Elemente eines Tomb Raider Levels finden, wie zum Beispiel Timeruns, aber nie auf eine zu harte oder enge Weise. Es wird genug Zeit zur Verfügung stehen, so daß auch ein Anfänger sich daran probieren kann, und auch wenn es mehrere Versuche zum Erfolg braucht, glaubt mir, dieses Levelset ist euren Versuch wert.
Die Hauptaspekte liegen sowieso nicht bei Timeruns oder Sprüngen, das sind Zusätze. Ihr werdet viele Rätsel lösen müssen, und ihr werdet mit starken Feinden umgehen müssen. Sie tauchen nicht zu oft auf, aber wenn sie kommen, dann ist Lara in Gefahr. Vielleicht aufgrund der Anzahl der Gegner sind sie die größte Herausforderung in diesem Level. Dabei erinnere ich mich speziell an die Hausszene, mit so vielen Feinden, wenn man nicht schnell genug ist, um...
Nein. Ich werde die Überraschung nicht vorwegnehmen, diese Szene ist zu aufregend. Daher, findet selbst heraus was passiert, und was zu tun ist.
Wie auch immer, wie ich sagte, jeder kann sich hier versuchen. Und ich glaube, niemand wird hier wirklich enttäuscht werden. Für mich ist es einfach ein Meisterwerk, in allen Elementen…
Detailed/detailliert/preciso:
Puzzles/Rätsel/Enigmi:
English:
You will have to solve a lot of puzzles in this level set, as with moveable objects, combining and using items, finding needed equipment and secrets and much more. Those levels are full of interesting and also unusual puzzles, as for the room with frats in cages and numbers at the walls, for example.
A lot of interesting challenges, I really liked them very much. But with thinking and looking around carefully you will be able to succeed those tasks.
Deutsch:
Ihr werdet in diesem Levelset eine Menge Rätsel lösen müssen, wie mit verschieblichen Objekten, mit dem kombinieren und benützen von Gegenständen, dem auffinden benötigter Ausrüstung und Secrets, und vieles mehr. Diese Level sind voll mit interessanten und auch ungewöhnlichen Rätseln, wie mit dem Raum mit Ratten in Käfigen und Nummern an den Wänden, als Beispiel.
Eine Menge interessanter Herausforderungen, mir gefielen sie wirklich sehr. Aber mit denken und sorgfältigem umsehen werdet ihr in der Lage sein diese Aufgaben zu lösen.
Traps/Fallen/Trappole:
English:
This level also contains traps, as with fire, deadly ground or even explosive traps. The right timing, being fast enough, and looking around carefully will help here to succeed. Some tasks are really demanding, but nothing you could not solve. Beginners could have more trouble, but nothing is impossible with enough patience.
Deutsch:
Dieser Level beinhaltet auch Fallen, wie mit Feuer, tödlichem Boden, oder explosiven Fallen. Das richtige Timing, schnell genug zu sein, und sorgfältiges umsehen wird euch hier helfen zu bestehen. Einige Aufgaben sind wirklich anspruchsvoll, aber nichts, was ihr nicht meistern könntet. Anfänger könnten mehr Probleme haben, aber mit genügend Geduld ist nichts unmöglich.
Enemies/Gegner/Nemici:
English:
In this game there is only one kind of enemy, the mutants. They even do not appear so often, but if so, then they also can be really demanding. Because they do not act alone, but always in groups. Partially even in very big groups, so Lara must find other ways to get rid of her enemies. And there are ways.
This level never is unfair, you always have resources to deal with the enemies. So find and use them to succeed.
Deutsch:
In diesem Spiel gibt es nur eine Art von Feinden, die Mutanten. Sie tauchen nicht einmal so oft auf, aber wenn, dann können sie wirklich anspruchsvoll sein. Weil sie meistens nicht alleine handeln, sondern in Gruppen. Teilweise sogar in sehr großen Gruppen, so daß Lara andere Wege finden muß, um ihre Feinde loszuwerden. Und es gibt Wege.
Dieser Level ist niemals unfair, ihr habt immer Ressourcen, um mit den Gegnern umzugehen. Findet und nützt sie daher, um erfolgreich zu sein.
Sound-Music/Sound-Musik/Musiche:
English:
Sound and music are excellent. They are used of them movie, creating a wonderful atmosphere, even if you do not know the movie. I recommend to watch it, then the experience in this level will even be higher, as I now know for myself. And as it yet was in the "I know what you did…" level.
Anyway, perfect to me. I would wish more movie adoptions like this.
Deutsch:
Sound und Musik sind exzellent. Sie stammen aus dem Film und erschaffen eine wunderbare Atmosphäre, auch wenn ihr den film nicht kennen solltet. Ich empfehle ihn anzuschauen, dann wird das Erlebnis in diesem Level sogar noch größer sein, wie ich nun meinerseits weiß. Und wie es schon in dem Level "I know what you did…" gewesen ist.
Wie auch immer, für mich perfekt. Ich würde mir mehr Filmadaptionen wie diese hier wünschen.
Graphics/Grafik/Grafica:
English:
Also only wonderful. And also perfect to me. Great textures, great backgrounds and horizons, great lighting, and even levels with daylight and night, what more could you wish for a Tomb Raider Customlevel?
Also the plenty of details. The creators must have worked long and hard at this level set, as we can really see with every single object. You will find a lot of new elements, worth to explore every ledge of the level set. And I am sure you will share my opinion in the end, a masterpiece of level building…
Deutsch:
Auch einfach nur wunderbar. Und genauso perfekt für mich. Tolle Texturen, tolle Hintergründe und Horizonte, tolle Beleuchtung, und sogar Levels bei Tag und Nacht, was könnte man sich für einen Tomb Raider Customlevel mehr wünschen?
Auch die Fülle der Details. Die Erbauer müssen an diesem Levelset lange und hart dran gearbeitet haben, wie wir an jedem einzelnen Objekt erkennen können. Ihr werdet eine Menge neuer Elemente finden, die es wert sind jeden Winkel dieses Levelsets zu erforschen. Und ich bin mir sicher, daß ihr am Ende meine Meinung teilt, es ist ein Meisterwerk der Levelbaukunst…
Conclusion/Fazit/Conclusione:
English:
What a level, what an incredible project. Yet with "I know what you did…" Clara and Hochgiftig showed us that movies can be a great foundation for a level project. And now masha and Clara tried again, creating a level project for the movie "I am Legend". I did not know it as I played this level the first time, but I knew the classic movie with Charlton Heston, on which "I am Legend" depends.
Well, I was very impressed. Impressed by all I saw and experienced. For me it is a perfect level, with a challenging gameplay, but never too hard, and much to discover in this fantastic created future world.
Great textures, great backgrounds and horizons, and also great lighting, it is really impressing what level builders can create today. See all the details in this level set, and I know you also will be very impressed.
So, what do you wait for? See for yourself what the two level builders have created here. Explore their world, see the great flybys and cut scenes, and follow the thrilling story for rescuing a doomed world.
Can Lara succeed it in the end? Can you succeed? If you accept this challenge, then load and play this wonderful level at once…
Deutsch:
Welch ein Level, was für ein unglaubliches Projekt. Schon mit "I know what you did…" zeigten uns Clara und Hochgiftig, das Filme eine gute Grundlage für Levelprojekte sein können. Und nun versuchten es masha und Clara erneut, indem sie ein Levelprojekt für den Film "I am Legend" erschufen. Ich kannte ihn nicht, als ich mich erstmals an dem Level versuchte, aber ich kannte den Klassiker mit Charlton Heston, auf dem "I am Legend" ja basiert.
Nun, ich war beeindruckt. Beeindruckt von allem, was ich sah und erlebte. Für mich ist es ein perfekter Level, mit einer herausfordernden Spielmechanik, aber niemals zu schwer, und mit vielem zu entdecken in dieser fantastisch erbauten Zukunftswelt.
Für mich ist es wirklich beeindruckend, was Levelbauer heutzutage erschaffen können. Seht nur all die Details in diesem Levelset, und ich weiß, auch ihr werdet sehr beeindruckt davon sein.
Also, worauf wartet ihr? Seht es selbst, was die zwei Levelbauer hier geschaffen haben. Erforscht ihre Welt, seht die schönen Flybys und Cutszenen, und folgt einer spannenden Geschichte, um eine verlorene Welt zu retten.
Kann es Lara am Ende schaffen? Könnt ihr es schaffen? Wenn ihr die Herausforderung annehmt, dann ladet diesen wunderbaren Level herunter und spielt ihn sofort…
My Statistics/Meine Statistik/Le mie Statistiche: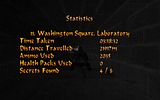 ---