Annotation:
This story part base on the level "Deep in the Jungle" by Hokolo
Lara's Adventure Diary, Part 4
Hello, my friends! This time I want to tell you about an adventure from a longer time ago yet, an adventure of an enormity I could not estimate at this time at all. It took place in my younger days (in fact, even I have been younger, as you perhaps may notice with my changing appearance…), and it even went beyond the scope of my imagination. I think this will mean something!
It began with an ancient temple within the big River Amazon jungle, which I learned about first after discovering a very old paper. And it should be the begin of y much bigger search then after all. I also learned about four mysterious, lost artefacts, and this awakened my interest, of course. Those artefacts seemed to be connected with a secret, died out civilization, and so I hoped to find new traces within those artefacts. At least there could still be waiting further undiscovered treasures, may be even glory and honour by discovering further temples or towns. Enough reason for a new expedition!
So I was on my way at this time very fast, and of course I could discover this ancient River Amazon temple in the end. Also I could get the first of those secret artefacts, a great success! But, well, to find something or the really get it still may be a big difference, as I had to learn at this time. The constructors had protected this artefact very well, so temple raiders would rather die than stealing the artefact. And this is where I want to start with my report, with the more than difficult saving of this first artefact. And this only was the beginning of an incredible journey, a trip beyond all my boldest dreams. And of course you can accompany me again...
Level 1: Deep in the Jungle
Here you can see the destination of my first search, in the River Amazon jungle, the first artefact on a fire protected pedestal. But this protection even reached further, as my so far experiences told me, as well as the suspicious slope I was standing on, leading down a very long way.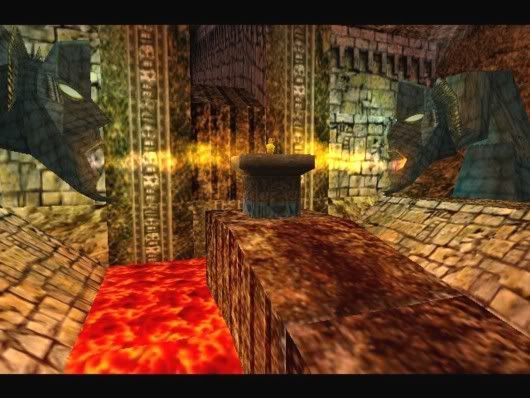 And here I am, your Lara, just in front of the first destination of her wishes for this expedition. But well, at this moment the artefact still was far away, more than you'll certainly be able to imagine. I had to find a way to take it from the pedestal without catching fire, what needed much instinctive feeling.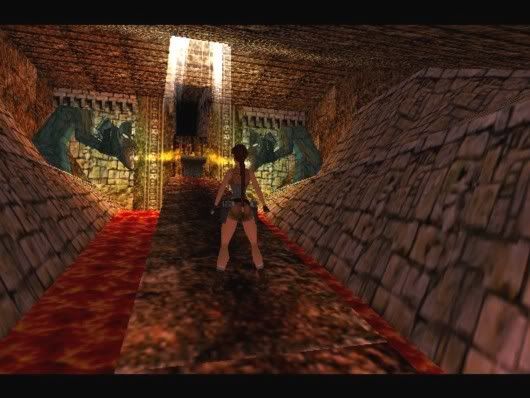 Well, after really getting this artefact in the end all hell was let loose at once! My success released a huge boulder, and there was only one thing I could do – running for my life! And it was not only one boulder I had to survive…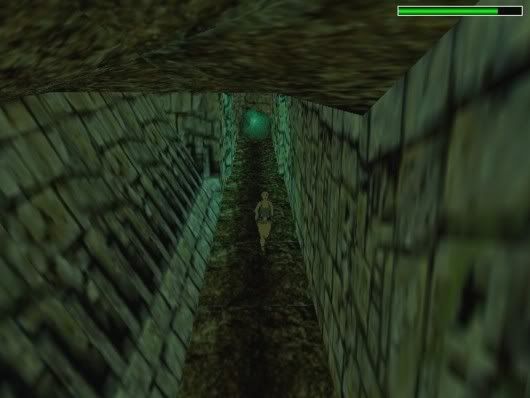 Finally save again, phew, first of all taking a deep breath! So I found myself in the River Amazon jungle, in a unknown area. At this time I had not much further clues, but somewhere in this region should have crashed a plane. It should have taken another expedition onto the same mission like me, but for nothing then. I hoped to find further useful information with discovering this plane...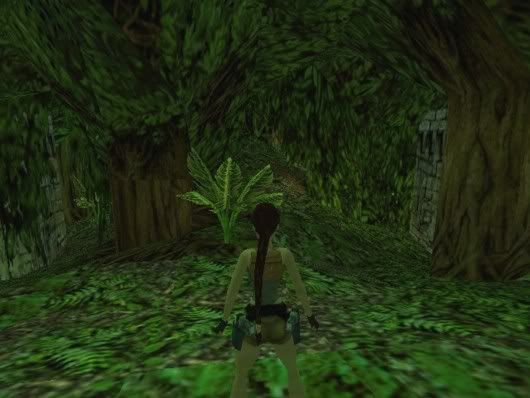 I began to explore the nearby jungle area, with all necessary carefulness, of course. But first I could not find any sign of this crashed plane wreck, but therefore nice environments, which could not take my concentrations away, of course. An experienced adventurer like me has always to stay alerted then.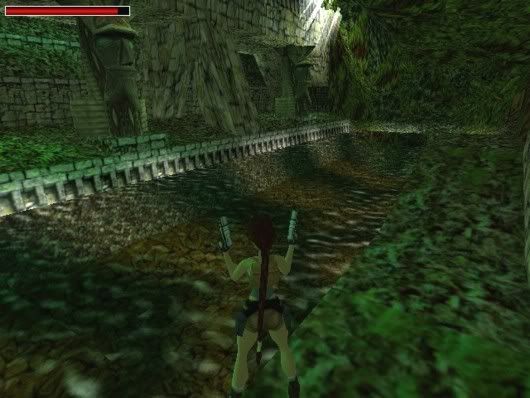 A first sign of the secret culture, I was on the right track then!
Well, a sad view! A famous fellow obviously had the same idea then, but he could not even reach the first artefact. This was a very depressing moment for me, and I had to take a break then. Indiana Jones also was a personal friend to me, we met several times on our adventures and even helped each other sometimes.
Of course I could not leave him like this, I had to burry him then to his last rest in peace. This was my last farewell to him…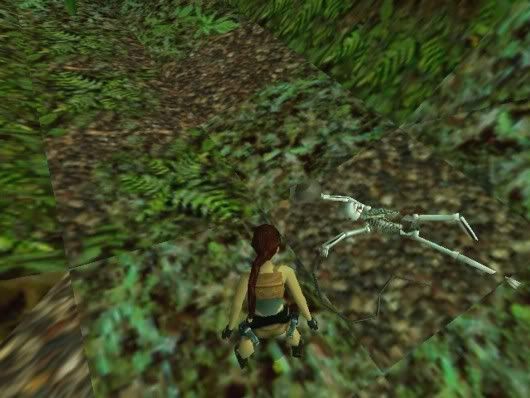 Finally, as I was able to continue again, I reached a new section of this large River Amazon jungle…
...and could finally discover the plane wreck. I was lucky, there really was a paper containing further hints. The search could continue!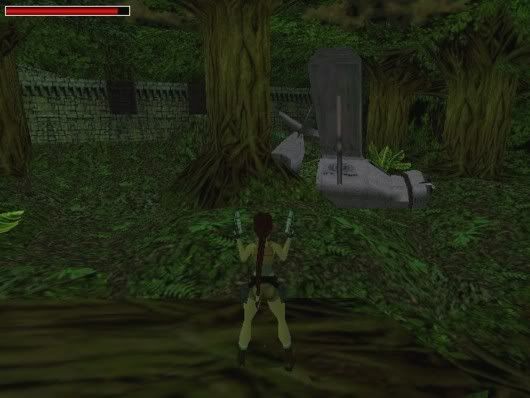 A little bit later I found a way to return to the first jungle part again, and from here I continued my journey for the other crystals.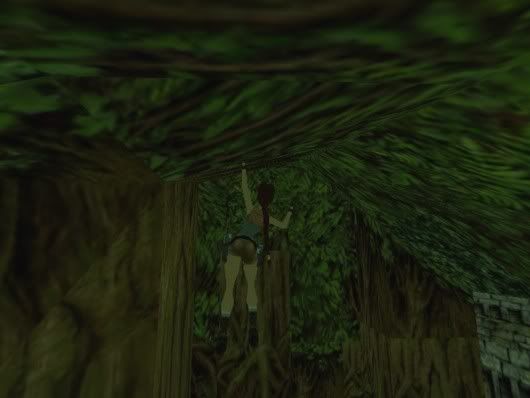 The ways to go have not always been obvious, but sometimes also hidden. An sharp eye and looking around exactly were very helpful, not only with finding the right path, but also to discover traps in time.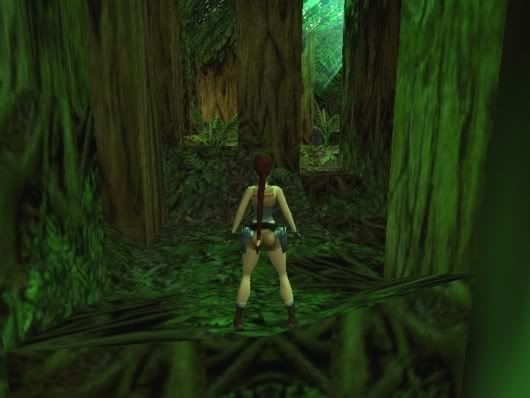 I reached a huge stairs of stone, as a further evidence for an ancient and today forgotten culture. And a hint I really was on the right way...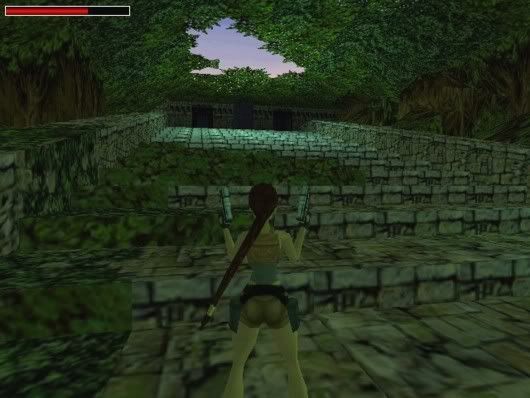 ...but no longer alone then. Strange clothed enemies crossed my way again and again, fighting well with pistols and swords. I had to be on my guard.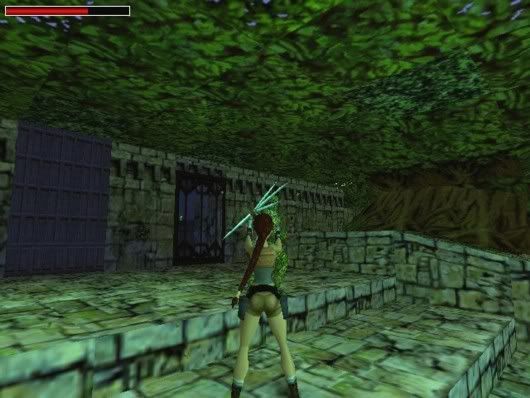 My search also continued dive sessions. Fortunately I am very well trained in holding my breath. One of those dive sessions led me into an underwater chamber. Strange, this construction with the blue light in the middle of this room pointed at other influences for the first time. I had no explanation for the fact of an ancient culture disposing of such strange possibilities, for I could not even find out how this source of illumination could work. All of this got more and more mysterious…
And also more dangerous. A fire wraith protected this building, not to talk of the crocodiles in the water…
But finally I could escape, with opening the big doors of the temple. I could continue my way then...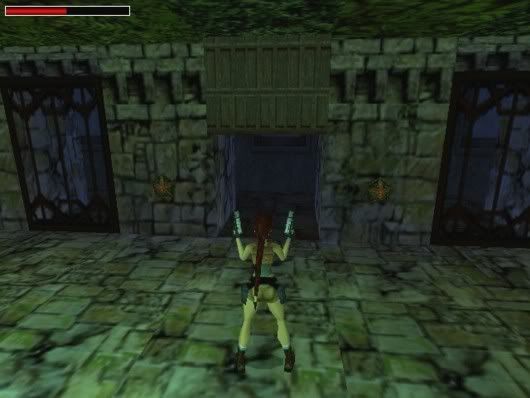 Straight after entering the temple I could see my next destination. It was an artefact lying on a pedestal, but it was protected by two huge statues spiting fire. Of course I didn't want to burst into flames, and so I had to find another way getting in possession of the artefact. Somehow I had to turn off those fire statues...
A dangerous way! I would say the so far worst of all this journey! I reached a large underwater town, containing one air hole, and I had to completely explore it. And doing this a crocodile was upon me heels all the time, which I could not fight in any way...
Finally on dry ground again! But still I had found no way to turn off those two fire statues then. The search continued.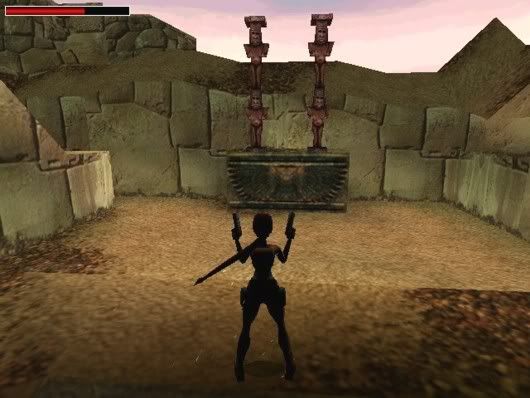 A little jumping insertion, in order to reach a destination being at a higher ground.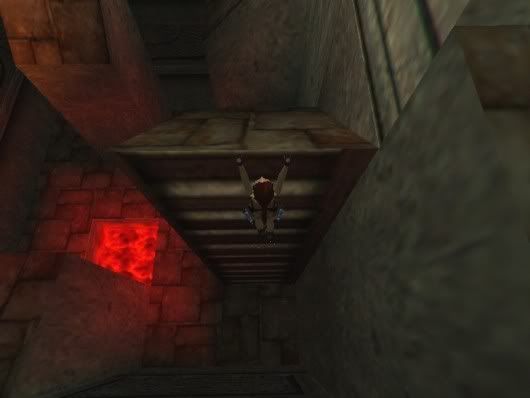 And finally...
The voyage of discovery, as dangerous as interesting, continued. I was very curious for the further advancement...
After saving the worthy artefact I could take a deep breath first then, also analysing calmly all the so far facts and results. And in fact, the new artefact gave me further hints I could follow now. And so I could reach a whole new area of the copious River Amazon jungle some time later.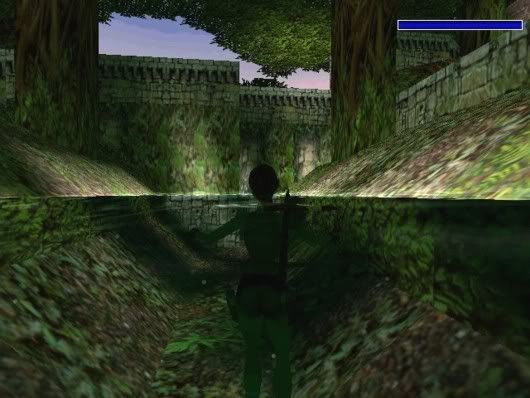 I had to find a way out of the water here to get onto the walls of this new temple construction now. Because here I should find further hints for my long journey, and I continued my search.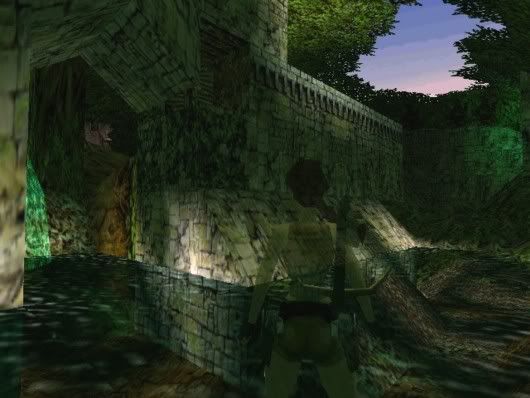 Once more a big statue, and the kind of construction was a sign for the secret culture again I was on to.
I was able to get onto the high walls and could make new ways possible. So I got further clues of another hidden temple somewhere in this area, and I had to find a way of entering it to learn more about my further way to go.
Wonderful architecture...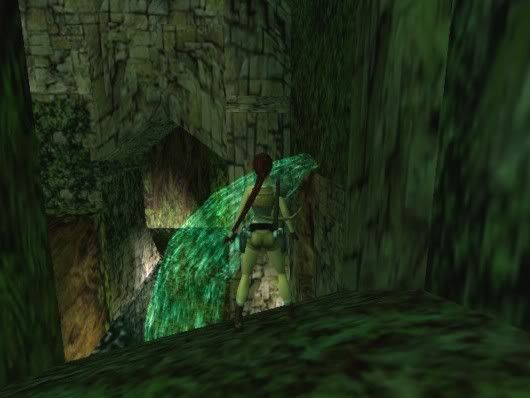 Well, my way had to get me at the other side of the river somehow finally, which I had found straight after entering this area first yet. But the high wall of the other bank of the river made it impossible to simply swim across. The constructors of all this had really done good work, building traps and safeguards all along the way, so no wonder nobody could ever reach the final destination so far. Not even Indiana Jones. But I could find a possibility at last, for a further artefact gave me access to a new path.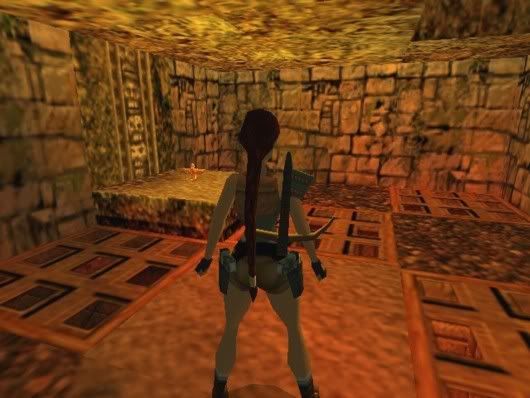 At the other side, succeeded!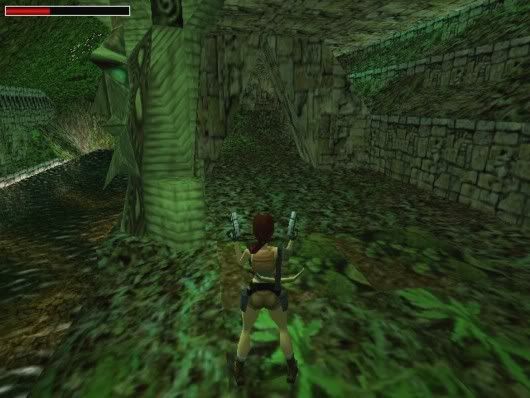 And I learned about my further way to go. I had to enter this huge pyramid, but the only possibility of entering it was with reaching its top. A dangerous way with a lot of exactly jumps, because there was always the danger to slide back to the ground again because of much sloped tiles...
Finally I could succeed again. After I placed tow vases, found some time before, a secret entrance opened to reach the inner section of this pyramid. Nothing stood in the way of exploration any longer.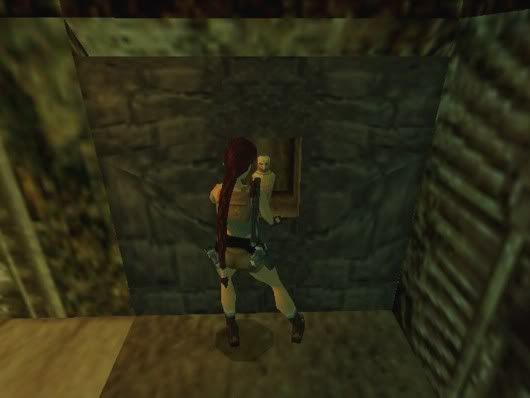 A very dark room was greeting me at first after entering. And a really eerie atmosphere. I could hear some tubby sounds, but only from far away, and I was not able to identify them. Somehow I was grasped by a nightmarish feeling. A misgiving told me about my way still not to be over for a long time, and about the true challenges still lying ahead of me. But I undauntedly continued my way, descending the dark stairway...
The darkness began to lift a little bit finally, after some light got through from far, far below. Red shimmering light, and somehow I refused to really like it. My suspicion, also from the slowly getting stronger sounds around, should be affirmed in the end, after I could take a look down for the first time. Fire and lava!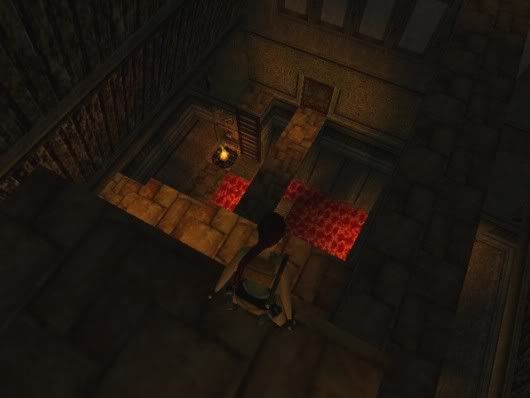 Arriving at the second floor of this new huge room I finally had a real overview beyond this whole area. The constructors had once more done a good job for protection, I had to be careful very much. But the first thing to do now was finding out about what to do in this really impressing place.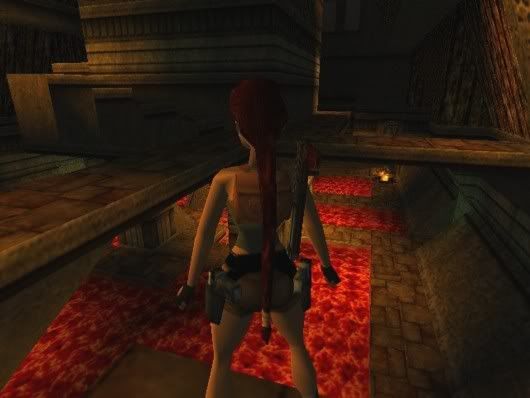 Well, no problem, getting down to the first floor I learned about my task here very soon. I had to move some big objects to their right places, putting them together in order to get access to further rooms of this pyramid. For now they were still blocked. And I was still curious about what to find in the end.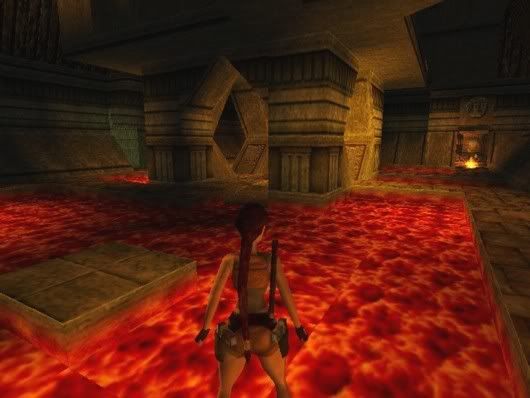 Getting down to work...
One of the almost countless traps on my long way, after I had been able to open one of the blocked doors. The constructors really put all possible obstacles in my way. But they hadn't calculated on my determination, nothing could stop me!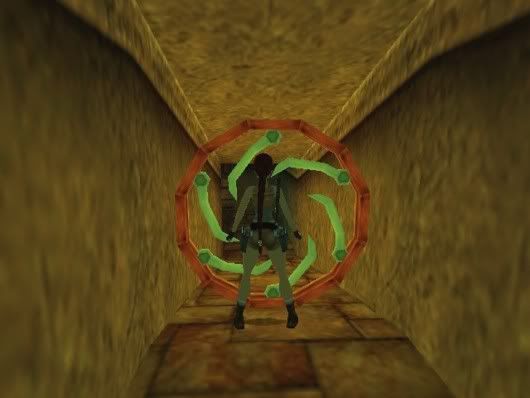 A further challenge! To reach the other side here I needed to do good jumping and keeping patience, but of course no problem for me...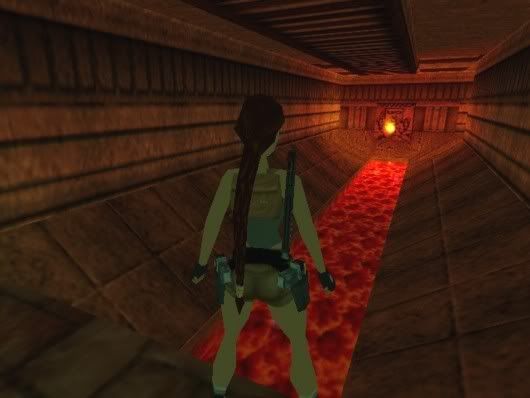 The artefact and the destination of this section, as I thought...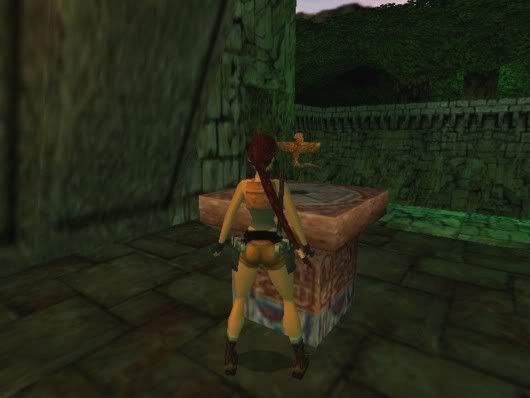 But, well, far from it! The end was nowhere near yet. Instead I hat to deal with a deadly spike-tooth roller now, in order to get access of my further way.
In the end I was able to solve the puzzle and bring those big statues together. The way to continue was free then.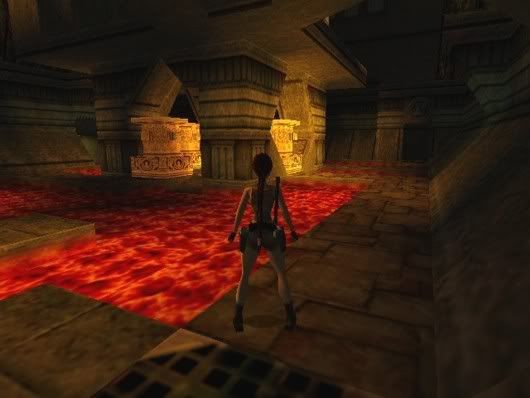 Well, not for whole…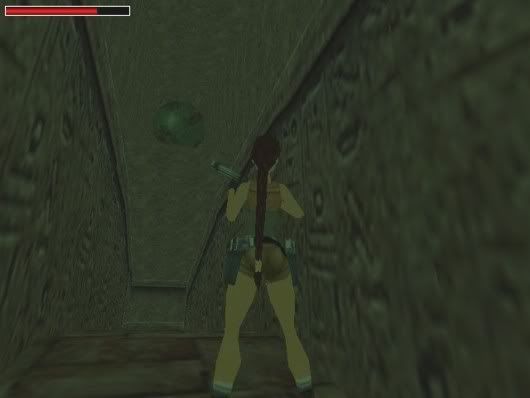 Finally I reached my destination, the exit of this mighty pyramid! But I was still not on the safe side, a further battle was still waiting...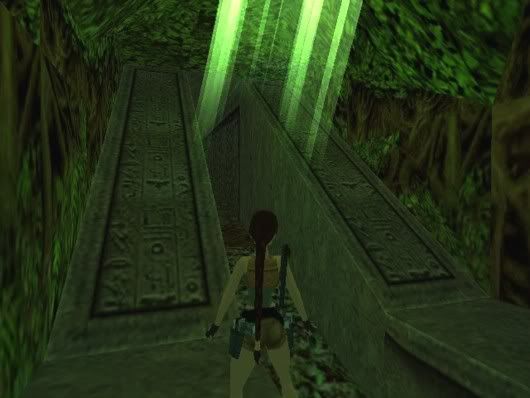 Hostile warriors and even crocodiles! But in the end I could also get rid of this last danger in this area!
So, a large piece of my journey was done now! I could leave the River Amazon jungle behind now. The further hints led me to the mountains then, or the be more particularly, into the Andes!
A long travel with the train was lying ahead of me now, and a journey into the unknown again, further being on the scent of the secret, lost civilization. But the point of "lost", this is what I doubted very much meanwhile, because of all the discoveries and signs.
Why were there such a lot of enemies blocking my way? And who the hell would they be at all? All those strangers rather died before giving me any answer. And those strange blue stones, how could they still lighten, if they really were this ancient, as I discovered one in this underwater cave?
Questions about questions, but still no real answers! But of course I was whole determined to solve this mystery! So, follow me into the next level of this adventure, for the Andes are waiting for us...
---