Annotation:
This story part base on the level "Mysterious Alien Cave" by Hokolo
Lara's Adventure Diary, Part 5
Hello, friends! Her I am again, recovered and reinvigorated, prepared for a new adventure! But it was not so easy to return into the Andes, this time. Normally I have no problems to make it clear for my old butler one time more hunting for treasures or artefacts. After all our mansion is full of all the treasures I have found in my adventures.
This time it was different though. My dear butler warned me not to go, and this after all my experiences yet! But all so far facts made him think this further mystery would give me nothing than death. We had a full discussion about this. So, blessedly my parents were out of town at this time, the argument with Winston was enough
Well, no question who could win this discussion in the end. My curiosity was much too big, to say nothing of the aliens, if they really were still alive then, they would really be a big threat to our whole planet. And a Lara Croft can not simply sit around with doing nothing, especially thinking about my old friend Indiana Jones, who had been at the same search and died on it. So I pushed aside all objections of Winston, as well as his good advices, I should rather inform the authorities, I only wanted to finish myself what I had begun. And so I returned to the Andes finally.
The big adventure continued then…
Level 1: Mysterious Alien Cave
Since my first exploration of the Andes two weeks had passed by. I also didn't have the intention to loose much time after this last journey, for get onto the track of the secret of those mysterious aliens. But though, I was still deeply moved about all I had discovered before, the true proof of the existence for alien life! But unfortunately not aliens of the peaceful kind, as all the evidences told me.
A old, lost culture of mankind, proof of this I was searching for at first. But then I found so much more, simply incredible!
My search within the Andes, where my last journey ended, should not take too much time then. For I found the entrance into a system of underground caves of the aliens vary soon, because of all hints and facts. A very simple entrance to the cave, but perfectly masked, here my journey into the unknown begun. And for the concerns of my butler even a journey without return this time.
But you would never believe this, would you?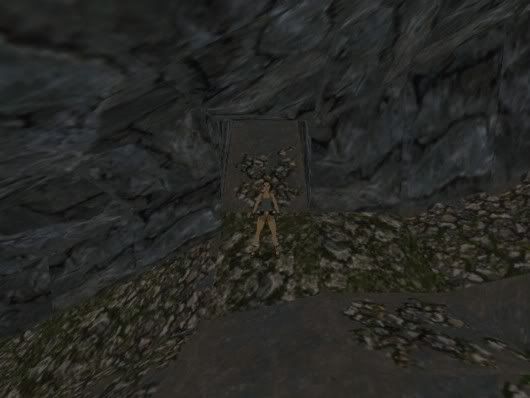 The way led me down first, an obvious sign the aliens had lived deep beyond the surface once. Or they still did, what I hoped would not be true. For if so it would this would inevitably mean I had to fight them, because all, really all signs, did show me only one thing:
they were enemies.
This huge cave was full of glowing crystals, spending a really unearthly light, and even warmness. Very strange, for I only could take this as a further sign of extra terrestrial activity. Our nature does not contain such crystals anyway.
My way led me down there then at first, towards a artificially constructed pool. Do I have to mention, there crocodiles were up to mischief there?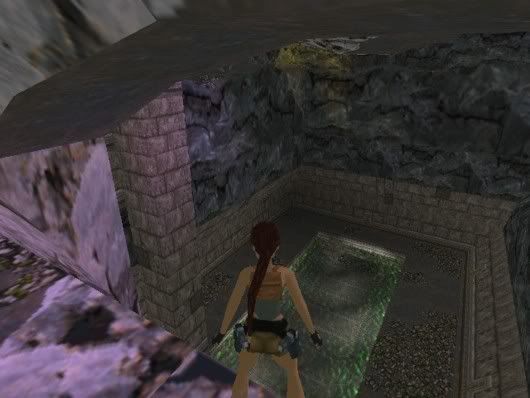 In a further chamber I could find an already known sign, the first one, which pointed at the extra terrestrials yet in the River Amazon jungle. I was very sure about I had come full circle now.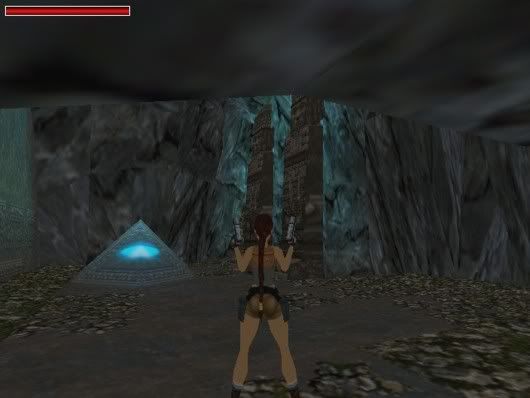 In the pool I had to do a little diving session, but not one of the really enjoying kind. Because I had not only to face crocodiles here, but also traps.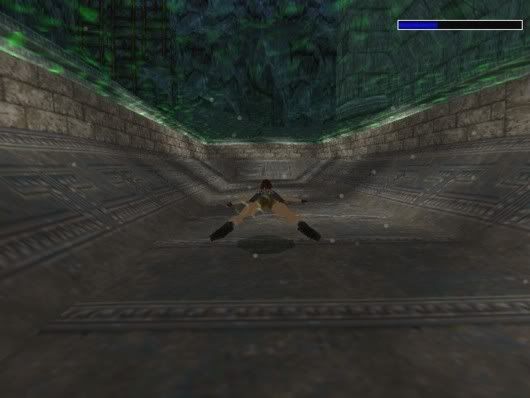 Back in the caves again my way now led me deeper and deeper beyond the surface. Down into whole unknown depths then...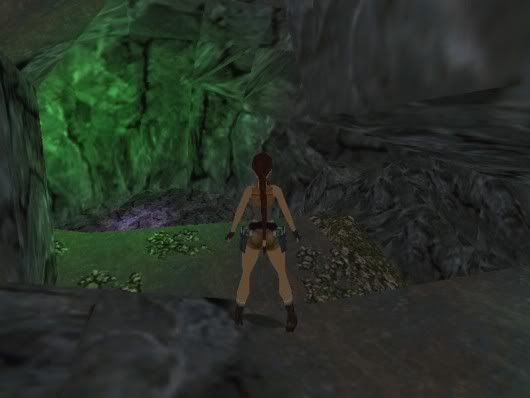 Where would this journey lead to then? What was waiting for me here? A real town in fact, constructed by extra terrestrials? And if so, how would they look like?
Questions and questions, and I was searching for the answers...
Most impressing! Once again this whole unknown metal to me, and in addition the entrance to the world of the aliens. To admit, I was hesitating, even if it was only about some seconds. But turning around was whole out of the question, even if the atmosphere around was really creepy, not to talk about the suspense being in the air.
At this time I incidentally also perceived distinctly noises. I could not tell from where they came from, but they got tubby and eerie to my ears, obviously from e big deepness. To describe it, I would say it was some kind of rhythmic tapping, subliminal, but clear though, and that was indicative for working machines. Huge machines! And my suspicion about the strangers not being died out grew stronger more and more. I had to think about the admonishing words of my butler almost unavoidably...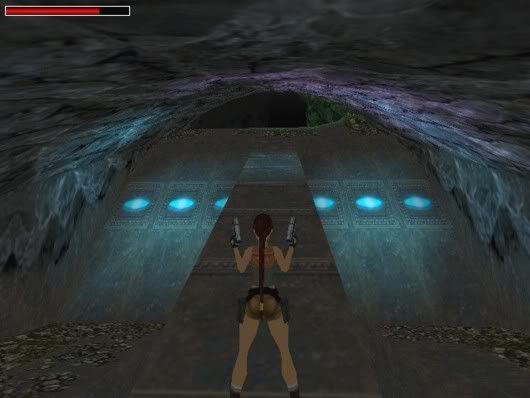 On my way I found strange objects, which I collected of course. Because who could know if they would not still be needed then...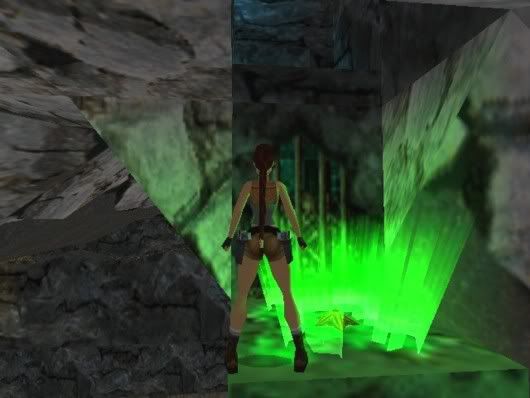 Once again a succeeded trap, this reminded me at my River Amazon journey very lively. And it also showed me one thing for sure, that the same constructors had been working here. But in the town of the aliens new hurdles were waiting for me. As this laser fence for example...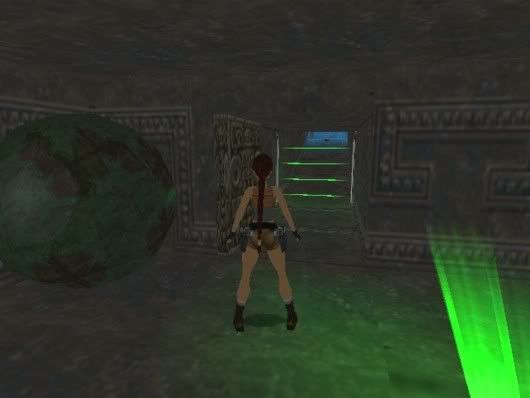 A new area, which I had been able to make it available now. Through the windows at the left side I could get a look into a huge room, discovering a strange and whole indefinable object. But at first I still had to find a way getting into this room, whereby I continued only slowly and careful.
And finally it happened, my very first encounter of the really weird kind! First I could almost not even take notice of those aliens, not until it was almost too late then. Obviously they were not abele to take shape here, but being transparent instead. Well, unfortunately not their swords they were attacking with.
How strange! Such highly developed creatures and using swords? I could not believe those aliens really would be the masters of the foreign world, and so I kept being prepared for further surprises.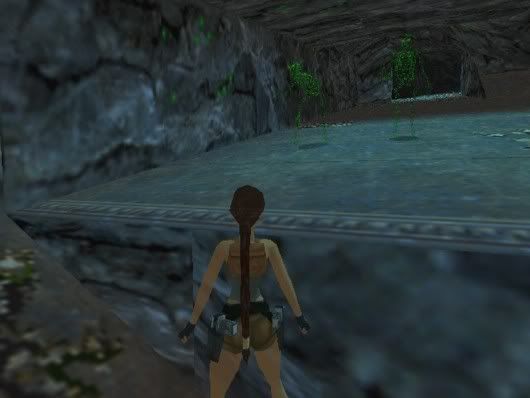 I reached a deep valley with a further mysterious construction. But first I could not yet find any entrance here, but hungry crocodiles instead. Well, I can say I really hate those strolling handbags!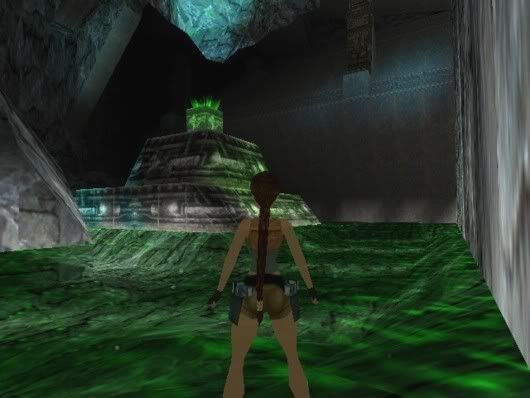 A small cave gave me access to a higher floor of this valley then. However, I could reach this higher floor only by succeeding in a not so easy jump from a ladder.
The construction, similar to a pyramid, from another perspective. I could see I had to still get up higher then, and so I searched for a possibility for.
It was another indirection, ending with sliding down a ramp and doing a very dangerous jump. I could reach the destination platform with my last ounce of strength.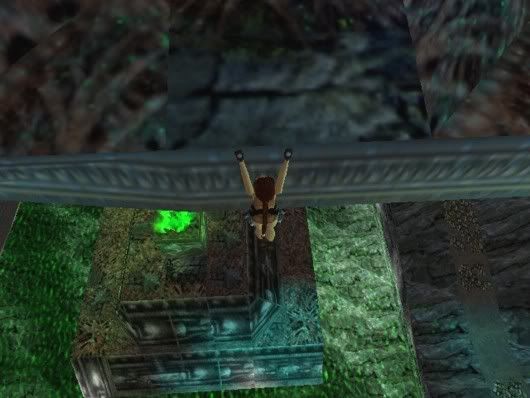 After reaching the high platform I was attacked again at once, by another strange creature. It was also not of this earth for sure, but not a leader of the aliens either. For this point my search still continued.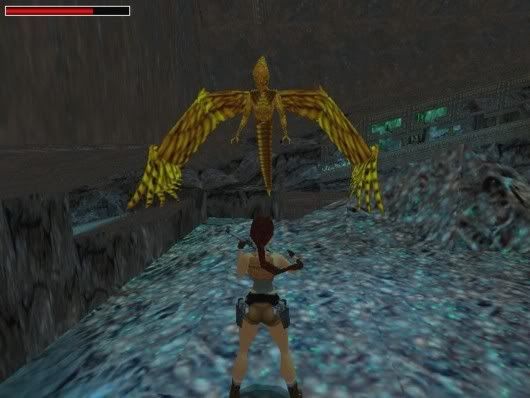 I could finally reach a first destination, as I was able to collect another object here. And I further found new clues, that I had still to continue deeper into this alien world, in order to get my final answers.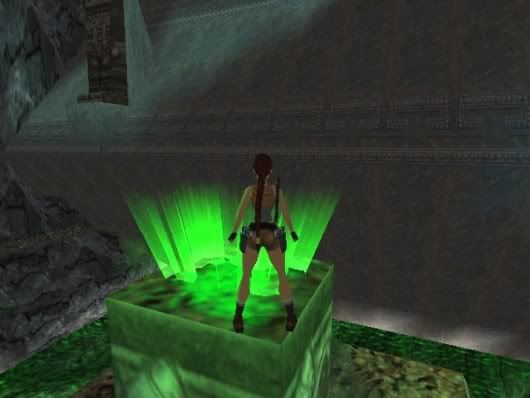 So I was on my way through those far caves again. And my feelings somehow told me I was still at the beginning of this really eerie way...
I reached a new area, where the rocks had been replaced by the strange metal. Further mysterious constructions, and could only guess about their purpose, also as the meanwhile clearly louder working sounds of unknown machines created an always more eerie atmosphere, which I also could not escape.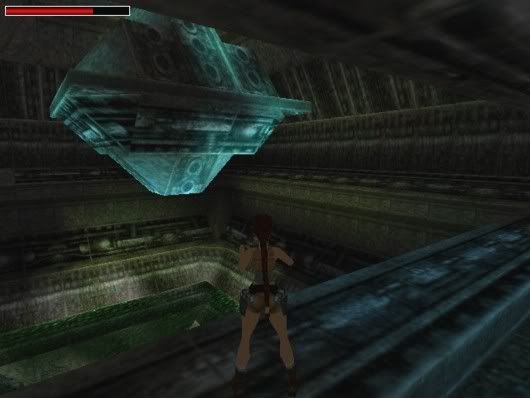 I came into a cave again – natural and artificially environments really seemed to meld somehow – only impressing! And here I had to use my acrobatic abilities again in order to get over some traps.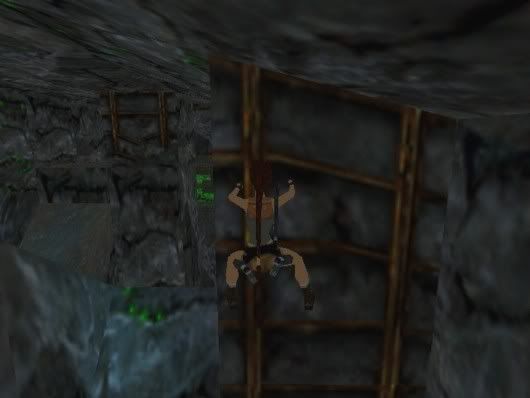 A further, two parted object, which I had found and put together before, gave me access to a new area now. Therefore I had always to look around very carefully, not to miss anything and finding myself at a dead end...
The room from before, from the perspective of a higher floor...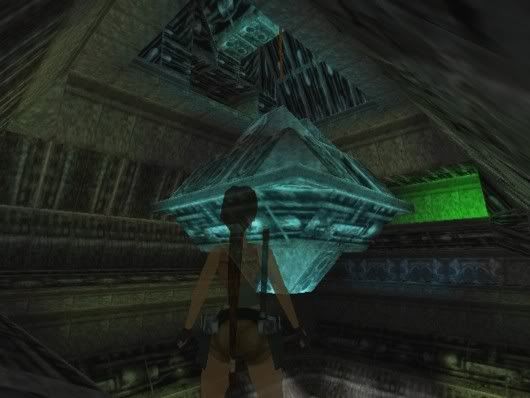 And the new area – now I could reach the opposite side with a rope...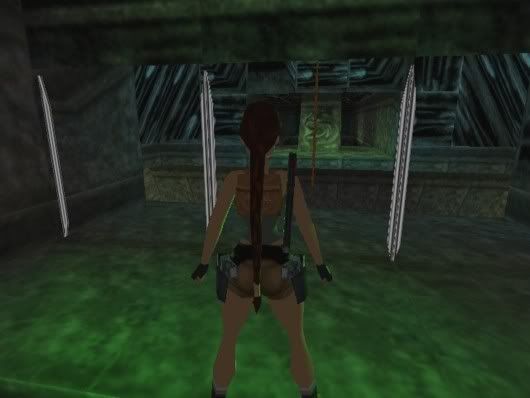 And once more I became access to a new section. This sight alone was an obvious sign for I got closer to the centre of the whole extra terrestrial complex. My tension was growing every further moment, and the doggedly tubby sounds from the foreign machines nibbled at my nerves.
Well, however, of course I continued my way, still deeper into the alien world, beyond all my inner fears...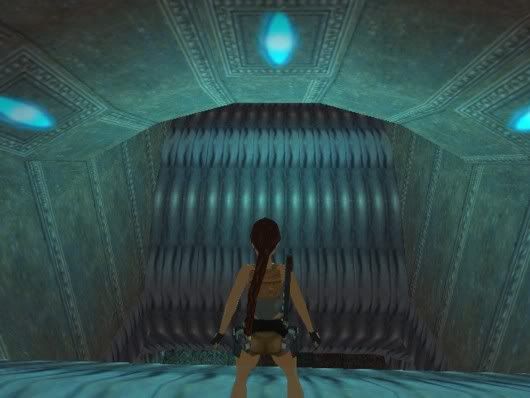 Creepy, but first of all not of this Earth! Those aliens had really done a good job, to adapt the environments to their needs. But what was behind of all that, what did they want here? I had to find out for somehow averting their plans.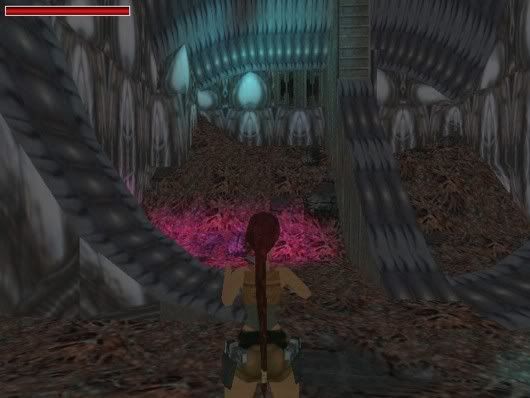 The world of the aliens, and me straight in the middle of it! How could I only got involved in an adventure like that? Of course, because I am Lara Croft then. And because I never avoid any danger out there, or I never leave any mystery unsolved. This is how I am, and this is why I was here...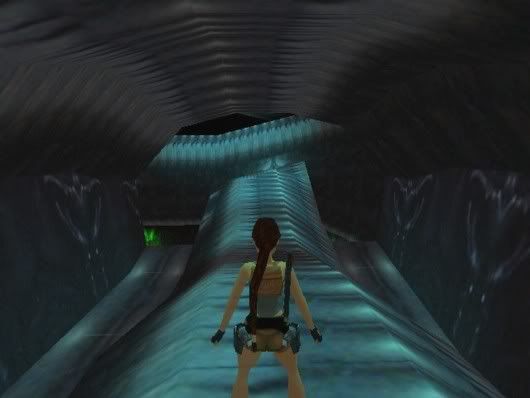 My arrival in a still deeper lying subterranean basin! I hadn't a clue any longer of how deep below the Earth I really was meanwhile. And still there was no prospect of an end of this adventure.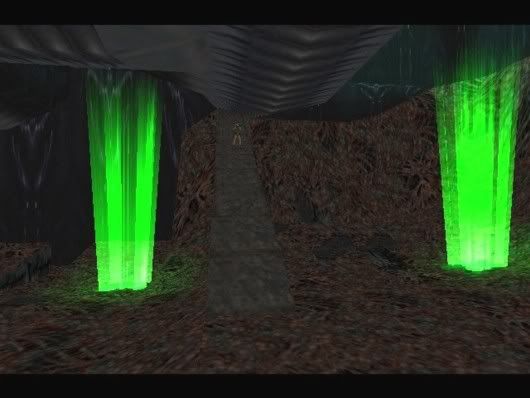 I tried to orientate in this strange and foreign world, what was not easy, for finding out where I had to further go now. The clues I found got more and more difficult to decode them.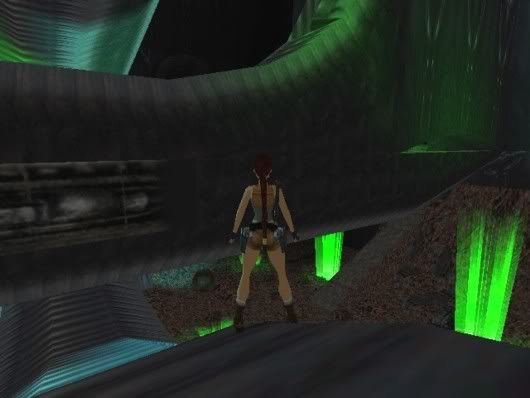 Finally the way went up once again, beyond a long, long ladder.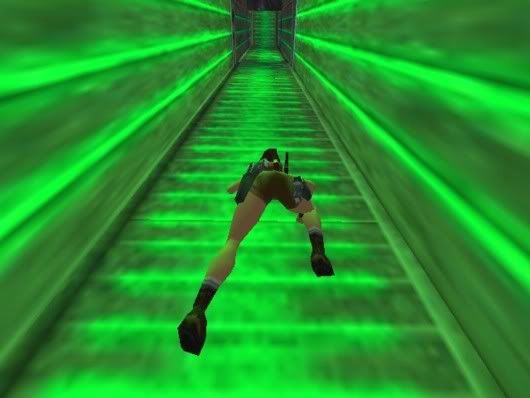 An at the first sight inconspicuous room turned out to be a one and only trap. I had to continue very careful to reach the exit. And by the way, about my legs, well, sometimes my camera does unfortunately not work whole appropriate…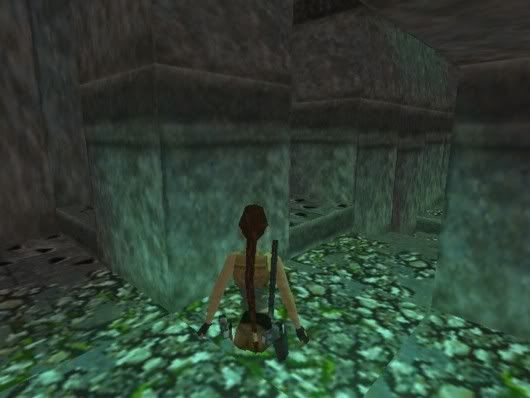 Green shimmering water, not very inviting! And at some locations even deadly! But though I had to do a diving session here, in order to reach another object.
And yet I was located in a tunnel of metal again, getting me further...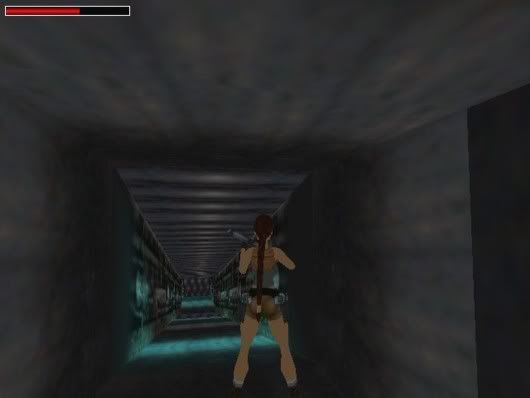 ...straight into another trap. But don't worry, it won't be that easy to catch a Lara Croft, because she will always find a way out. Even then when she is trapped in the middle of an alien world!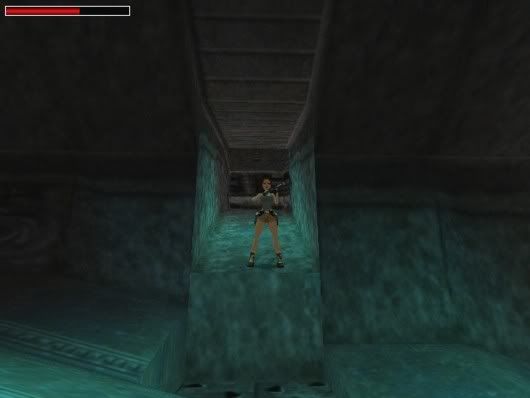 Not enough with those sword swinging, transparent aliens, now there were also even crossing flying, ghostlike creatures my way. But blessedly there were strange, cross formed objects in the area, where I could get rid of those enemies, if not by weapons then. The green aliens at least were superable with my weapons.
Where would this way lead me then? The eerie face wasn't actually inviting at all. But I had no choice, so brave forwards then!
What a great sight! This would really make everybody's blood run cold then, if not being whole hardened. But well, as you know I am, so not despairing, but further forwards on my way...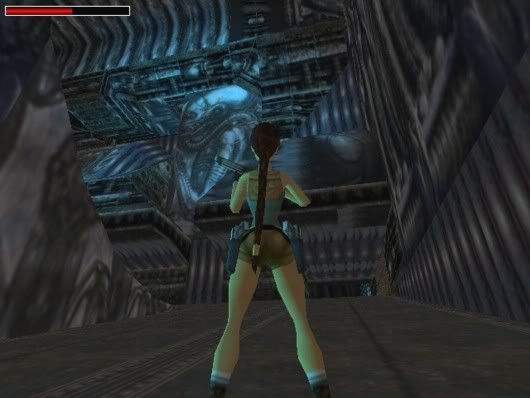 And once again then, in fact the only possibility to really see somebody like me on the run. But therefore I was the winner of this disparate race!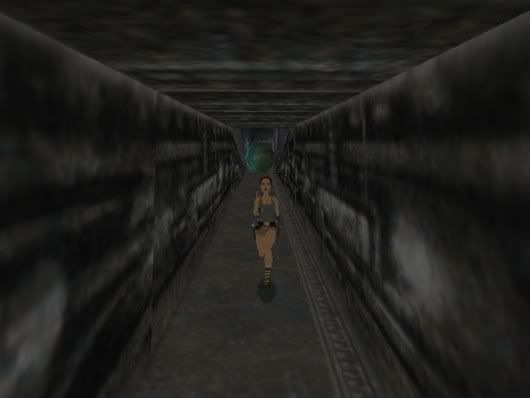 A new area – and also a bad trap again, as I had to find out very soon! After a further battle with some further transparent aliens I had to find a way to somehow escape this deathtrap...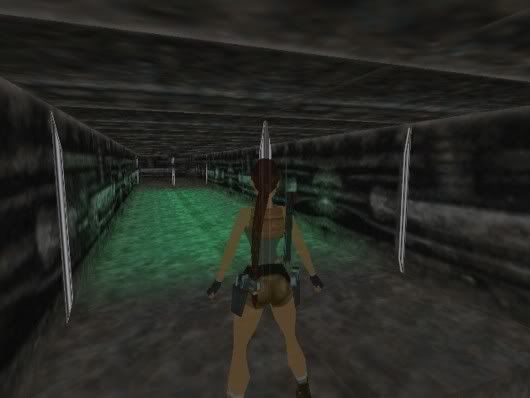 This room was very huge, and there were partially strange drawings and signs at the walls. But I was no longer able to decode them all.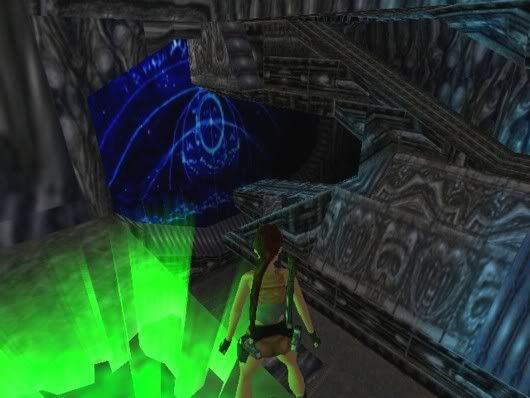 I was able to get access to a new room again, but entering it I was blinded by a really blazing light. Where could I have come now?
Incredible! I got more and more astonished about those strange, partially even bizarre, but sometimes also really beautiful world of the aliens...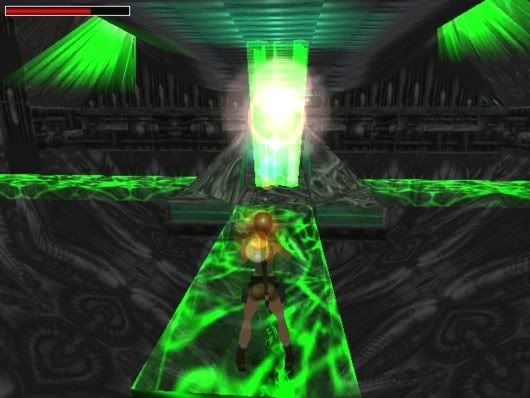 Well, fascination fades very quickly. I had to face another extra terrestrial, but this one was made of sterner stuff then. At least the protective suit it was wearing. This creature was shooting with an energy weapon, I could not oppose in any way, obviously I had encountered one of the true aliens now. No servant, no infantry any more, and it was a hard battle. Only my agility and fleetness were responsible for my victory, but the stranger unfortunately disintegrated at once. The identity and look of this alien stayed a secret then...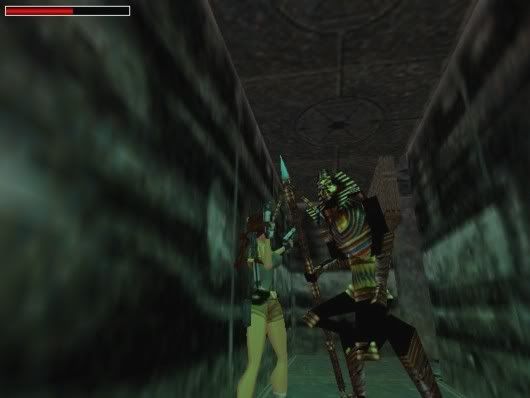 And further on this dangerous way! I was aware of the fact, that I was getting closer to the centre of the extra terrestrial invaders, for this was the way I really thought about them meanwhile. And I was prepared to fight the battle of my life, in order to neutralize this threat once and forever.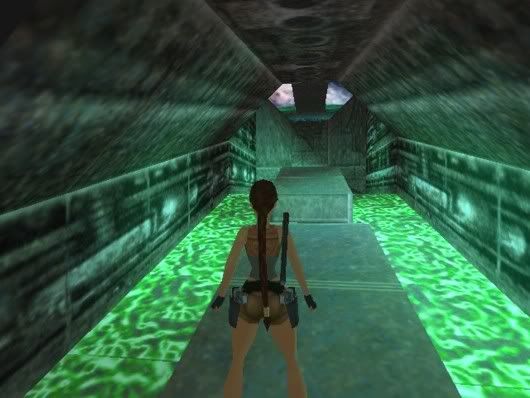 A further fascinating sight! But not only this, on the contrary! Reaching the centre of the extra terrestrials I learned about the true dimension of this tragedy. It really was about invaders, having nothing less in their minds than conquering our world. And this happened quietly and undiscovered, because of going on subterraneous.
From this place huge machines were working, producing a strange organic-technical matter, spreading into the ground to all sides further and further. This was how those tunnels were build and partially lined with the foreign metal, for creating interconnections around the whole world. Tunnels to be used sometime to get back to the surface then and starting the true invasion.
But with what? Where were the hostile armies, where could they hide? Except single aliens or groups of extra terrestrials I had not discovered anything.
So, I still needed further answers...
The platforms above the deadly abyss were my further way to continue, but I was hampered by more winged enemies and fire traps.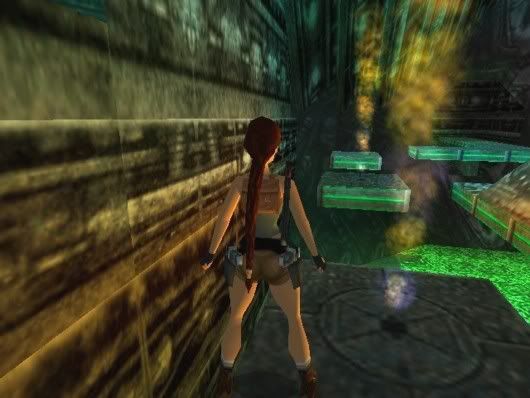 By machines, placed in both side walls, I could finally cause an overloading of the systems. My only hope was a giant explosion, destroying the whole project of the aliens, while my own little chance was succeeding in the escape to the surface again in time. But the chances spoke against me.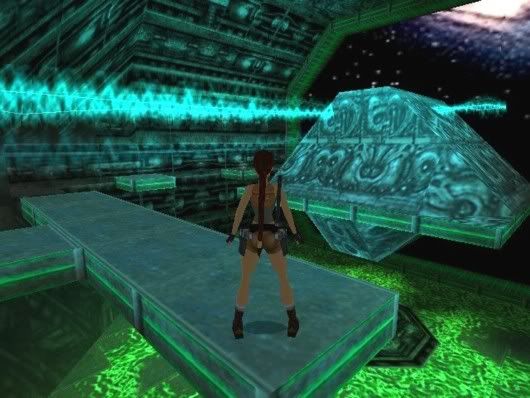 The period was running. And still not all puzzles had been solved, for example somehow getting over this abyss. But I found the solution also here and could pass then.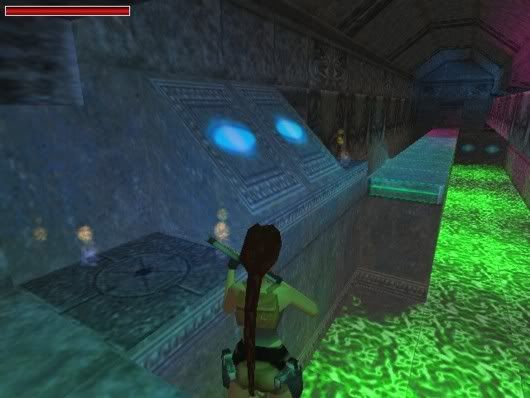 Well, not exactly then. This extra terrestrial had an objection against my continuing, I had to face this battle...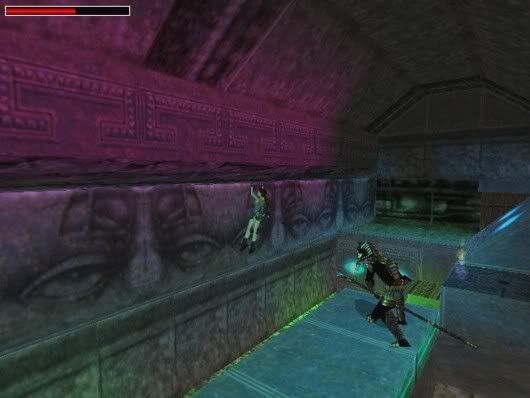 Succeeded! And I ran further for my life!
Finally I stood on the floating construction of the alien centre. And even if it not looked like that from outside, this was my way into freedom, if I could be faster than the final explosion.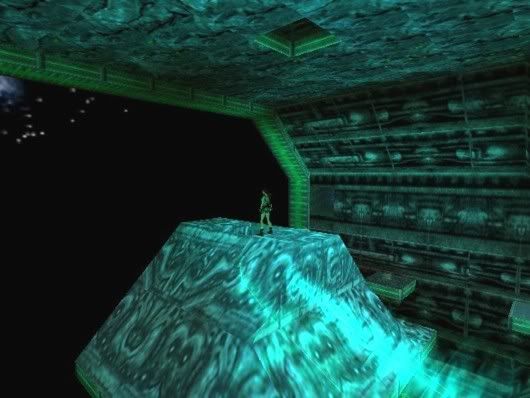 Finally I could even solve the last puzzle of the extra terrestrial machinery. In the inner part of the central alien object the power of thought became true, at least partially. That much I was able to take from the symbols here, and this was obviously also how this invasion was working. Those aliens did not reach our world with spaceships, but with the power of their thoughts and the help of those machines. This way they were able to move in those self constructed tunnels, and so they even could cross dimensions, if the destination also contained such a machine. I did not find out how the first machine ever had come here, for I had not time for further researches. I simply touched one of the walls with my hands, thinking at my home.
And really, it worked, the return voyage begun...
I was able to leave the tunnel of thought again, only a few seconds before the giant explosion made the Earth shaking! Even the tunnel was slopped, in the end there was nothing left of the world from those alien invaders. At least I hoped so, for I could not make any recheck, of course...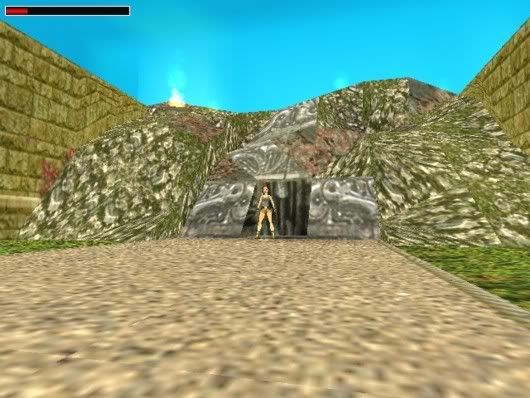 Back at home again, finally! Once again I had escaped by the skin of my teeth, with saving the whole world besides in secret. The extra terrestrials had planed the invasion after the people of the past had become too strong, and a threat to them. But in the end they had failed then.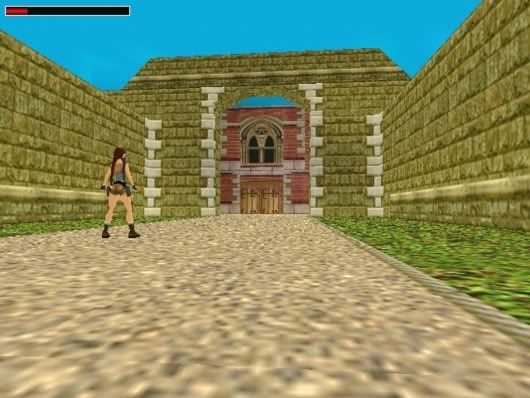 Well, now the order of the day is only a long holiday! I really need some recovering, and also my butler Winston! At least he told my his nerves would not stand all this much longer. Who knows. Perhaps I have to look for a follower some day, but a younger one then. And with good nerves, of course.
We will meet again, within my next adventure. And this will follow as safe as the Bank of England, that much I can promise you for sure...
The End of Episode 5
---