Annotation:
This story part base on the level "Lara at the Movies - Pirates of the Caribbean" by tombrd
Lara's Adventure Diary, Part 7
Welcome back, my dear adventure friends! Lara Croft is back in Action again – of course! I hope, you will be with me once more, for finally my adventures are never getting boring then.
As I promised in my last episode we will join for a classic adventure this time, a challenge every treasure hunter will envy me for.
Well, this adventure was one of my early ones, after I was adopted by the Croft family as their daughter. They gave me the chance for studying, and of course I took it. And my choice was about archaeology, for it was also the chance to learn much more about the history of this planet.
My studies also aroused my interest for artefacts and treasures, because I learned about how many of them still were missing. So I decided to also have some practice, starting my own expeditions around the whole world.
My new parents have been very understandable, and they supported me as good as they could. And one of my very first adventures was the one I am telling you today, as I tried to find the still hidden treasure of an famous ancient pirate captain, named Blackbeard. Unfortunately I was not the only one for this mission, a mysterious, but powerful organization hired a lot of mercenaries, as they got wind of my expedition. But, well, at this time I wasn't that careful yet in hiding my traces, so it was easy to find out. In fact, even the newspapers wrote about my planned journey then. And in the end I had to fight those mercenaries all along my way, but not only them.
This epic adventure evolved to a real big challenge – much, much bigger than I would have ever expected…
Level 1: Pirates of the Caribbean, Part 1
It was a beautiful summer day, when I started onto my expedition. At this time I had not much experience yet, only three little journeys after my "Psycho" adventure. This one now was the biggest search at all in a time, when my true vocation began. I had no idea yet, that journeys like this one should soon be normal for me, but well, all big things have to start someday…
Among other things my new parents also owed a waterplane, which I could learn to fly, of course. And with it I started onto my trip to the Caribbean then. One of the small isles was my destination, as I could find out of studying all possible hints for a longer time. I could reach this isle without any trouble, even the weather stayed fine. So, look at the beautiful environments here, after my landing…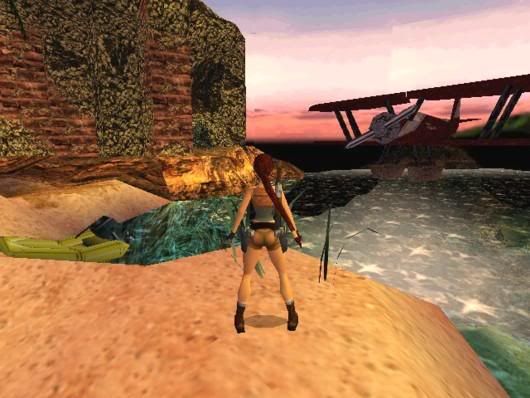 Two more pictures of my first impressions at the island! In fact, this would be the perfect place for a great holiday!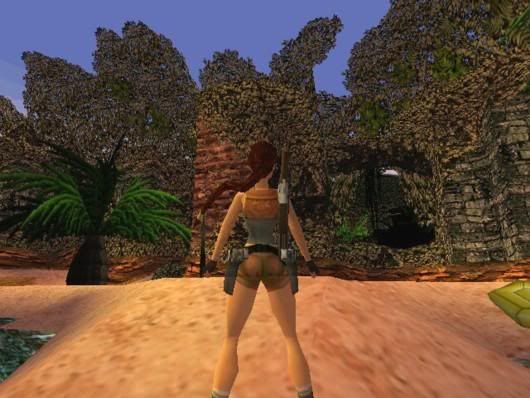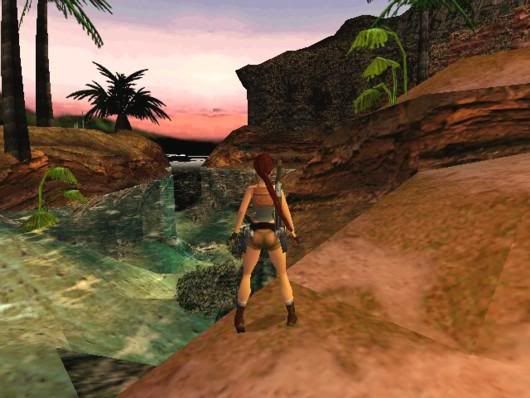 Within my first reconnaissance of the nearby beach I was attacked by a wonderful looking parrot. What a pity I had to kill it…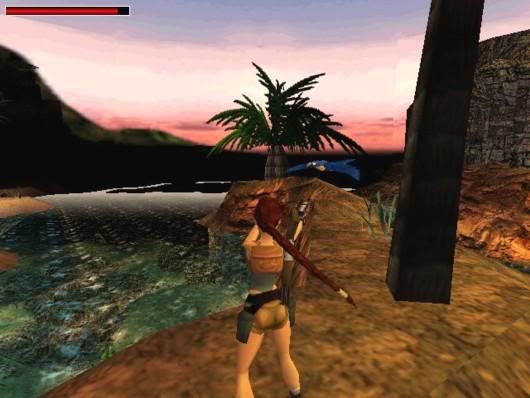 Well, nothing interesting at the beach then. A huge jungle mounted at the beach, and I knew I had to explore it. Soon I had to fight with some leopards crossing my way. But this was only the beginning, I had no idea what further enemies would still wait for me. But I should find out soon…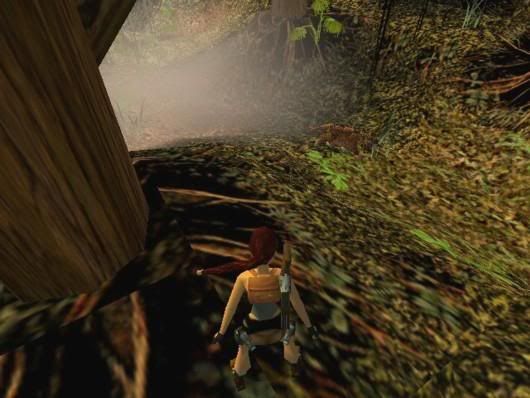 So, the straggly jungle area! I was very careful with my exploration and only walked slowly. Not only because of further possible enemies, but also with my search for any additional hints, which could help me.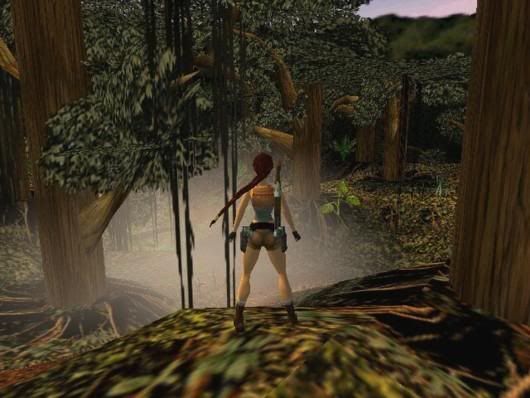 My way to go…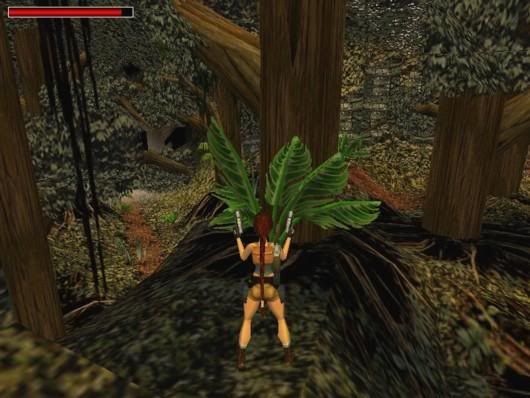 A not very safe bridge was my further way beyond a deep foggy pit. I had to hurry when crossing it, but no problem.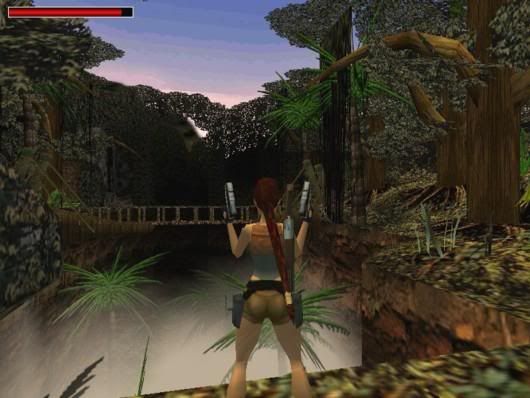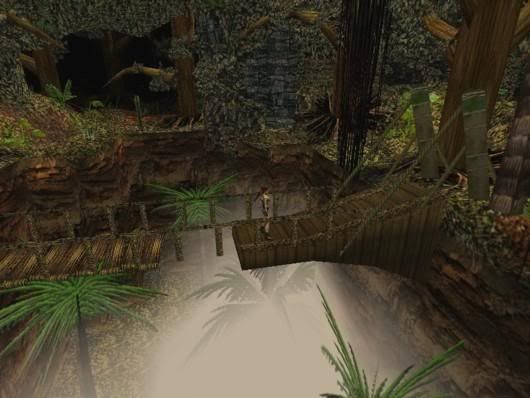 Where would this path lead me then? I was very curious, of course, and I still was whole self-confident and without any fear. Still…
A little pond in the jungle, and not the only one around. I had to be careful not to oversee anything in this wonderful green environments. Otherwise this jungle could soon have been a dead end to me.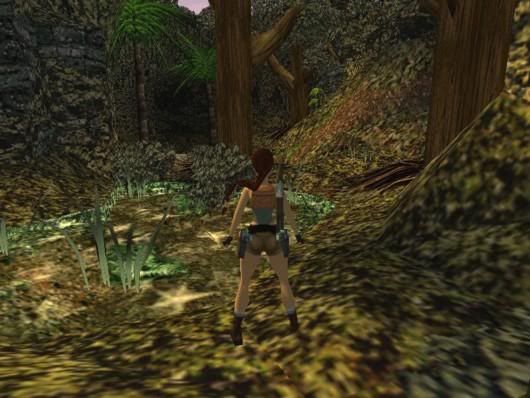 This is an example. Below one of those little ponds I found a secret chamber, but underwater. Time for some diving then…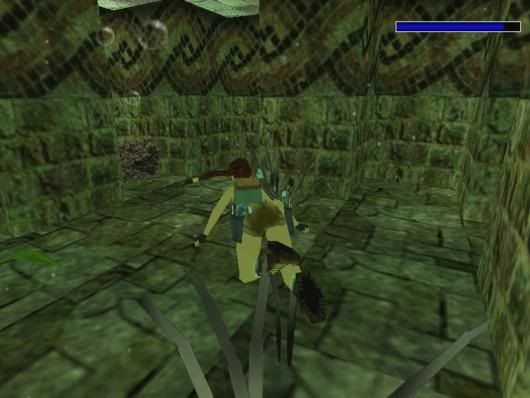 And this is where the chamber brought me then. I somehow had to reach the lever in the background, but as you can see there was a deadly trap in front of it. I had to succeed in a difficult jump here – and I also got the first really bad thought about what else still could be waiting on my further way…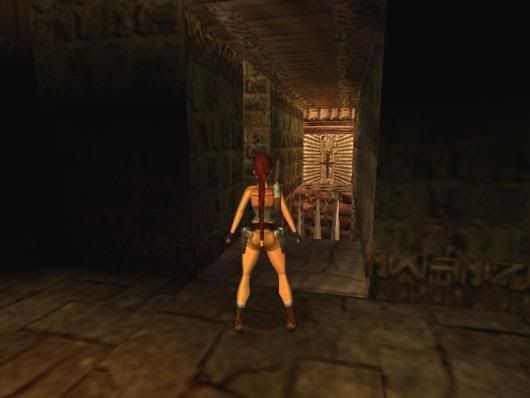 Back in the jungle again. A new path was open for me now, and of course I had to follow it. Where would it lead me to?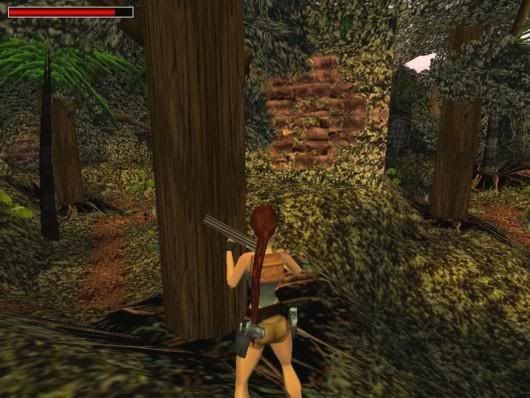 A temple area. As you can see a huge construction, and of course worth to explore it. Perhaps I could find further hints here?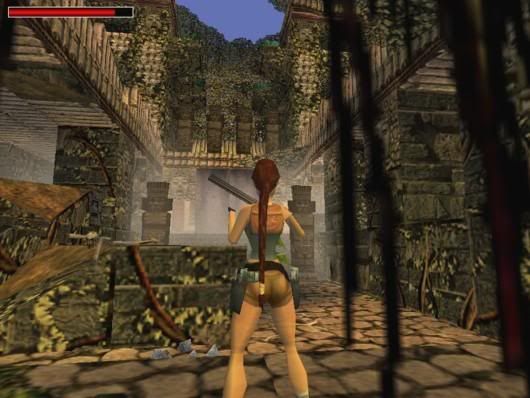 After dealing with some bad guys I got my hints. Now I knew I was not alone on this search for a incredible treasure. Some mercenaries were after me, but I had no idea who had hired them. Of course they carried no further information, but I knew this would not make my way any easier.
After defeating the enemies I had to solve a little torch puzzle…
Another enemy, a big python…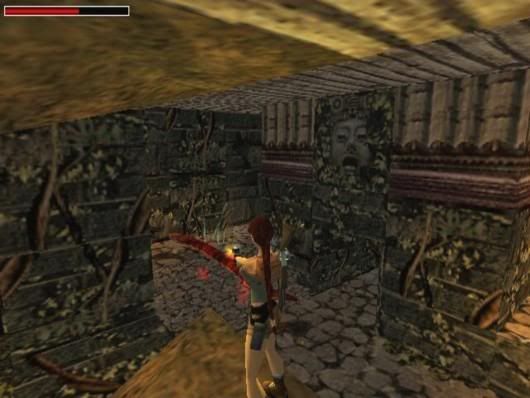 On the roof of the temple. I was still searching for a way to get into it, to open the big doors at its front. I needed two artefacts, placing them in the right position to the right and left of the doors would certainly open then. One of those items yet was in my luggage, now it was time to seek for the second one.
I found a new dark cave in the area, but also something real terrible. No further words, see for yourself. My only chance here was to hurry, for those beetles really were deadly.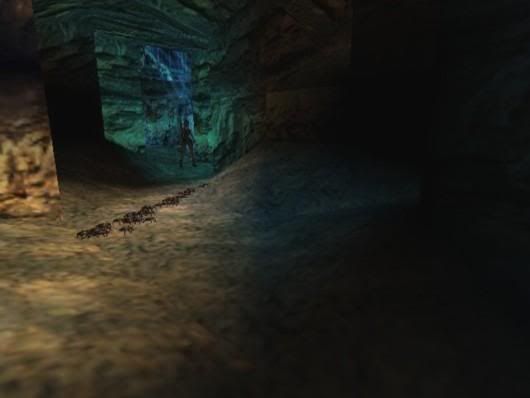 Eerie, isn't it? Dust and spider webs were hanging thick all around, so I could see I was the first person entering since a long time. And I was very confident of finding the second artefact then.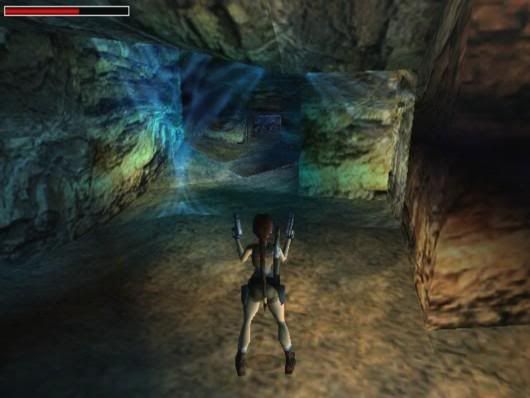 Another challenge room. The artefact suddenly seemed so close, but it was still far away, too far to reach it. I had to succeed in some further tasks first to get it…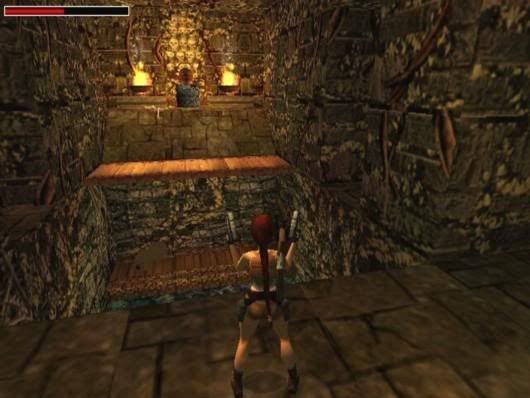 …for example this one. Wouldn't you be distrustful when seeing a slope like this? Well, I was, and 'I was right. In the end my good senses saved my life and I could continue my dangerous way.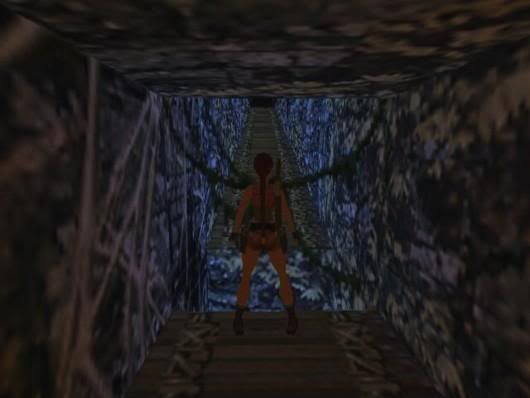 Still no artefact. But a fallacious floor with two levers, one at each side. I had to reach them, but not enough with the floor breaking, there began also lowering knifes from the ceiling. The only way of surviving was: run, Lara, run…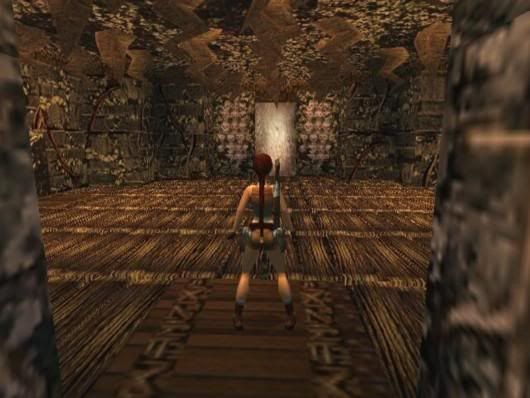 Another puzzle room. I had to flood the area here to reach the higher balconies. As you can see, enemies, traps and puzzles all along my way! But what can I say – you may think I am mad, but I love it. And this was the adventure when this new kind of enthusiasm was born…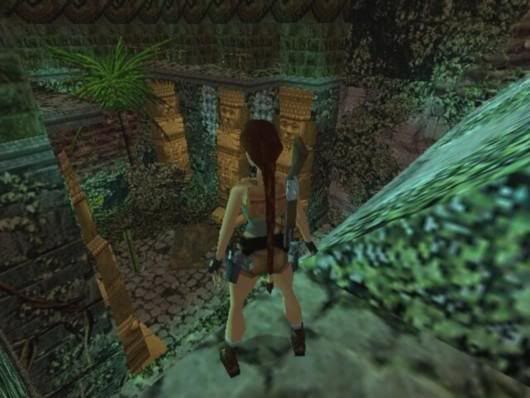 As the water puzzle was solved I could continue through the jungle again. Of course still in search for the second artefact…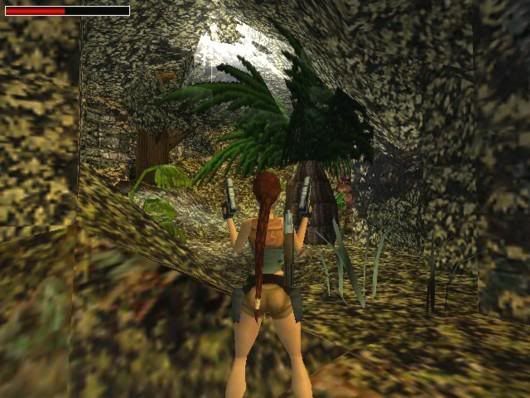 And here it is! I finally succeeded…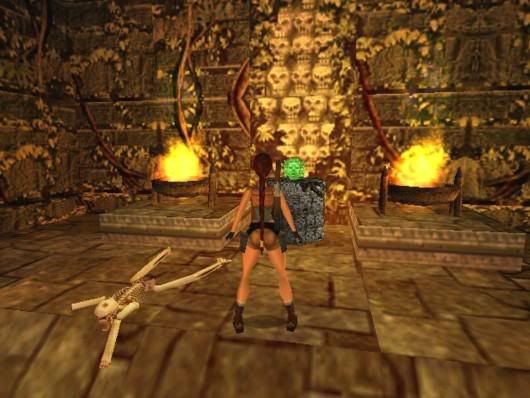 The enemies were still behind me, and taking the second artefact I was attacked again. I had to fight all along my way back to the temple, but my senses and reflexes were good enough to be successful. I defeated all the enemies.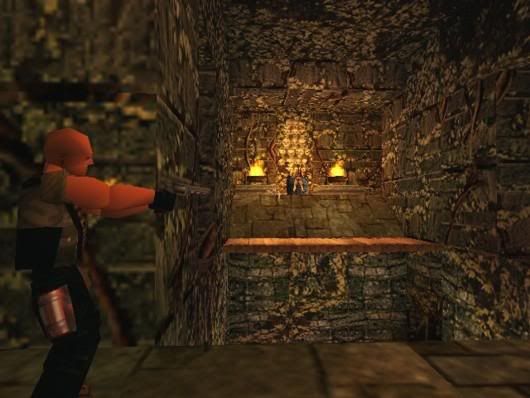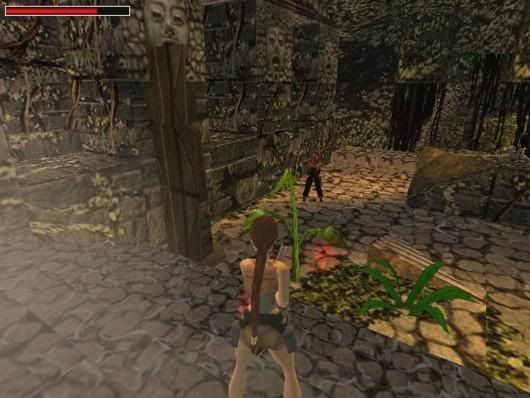 The temple doors finally opened!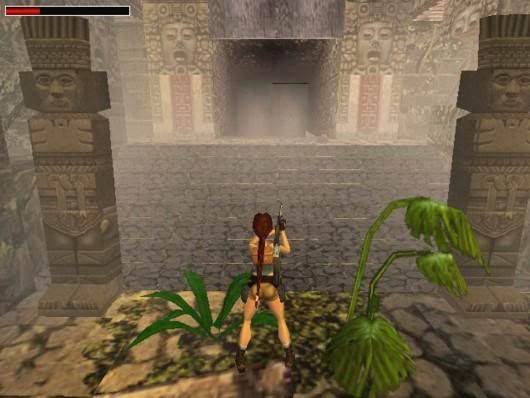 Of course I entered the temple at once. It brought me into underground, with no imagination of what to expect down there…
Level 2: Pirates of the Caribbean, Part 2
I found myself in a big underground cave with a little lake and waterfall. To continue from here I first had to do some jumping beyond the rocks, and somehow even behind this waterfall…
I reached a crawlspace later, crossing a slope. And look what was happening…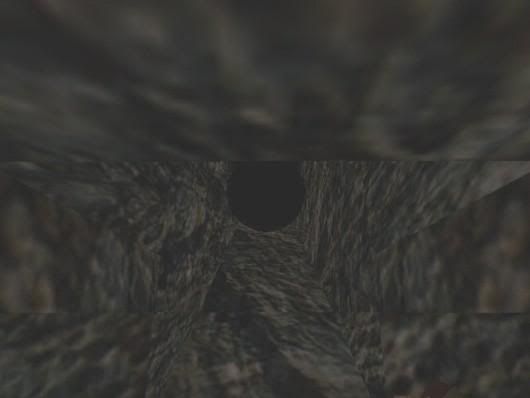 Further and further on my way, and still no idea what my final destination would be. Here it was about jumping again, with avoiding the fires.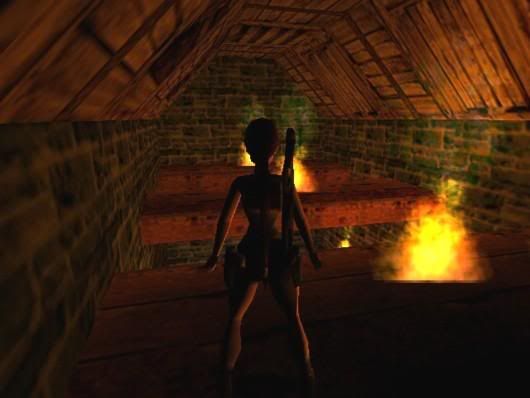 I reached a creepy new area. There was a big building in the background, and it seemed to be an old inn. Thick white fog was crouching all around, and the whole atmosphere had something real ghostlike. Within my "Psycho" experience I wasn't surprised any more to meet a ghost. But here it was something whole new to me, to learn there was more, much more, between heaven and Earth…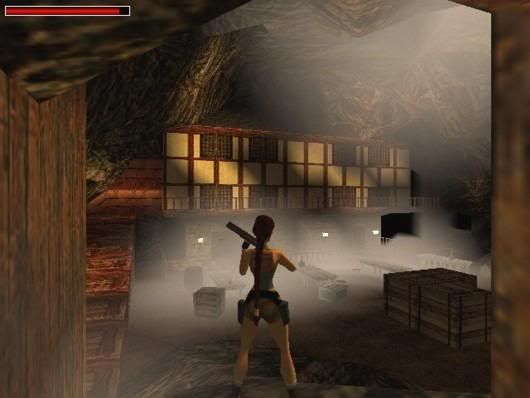 After exploring the nearby area I found another cave, leading me to a further secret chamber. And here it happened, some mummies suddenly returned from death to life and attacked me! Thank God they only moved very slowly, so I could destroy them with my heaviest weapon…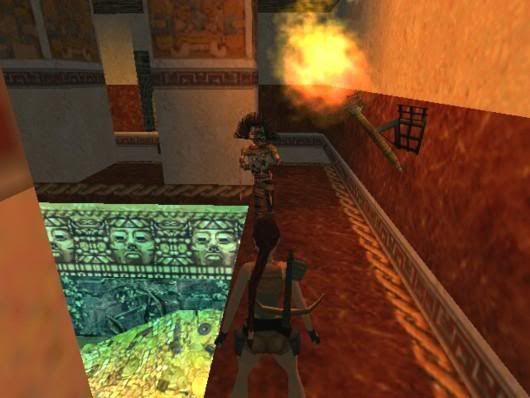 What a wonderful sight! I had found the treasure, but well, only apart of it! From all my studies I knew there still had to be much more out there!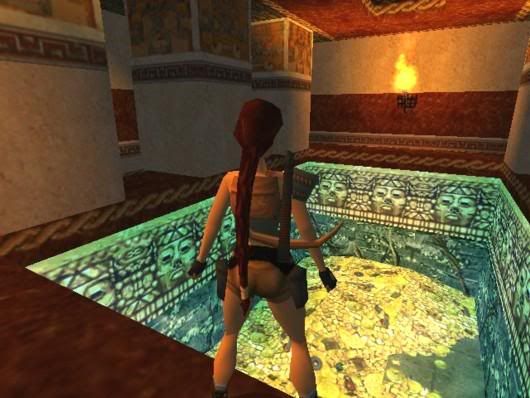 And so I continued my search…
A dangerous way again. Meanwhile I knew, slopes are death traps very often! I learned to be careful very soon.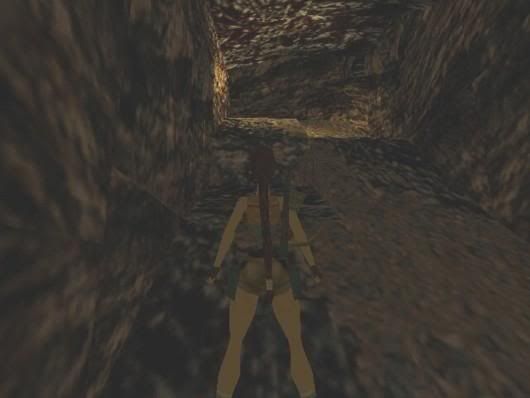 "Another eerie room. As you can see this spooky fog even crouched through the buildings. But my feelings were under control."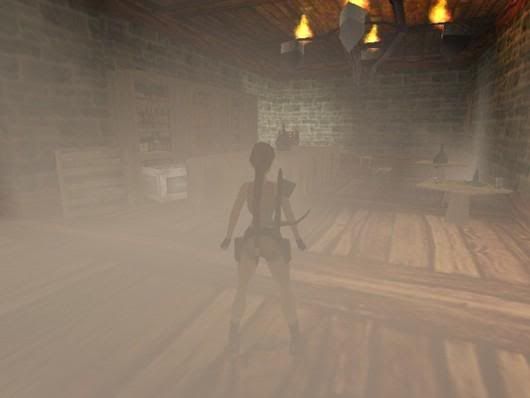 Well, most times, at least! A skeleton was attacking! But no time for fear, defeat it or die was the only option here…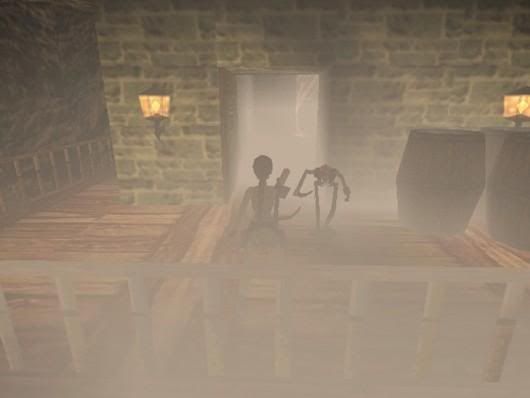 Another room to explore. The last one before reaching a whole new area again. But I would never thought about what to find there then…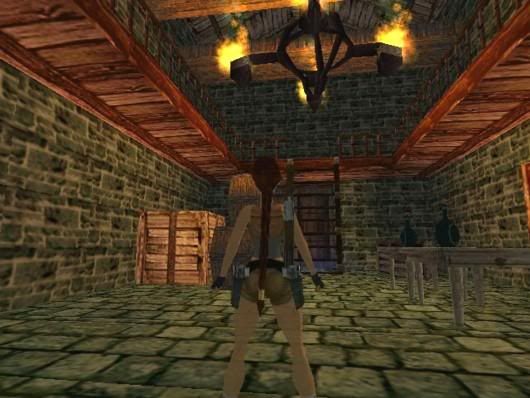 Look at that! Almost unbelievable, isn't it? This was my final destination, the secret underground base of the ancient pirate captain Blackbeard! This was his headquarters a long time ago, and I had found his ship! And somewhere around here he had found his last freedom, to rest in piece.
At least I believed so watching this incredible scene…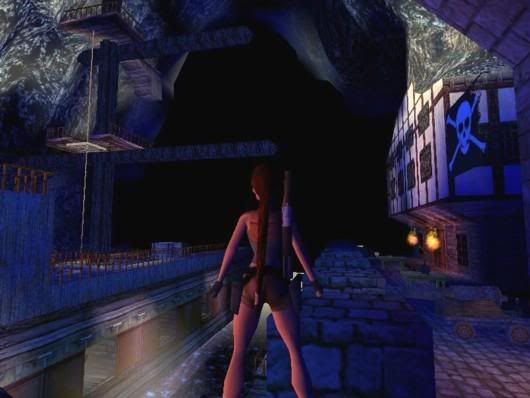 So, my big adventure would continue, and I knew the biggest part of Blackbeard's treasure was close now. I only had to find it…
Well, so much for resting in peace! Blackbeard was still alive – as a ghost, and further protecting his area and treasure! He did not leave his ship, but I knew yet I had to fight him, sooner or later…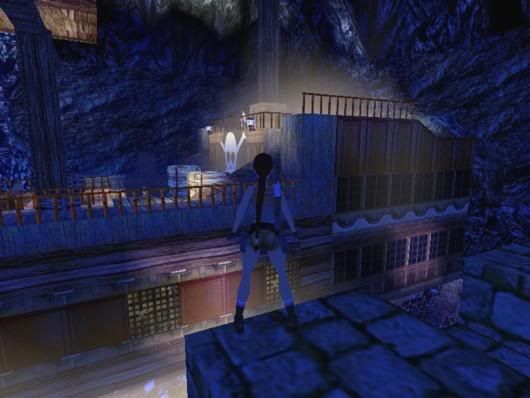 Not only Blackbeard was alive, also his crew! Good luck I also had silver bullets in my luggage, it was even deadly for ghosts, to finally inhume them. I only had to be careful of their own still dangerous weapons.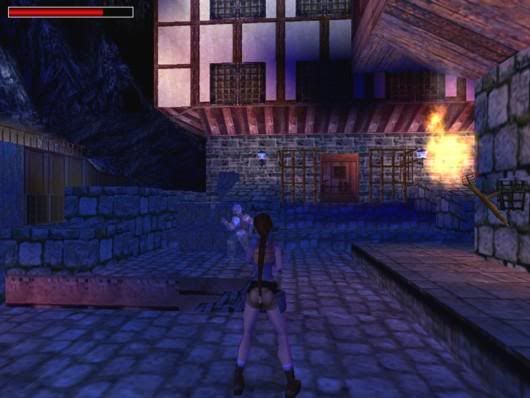 The search was for a gem now. And well, it was not so difficult to get it then, perhaps this fact should have warned me. Because after succeeding here a very bad surprise was waiting for me…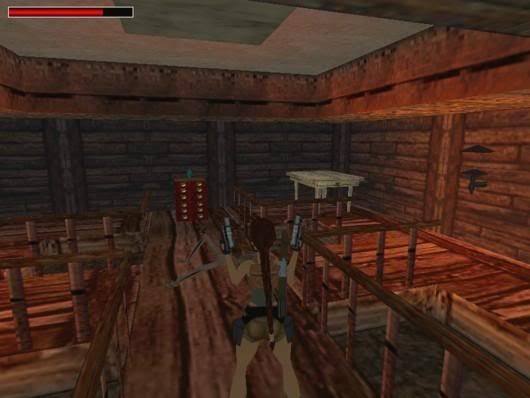 Horrible! I had to get up this ladder, but deadly spikes went up and down in front of it. This was my most dangerous challenge on this journey, and in the end, because of almost less than a second time left, it was only luck I survived. And believe me, I will never forget about this experience, not even until today!
On the pirate ship finally…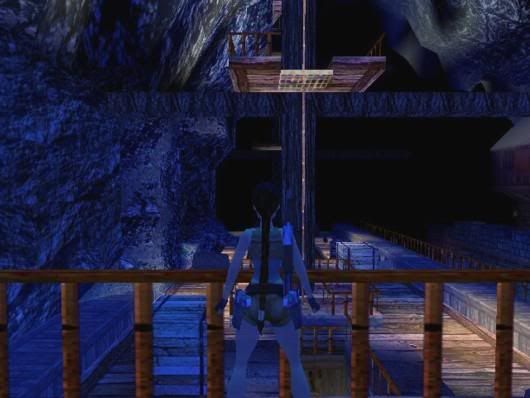 I did not challenge Blackbeard yet, but entered the lower deck at first. And I could see the next trap yet, for my journey should never get too easy then.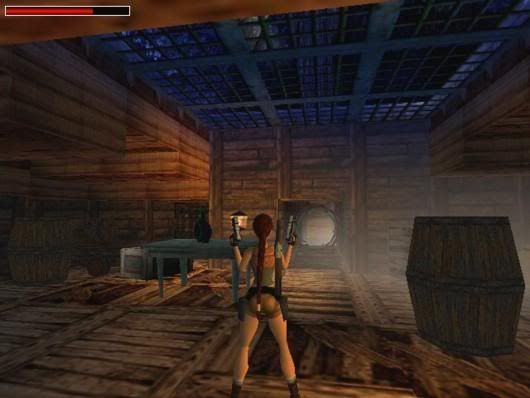 Easy? Believe me, nothing was easy within this treasure hunt! Or would you think monkey swinging is fun with spikes coming up and down, from the floor and the ceiling? But I had no choice as giving up or getting through somehow. And so I did it, with some injuries, of course, but I could heal them again…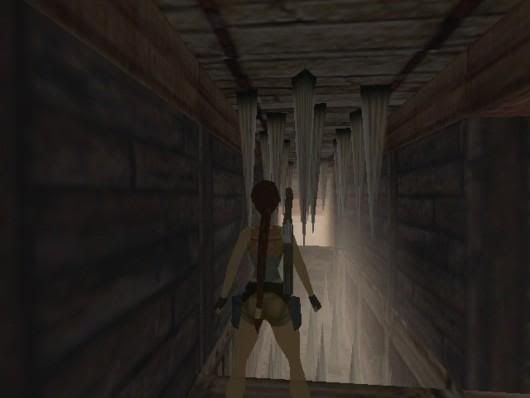 The captains room! Here I could find a secret passage to continue through the ghost ship. But for continuing at all I had to get a special key, hidden on one of the high masts. And to get there first I had to reach a lever, guarded by – exactly, the pirate captain himself! Blackbeard!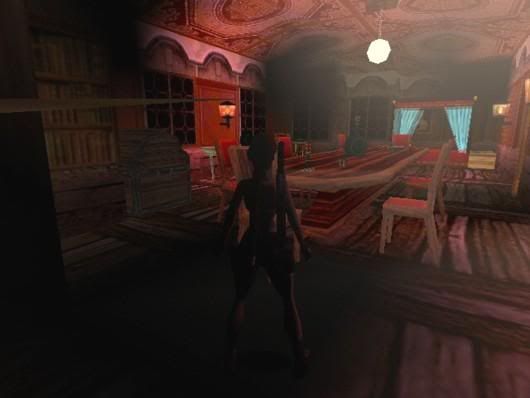 The final confrontation…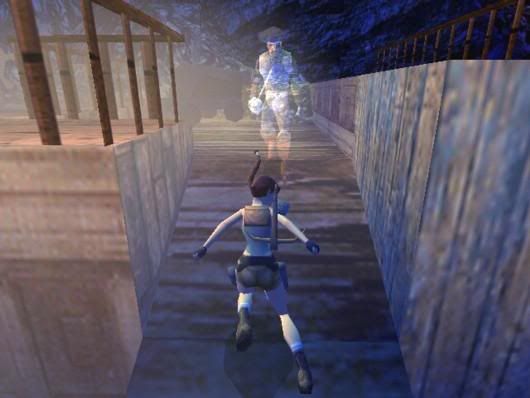 On the highest mast of the ship I found the key. But if I thought to be safe now, after defeating Blackbeard before, well, what a big error! A fire wraith was released now, attacking me at once!
My only chance was reaching water first before this deadly ghost reaching me! But climbing and running would have been a much too long way to go here, so my only chance was a boldly jump into the deep…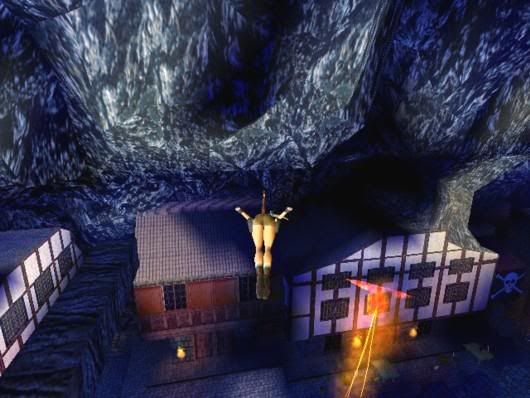 The water saved my life, as the wraith died with touching it. With the key from the mast I could continue now. After a little break to catch breath, of course…
I had to go back to the roof of the building then, where I first entered this area. A trapdoor was open here now, but who would have believed I could simply enter it? Well, not me, not at all…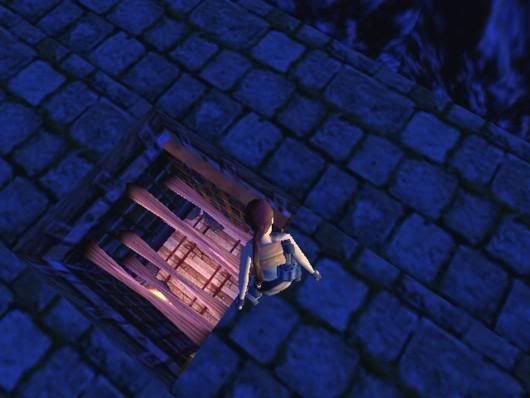 But things even got worse! I came to a room where the only way to continue was jumping beyond some breaktiles above deadly ground, in order to reach the other side of this room. A hard challenge again, but I succeeded…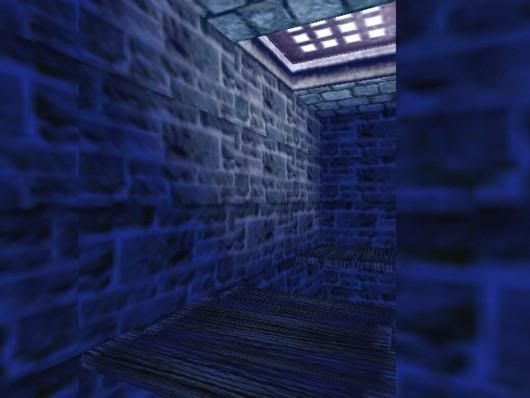 One challenge after the other now, a maze was waiting. Good luck I have an excellent sense of direction…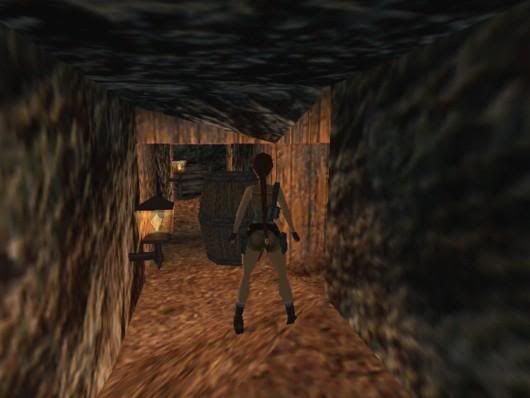 I reached another big building. The final one in this adventure, and the entrance to one of the biggest hidden pirate treasures of all time!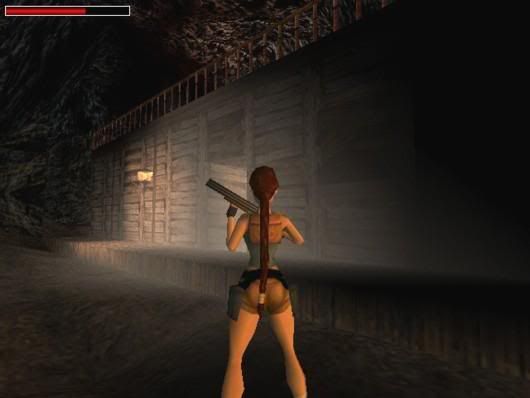 But first a battle was waiting for me, the final battle against the last three members of the pirate crew. Well, after first getting into the building, of course…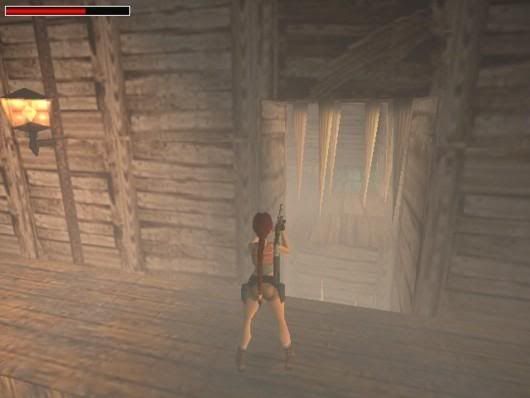 I succeeded! Somehow I succeeded! I think it was about my abilities and a portion of luck, but however, I could take the last gem in this house to open a further door outside. And look what I found there! Incredible…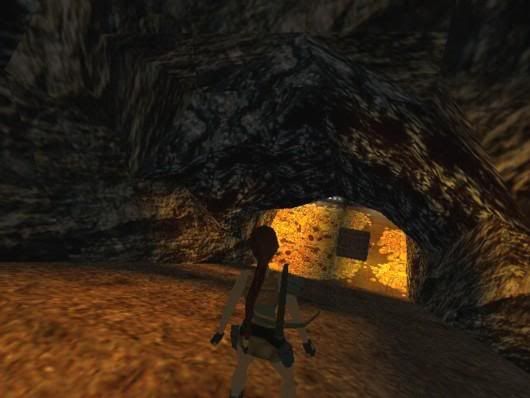 So, the treasure of Blackbird was finally mine! Of course I had to give away most of it to the government then, but there was still enough I got as a reward! My new parents already have been no poor people at this time, but now it got even better. We could take a butler for our mansion – you know him, for he is still working for me today. And, of course, my reputation began to grow, with every further adventure I got more famous in England first, but later also around the whole world. And this was the beginning…
Oh, sorry, I almost forget to tell you something really important! In the end one of the mercenaries, hunting me for a while, yet still left a little information for me. I found a note in his luggage, a strange looking symbol, and it seemed to be a hint for the organization standing behind the attacks.
Being back home again I tried to find out more about this symbol, of course, but I had no luck. The organization stayed secret for the next time, and I almost forgot about it again, for it did not cross my way again so soon. But it shouldn't stay a secret forever, because I should find out - although years went by meanwhile. But then I got in contact again with this organization.
Well, you already have an idea what it was about? Remembering my first told episodes? Yes, it was about her, it was about Natla! After I got more and more famous around the whole world she also remembered me - and changed her mind. Her organization, named
NATLA Cooperation of Science and Research, was not hunting me any longer, but Natla invited me for an important talk instead. At last she hired me for a new big expedition, in order to search a valuable and mighty artefact - named Scion.
Does this sound similar? Well, you are right. this was a very special adventure, called as "Tomb Raider 1", where things finally changed for me. Not only about a new boss enemy was "born" for me in the end - you know, this battle lasted for years, for Natla only was the beginning, as her kindredship continued the battle for such a long time. No, this adventure really meant a new step of fame to me, as really every single living being knew me then upon this planet. They even made games and movies about my adventures then, not to mention the fan merchandise...
Well, what can I say? This Scion challenge really seemd far above all things I experienced until this moment. And though of yet having bad feelings about Natla and remembering the Carribbean experience I finally agreed to work for the organization which I had fightened first. And so I was on a new expedition again, and of course every fan of my adventures of course know how it ended. It was such a big adventure, too big for an episode of my adventure diary. But if you would like to take a closer look into this adventure, to remember this time, then you can do so here."
"So much for this time then! Another adventure was over, but we will meet again for the next one, of course. Believe me, there are still so much stories to be told out of my life, and the next episode is waiting yet…
The End of Episode 7
---