Annotation:
This story part base on the level "The Treasure of the Lost Spanish Galleon" by teme9
Lara's Adventure Diary, Part 9
Hello, dear friends of my adventures, I'm greeting you once again! And well, I know, of course you are wondering now because of the photo of me this time. But you didn't think tough heroines like me wouldn't cry, did you? Or would you even had believed I would never show any feelings?
Time to rethink then. Of course I do feel as everybody else, and of course there are also times of tears and sadness. Just as the moment this photo was taken, meanwhile a longer time ago, but not forgotten.
I still remember as if it would have been yesterday. It was on a beautiful day of spring, with the sun shining from an unclouded sky and the birds singing their wonderful melodies all around. A day as it not could have been more enjoying, with all the nature in full bloom. And though, the most sad day ever in my life...
So, you wonder how that could have been? I will tell you. It was the day my adoptive parents died, suddenly, whole unexpected, by an accident. As you know, like me they loved to travel through all the world, on holiday and archaeological expeditions. And this day they started a new journey, searching for a new big treasure somewhere in the Caribbean. How should I ever suspect they would never return again…
Well, I was at home in our mansion as I heard about the sad news the first time. Winston came to me, and suddenly he even seemed older than ever before. His ashen face shocked me at once, and this moment I already knew something terrible had happened. And then he told me the whole truth.
My parents were dead. Died at a plane crash straight over the Caribbean sea, hopeless lost and sunk with the wreck forever. Their search for a Spanish galleon had taken a horrible ending. And suddenly I felt so lost and lonely, more I could ever describe, much more than you could ever understand!
This is when the photo was made, my flying camera again, but I really didn't know at this time. I simply didn't notice at all. Later, as I discovered this photo, I kept it, for remembering this so sad moment, the most desolate one in my life…
Well, after some days I could get out of my depression again. Winston told me more about this mission of my parents, about this lost Spanish galleon. And I decided to start my own search for it – continuing the expedition of my parents and fulfil what they had begun. I simply had to do this, in memory of my beloved parents.
My journey began straight after the funeral of my parents. Of course this was only symbolic, because the grave would always stay empty. The eternal sea would never release their bodies again. But this way I could imagine at least they would have found their last and ever peace near their home then.
The next day after the funeral I was on a long flight to the Caribbean sea, using our new water plane the first time. And so this new, but this time also very sad adventure begun. An adventure I should never forget again in my life…
Well, I think you can relive me determination to succeed in especially this expedition, to complete the last journey of my parents. They had done so much for me since our first contact, making me feel home on Earth after my long escape from my actually home planet Irius. They adopted me as their daughter after their true daughter had died, and I could feel comfortable and safe so much, as if Earth would really always have been the world I was born.
They loved me so much, and I will never forget them, as long as I live! So, this mission wasn't a normal one to me, no routine as usual, but only special. And I knew I would not return home this time until succeeding…
Level 1: The Treasure of the Lost Spanish Galleon
All the traces finally brought me to a small island in the middle of the Caribbean, where I started my further exploration. Swimming towards the island from my water plane I looked back once again, towards the far ocean. Anywhere out there, never to be found, deep at the bottom of the sea – this was the true grave of my parents. And now I was on the journey which would be my last sad goodbye to them…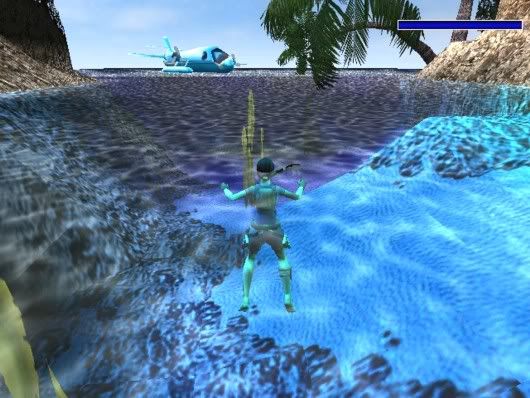 Well, not much time for thinking about my parents, for a shark appeared in the water. And yet there was my first battle again…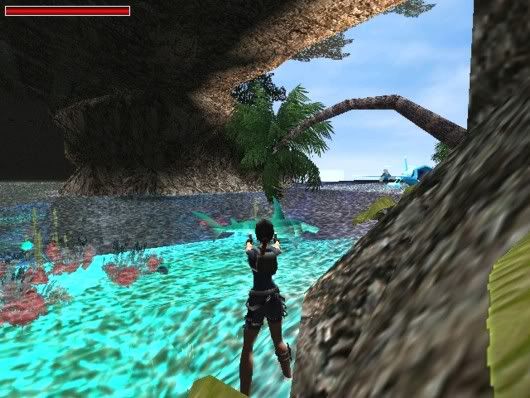 Arriving at the beach of the island. I took time to look around first and really found a beautiful environment with powerful rocks, nice plants and crystal clear water on this obviously forgotten island. At least the clues let me think there had nobody been here for a long, long time, as the natives seemed died out.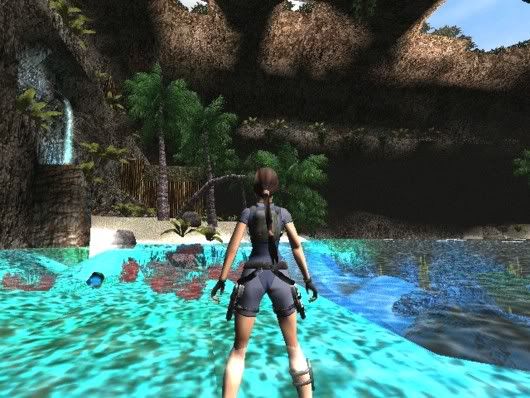 A view towards the ocean from a higher ground. Gorgeous, isn't it? Today I also know, but at this time my sadness didn't let me really detect the true scenic beauty of this small island…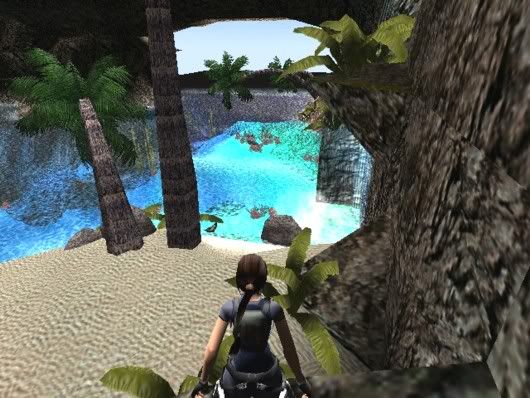 And this was the proof there must have been some natives on this island, probably a longer time ago. But I could not yet start to examine those huts, for I had to find some keys first in order to unlock the doors.
The obvious thing to do first was to do some diving sessions. If the lost galleon would be here, then I would only find it in the water. And for my flying camera can also dive, here are some subaqua images…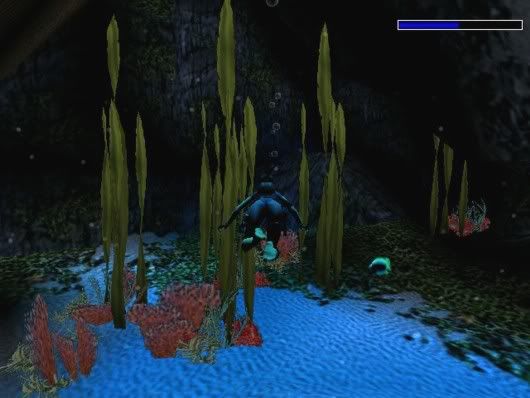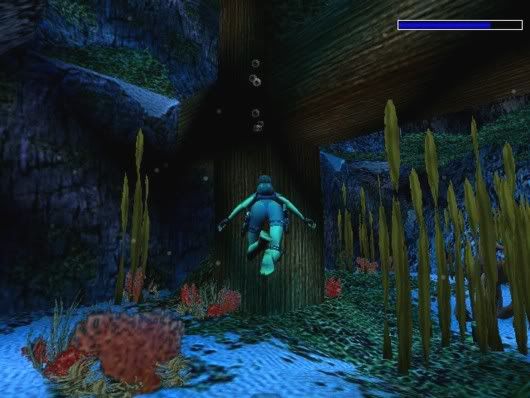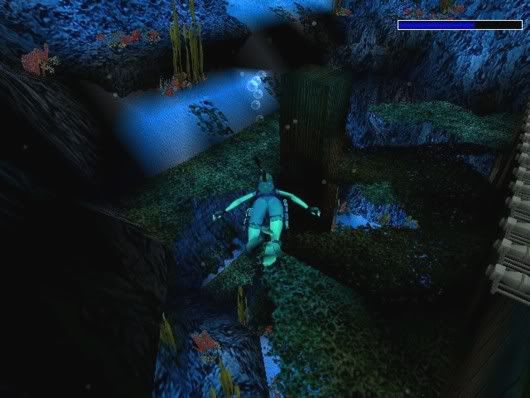 Found it, the sunken galleon…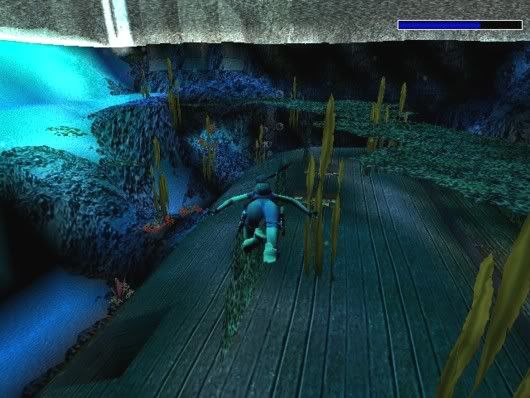 My further exploration of the island. So far I could not reach anything inside the sunken wreck, so I continued on the beach again.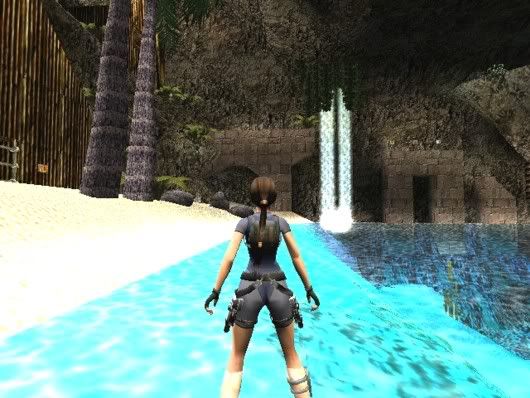 Today I can really enjoy looking at those beautiful pictures. If only my parents could also have reached this impressing destination…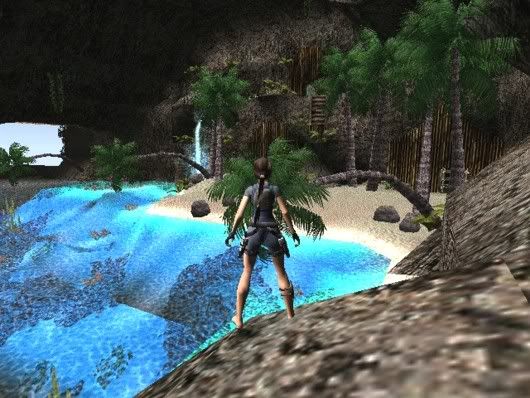 And a diving session once again. I found a small underwater cave, which I wanted to have a closer look at.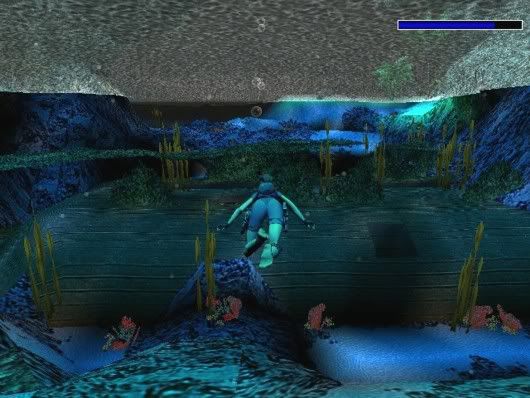 Well, look who was waiting there for me yet! With no special weapon in my luggage I could not do anything here and had to return later again.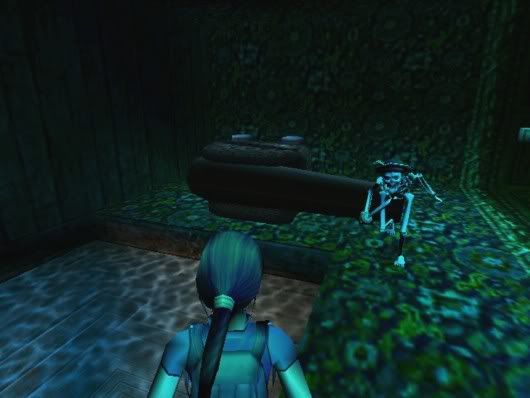 Another sight of the impressing galleon…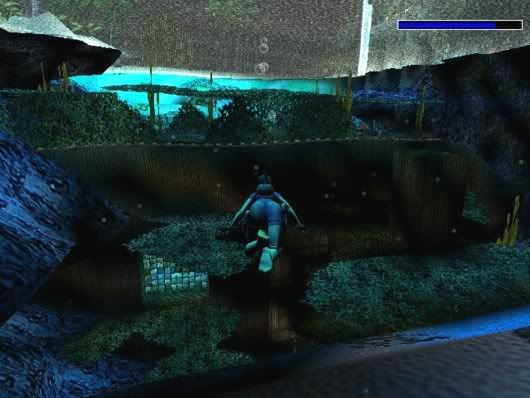 Back on dry ground I could finally start to explore the huts, for I found a way getting into the first one even without a key, just beyond the rocks and roofs…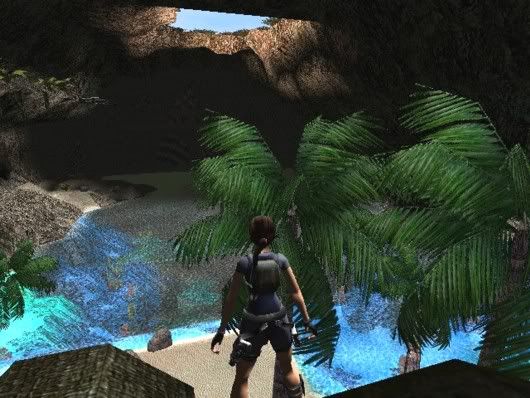 Great, my welcome committee! Battle time again…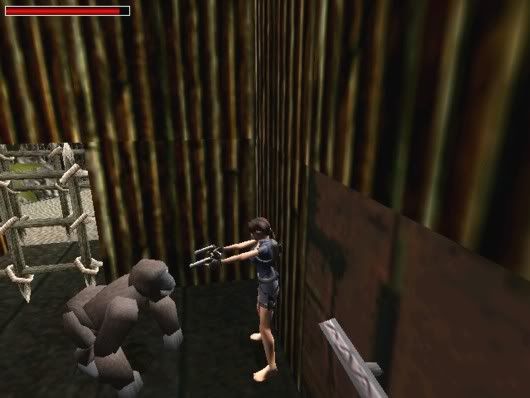 I followed a small underground way, which was very dangerous because of straight leading through some deadly traps, as you can see.
I reached a new room with a big blocked portal. This was my way to continue, but first I had to find out how. After looking around closely I knew where I had to go first. A ladder brought me to a higher ground.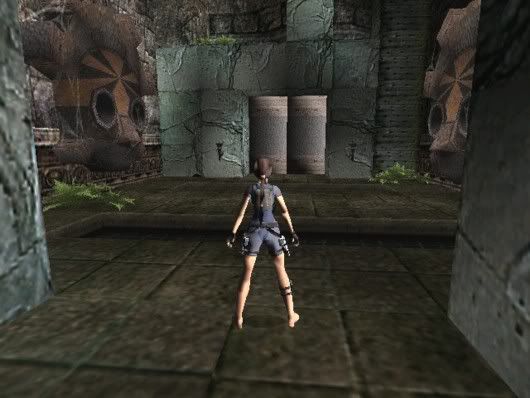 Would I accomplish to open those big doors? And would I finally find the treasure of the sunken galleon? Could I complete the last journey of my beloved parents? You will find the answers if you continue this trip together with me…
Well, a bad way! Spikes hanging from the ceiling, straight along the path I had to monkey swing for reaching the other side. But somehow I had to get through here, and in fact, I could find a possibility…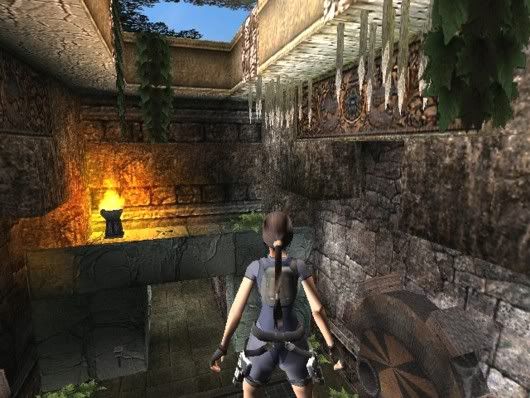 After succeeding I could open the big portal in the end, continuing into the next room. But look what was waiting here for me – further trap and deadly water. It really was not easy to continue here.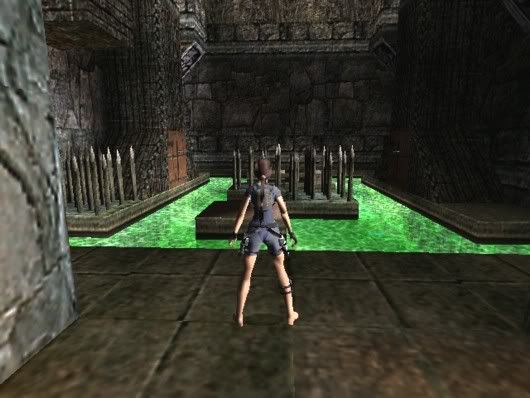 I could get access for the continuing way beyond some raised blocks, leaving the dangerous room behind finally.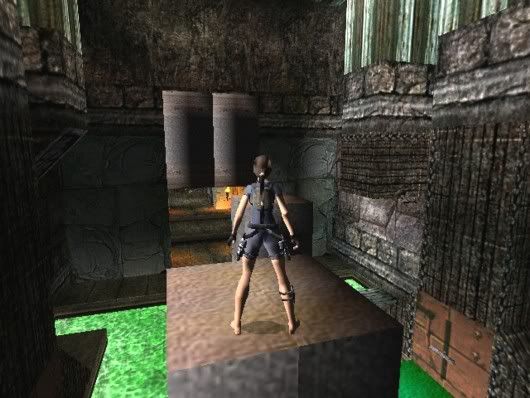 The next part of this adventure. I reached some high platforms, continuing my way with some very acrobatic jumping…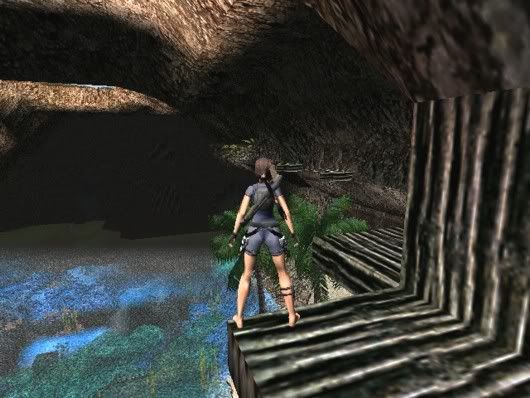 And a further room, containing puzzles as well as new challenges for me. But I was ready for anything then.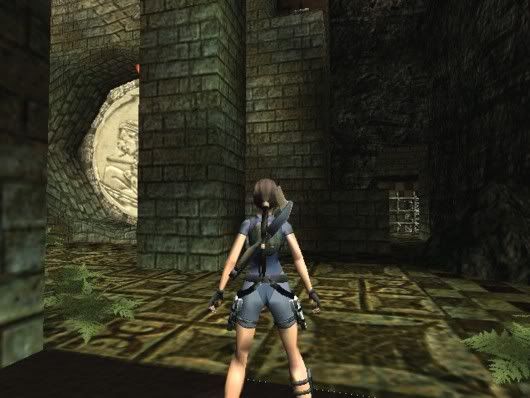 Challenges as jumping combinations…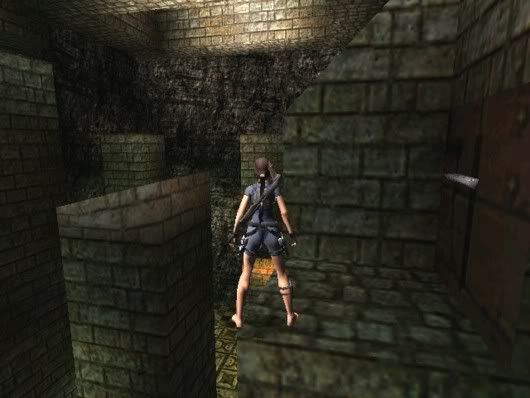 …and even a double time run. But I succeeded in the end!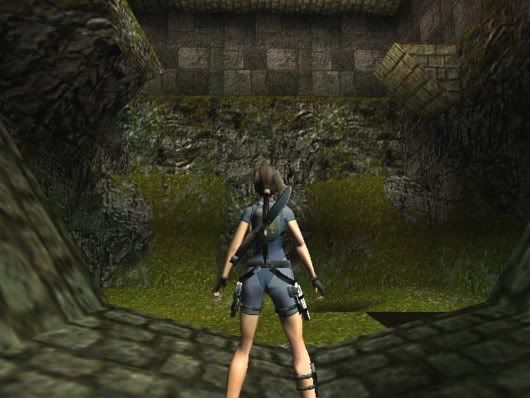 Back in the main area. Meanwhile I had collected three important keys and could continue to a new section of the island…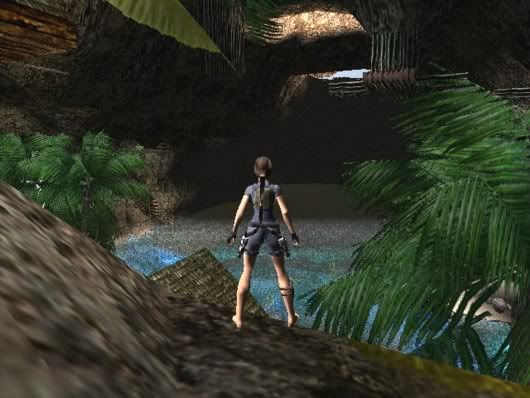 …once more beyond the rocks and roofs of the huts…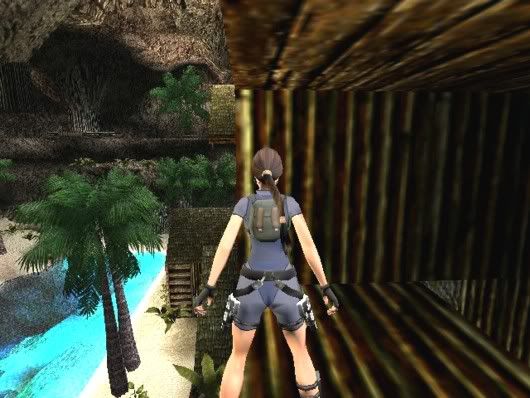 The three keyholes! What would wait for me now? Nothing good, as I expected. And of course I should be proved right…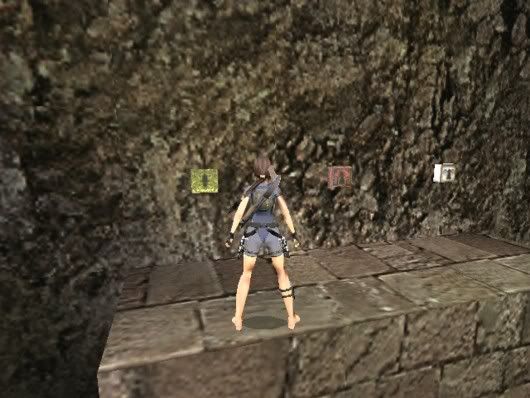 A new challenge was waiting for me. I had to follow a difficult way by monkey swinging a long and uneven path, as you can see here…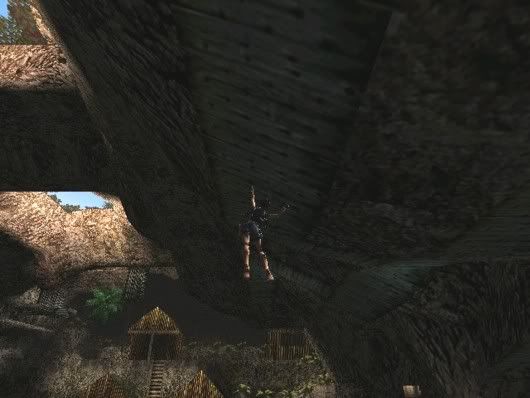 The destination wasn't any better. Fire traps were blocking my way, and no chance to turn them off. I had to do short jumps here to continue, beyond the fire traps, and preferably without bursting into flames…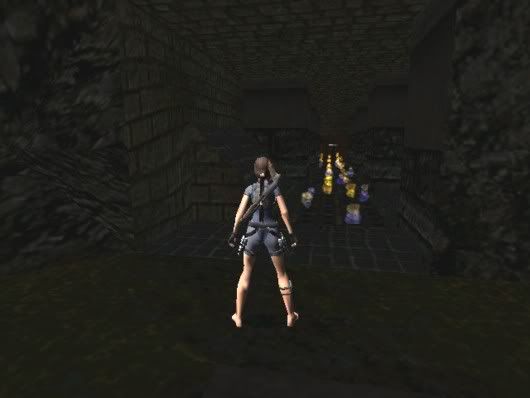 Now it was time to dive again, into the wreck of the Spanish galleon. Taking a very deep breath I was on my way again…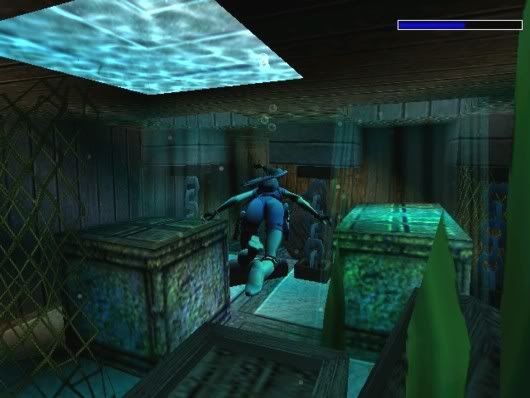 There was nothing of any value in this ship wreck, but at least, solving a little lever puzzle, I was given access to a whole new underground area. On dry ground again I learned my way was still leading me downwards…
Really impressing! After the sinking of their ship the pirates had laid open this huge natural subterranean cave. A really well chosen concealment, and I was whole sure I had finally found the last destination!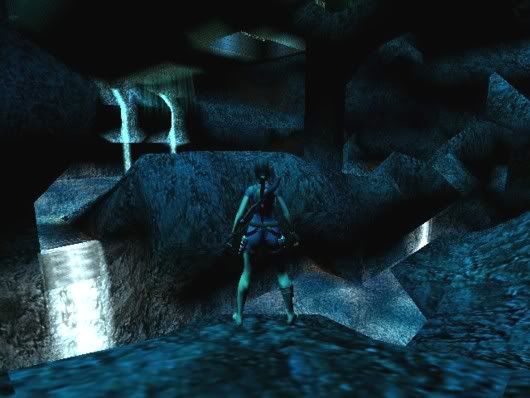 Now it was a matter of right jumping…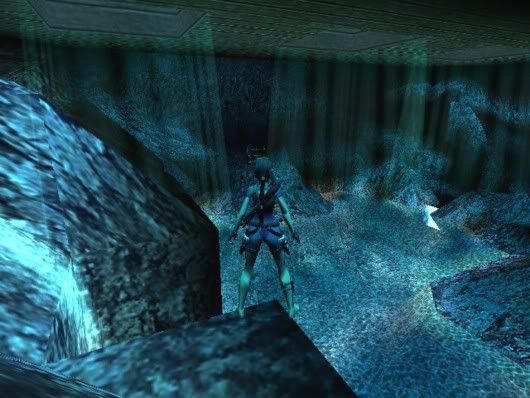 Finally, at the destination! The lost mask of Yophokk was mine! I had completed the last mission of my parents and could return home again. This was a very, very good feeling in this moment, though I was still so sad, of course. And those feelings would stay for a long, long time. Even today sadness still comes over me from time to time, but I learned to live with it. I have no choice…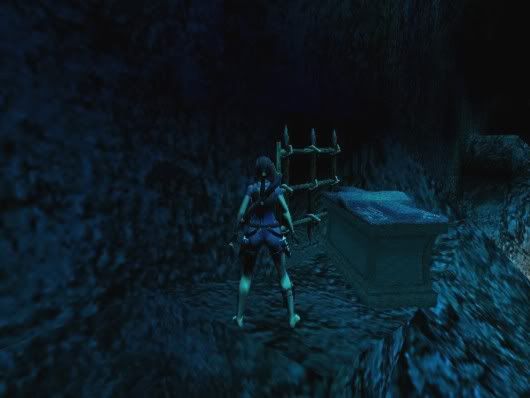 Well, I wasn't safe yet. Taking the mask triggered a last trap, as the whole cave suddenly began to collapse. I had to run for my own life now, through a very narrow and angular tunnel with parts of the ceiling falling down…
Now I was finally safe, and it was a real good feeling seeing the sun again! I could return to my water plane again, leaving this island…
As you can imagine, the mask got a very special place in our mansion. Not in the normal trophy room, but in my bedroom, on a golden pedestal. And my parents now can rest in peace forever…
So much for this story then! See ya, for the next adventure! For there are still so many of them I want to tell you…
The End of Episode 9
---