Annotation:
This story part base on the level "I know what you did…" by Clara & Hochgiftig
Lara's Adventure Diary, Part 10
Hi, friends! Welcome back for adventure, I'll tell you a new one today. But well, it will be a strange and unusual one again. But you won't wonder, for you know me very well meanwhile, would you?
So, first, what do you think about a dress like this for Lara Croft? You are not used to such clothing at me, but I can explain. In fact, I am not a big fan of such "usual" female clothes, and there are only few ceremonial occasions to wear them. For example when I am going to the theatre.
Sometimes I also go to the cinema, but well, no need to wear such clothes then. Something more simple and comfortable also does it then.
The cinema! Now we are at the point! No hunt for artefacts or treasures this time, and also no exploration of future or fantasy worlds. It was a simple cinema visit, for relaxing and recovering after one of my adventures this autumn. But somehow I should have known better, somehow I should have been prepared for the worst. Even with only visiting the cinema for having a nice evening.
But somehow I really didn't, and I wasn't prepared. I wasn't prepared for one of the most horrible experiences of my life...
Well, as I said, this was an unusual adventure again, and also one full of fear. If you never could imagine Lara Croft to be frightened, except for some few moments from time to time, then think it over now. This time there was fear. A lot of fear, as never before experienced in my whole life.
Let me tell you about then…
It was a cold autumn evening in our mansion, straight after coming home from another little Egypt trip – well, yes, sometimes I even still return there for further artefacts – when I decided I would urgently need some rest and recovering. And flipping through the newspaper I found the page with the cinema program.
A good idea, this was what I thought at once, why not going to the cinema after a longer time? This would be a perfect time to relax – but what movie should I choose? Well, what would you think a Lara Croft would like to watch?
So, I decided to choose a horror movie. Normal adventures, fantasy and even Science Fiction, well, I know all those elements from my own true missions. And so I rather wanted to be frightened a little bit, if possible.
Well, that's my kind of recovering then…
My decision was for the movie "I know what you did last Summer". This seemed to be some kind of teen slasher movie, but okay, why not? There was nothing better to find this moment, and so it should be this movie.
After saying goodbye to Winston I left the mansion with one of our cars and drove to the town, to our biggest cinema. And so a night began, a very strange night, I should never forget about any more…
Level 1: The Movie Theatre
Well, I can not show you about the beginning of this cinema trip. Of course my camera was in my luggage again, but it was not activated at first. Who would ever think to need it in a cinema? Also I had no weapons on.
At first all things seemed totally normal. There were not many people in this movie, only a few except myself. But after the movie started, only a few minutes later, something very strange happened. I suddenly fell asleep, though I wasn't tired at all. I could no longer keep my eyes open, and fighting against the tiredness was whole useless. I was sleeping very soon, and all the other visitors with me…
I woke up again five hours later, as my watch told me. Looking around I needed a few moments with understanding where I was and what had happened. The cinema was empty meanwhile, and the movie over a long time. I was whole alone in the cinema, and nobody seemed to have noticed about.
After wondering a few moments I decided to also leave the cinema at once and travelling home again. No need to stay here any longer. The corridors were also left, of course, and I hoped I would find a possibility to leave the cinema at all…
Somehow the whole quietness was really eerie, as I thought…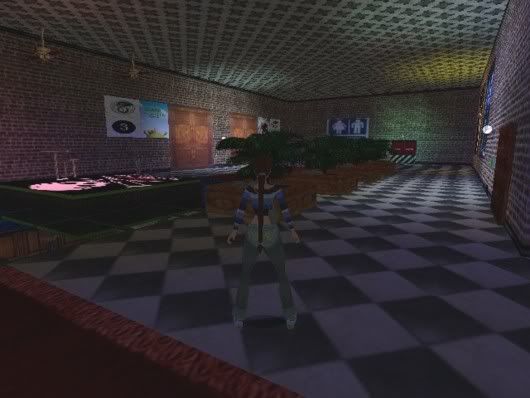 The stairs towards the entrance. A nice cinema, wouldn't you agree?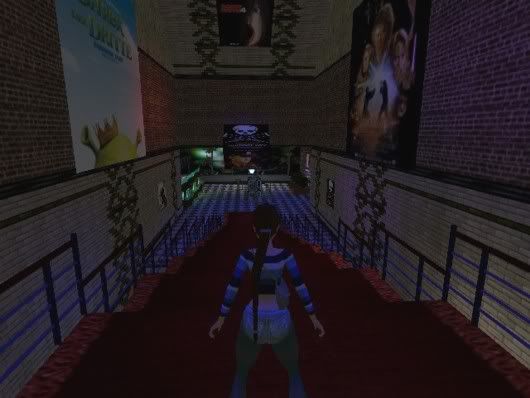 But finally the bad surprise! All doors were blocked, no way for me to leave the cinema any more this night! I also could not shatter any of those windows, because they were unbreakable – great!
A long and lonely night seemed to start…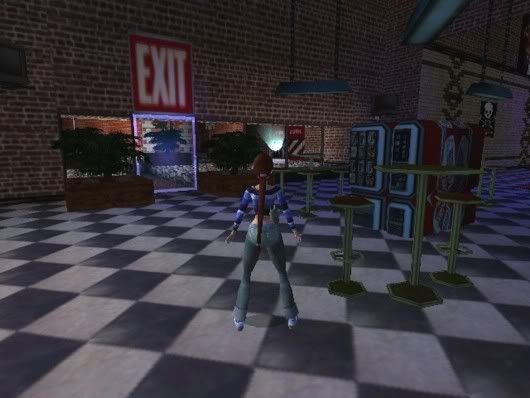 Well, I could not simply sit and wait for the next day to come. So I decided to explore this huge cinema, and perhaps I would even find another way to leave it. And finally I really discovered something. No, not an escape way, but a secret passage.
A secret passage in a cinema? Strange! Of course my curiosity was aroused, and I followed those dark stairs upwards…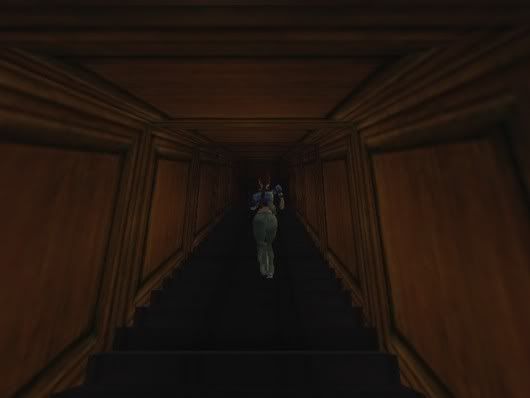 I came to a huge library. Also strange to me, what would a library be needed in a cinema? But well, there is nothing what would be impossible, of course. If anybody would know this best, then me…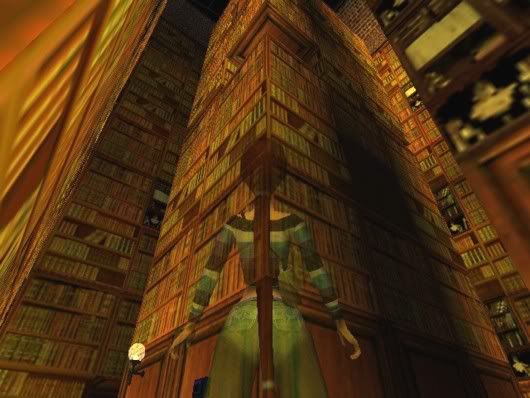 I had to solve some puzzles with switches in this library and also succeed in a timed challenge, in order to get a hidden key at last. And now I was very sure this cinema was keeping a big secret, so I had to reveal it. And this key gave me access to a cloakroom then, where I found a key card…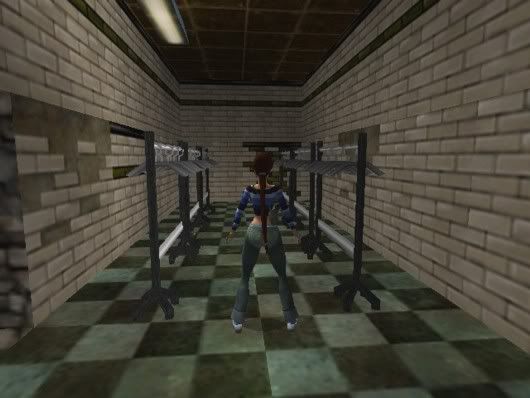 Leaving this cloakroom it suddenly happened. I noticed a guard at a floor below, and I could see him running away, almost as in panic. What was going on here? My camera could not get closer to this eerie scene, but watching it I was very sure about this guard not being alone on this floor. A dark silhouette was following him, but I could only see a strange person covered into a black capuchin. And both persons disappeared behind a door – so, time to do something about this. Though of no weapons I went downstairs and followed the guard without any fear, for it seemed he needed help. I wanted to rescue him, no matter who or what this black shape had been then…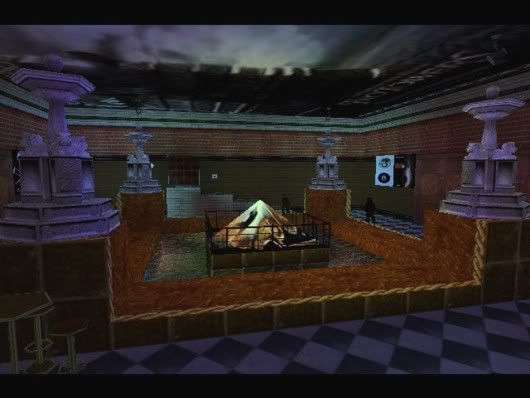 It was too late. The guard was murdered, and the black shape escaped through a ventilation shaft, which was blocked now. I could not do anything here, but taking the weapon of the guard at least.
Now I searched a way to follow the eerie black man, but first there were other problems. For getting a relay to get access to the ventilation shaft I had to destroy a popcorn machine. But instead of popcorn a lot of deadly beetles appeared out of this machine…
There was only one thing I could do now – running for my life! But fortunately I found a way to get rid of those beetles at last…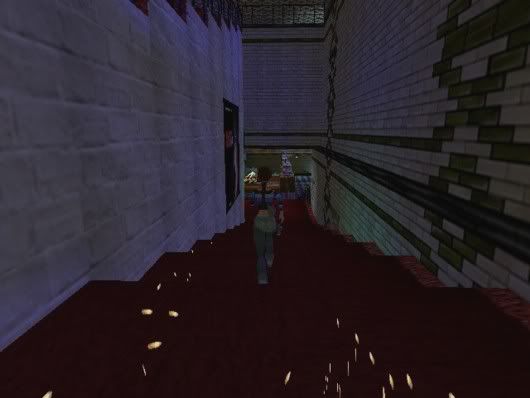 The relay! Now I could follow the strange black shape…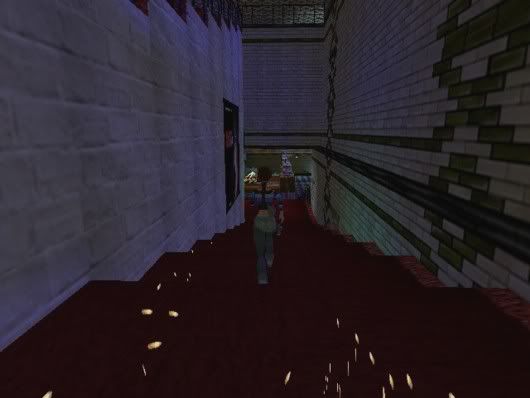 …at least a few metres. The way was blocked again, but I found a key to get access to another room. A huge store room, and it was puzzle time again. I had to move two big crates onto their right positions to get a needed battery in the end…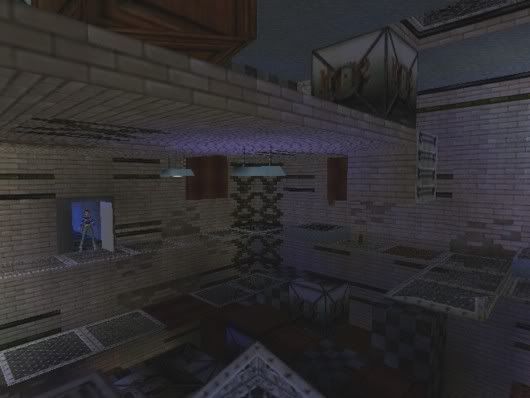 I found the place where to use this battery. And so I could enter the rest room now. There were still no answers about what was really going on here…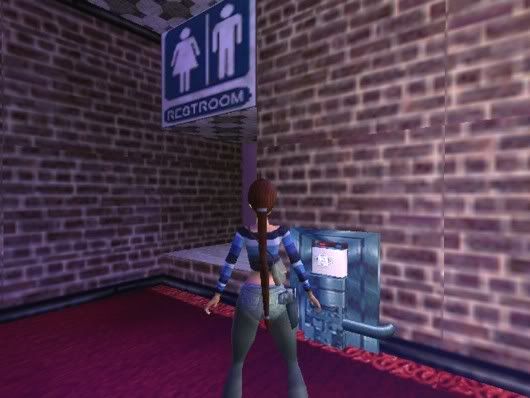 Nothing in here, as it seemed. But the total quietness really got onto my nerves, I did not feel very comfortable in this cinema. Not at all…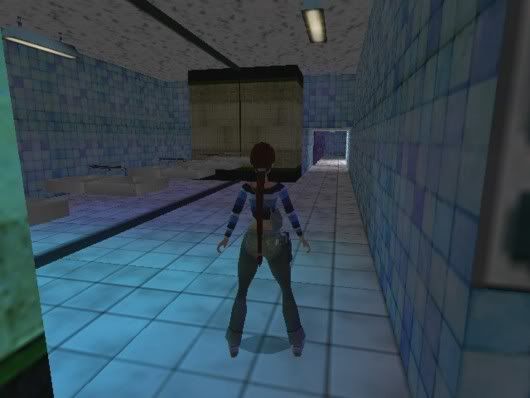 "And then the black man appeared again! I tried to shoot at him, but what another bad surprise – the weapon of the guard did no longer work! Now I really was scared, and I only could run away, as fast as possible! Somehow this damned horror movie had become real, for the black man of it was in this cinema! Somehow he had materialized here, straight from the movie into reality. But no time to search for answers now, I only run for my life. And finally I could escape, the shape was no longer following...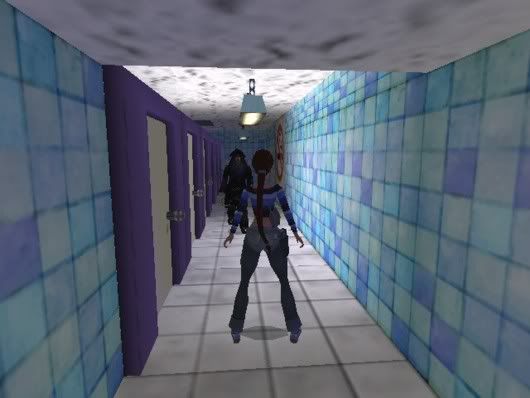 After a while I returned to the rest room. The black man was gone and did not appear again. But he had left something, a paper lying on the floor. Of course I read it, and this is what was written on it:

You are trapped in this cinema, and I have you in my pocket now. You have no chance to escape, if I won't let you go. There is only one way for you to survive, with getting me what I want. Find the golden medallion for me, then you will be free again in the end. But I warn you, for doing so you must get part of the movie yourself. We will meet again there, but I don't know you then. Your life will always be in danger then, so be careful. Only with finding the medallion you can come back to reality; and only with bringing it to me you can survive. Then I can rest in peace finally and will disappear forever – or others will follow my path of the damned after you…

Well, nice, wasn't it? A ghost, a real ghost, which came into our dimension straight from a silly horror movie! I had no idea how this could have happened, but now I was a part of all this. And I had no chance but to follow those instructions. Otherwise, I knew, I would die in this damned cinema.
So, my search for the medallion began – with another timed challenge. I had to reach a higher floor here, to get another needed key…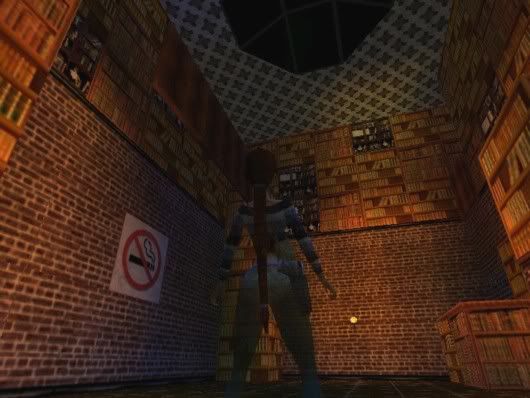 Finally I got access to the Projection Room. I knew what I had to do, the movie had to start all over again – with me as a new part of it. And so I activated it, falling to the floor the next moment. I lost consciousness...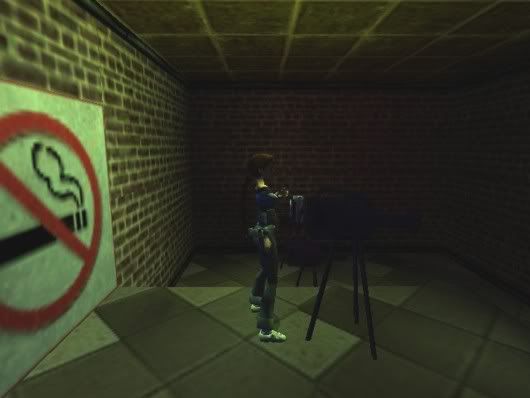 ---