Annotation:
This story part base on the level "Santa Claus" by BaGi and "Lara in the Mountains" by Steve
Lara's Adventure Diary, Part 16
Welcome back for a further charter of my truly unique Christmas story, though I have to admit, I still didn't know it really would be one until this moment of returning home after the dimension of the second crowns. I would rather have believed to be part of a great fantasy adventure, but things are not always just what they seem to be. Not at all. And now there were some strange feelings inside me, after the last chapter, because of the end with that strange phonograph playing a magical Christmas melody. And once more there were questions inside me, during I was waiting for Luuna to appear again. I was very sure meanwhile this adventure would not be finished yet, though of saving the crowns and the dimension key. But I had no ideas what still could wait for me now.
Well, I had to wait not very long, for the current night after arriving home I began to dream again. A wonderful dream of I world I really was so much in love with. The world of all good dreams, the world of Luuna!
She appeared again, speaking to me with her tenderly voice of peace and love. And here is what we talked this time:
Welcome back again to my world, Lara! I am so happy to sea you again, and I knew you would succeed! We all believed in you and your abilities, and all the magical worlds of good and light owe you so much. And though, your journey is not yet over. I even have to tell you the most difficult part is still waiting for you, but I hope you are still willing to continue. For we need your further help…
No problem, Luuna, of course I will continue, as long as all tasks are fulfilled and the dimensions are free of all evil again. But there are further questions after the last part of the journey, and I hope you will answer them again.
I'll try, Lara, so ask your questions!
Well, at the end of the mission with those seven golden crowns I found something very unusual, at least for a magical dimension. I found a record and a phonograph, and as I used both I could listen to a known Christmas melody from Earth. This seemed strange to me, or my so far imaginations about the true background of this journey were absolute wrong. I have some doubts now, and I think you can give me further explanations.
So, this complete incredible mission – is it really about saving your life, or is it rather about something whole different in the end? Could it be possible my explorations would not be what they seemed to me so far? Would all this mission somehow deal with Christmas?
I always knew you are a very smart person, Lara, and this is another reason why we have chosen you for this mission besides your further abilities. And so, the answer is yes. All of this has very much to do with Christmas, and I hope you will forgive me this little deception. But it was necessary, because this mission had to be solved by a special person, and the only one we could imagine for were you. And feeling the spell my presence caused for you I used this advantage to get you on this mission. This happened because I was not sure you would do so with knowing the real truth, I thought you perhaps would not be prepared for it yet. I am sorry, but I saw no other choice…
I am not angry, Luuna, for I can understand you. But wouldn't now be the right time for the whole truth?
Yes, Lara, I agree. You deserve to learn about the truth, and I am sure you will accept it after all you experienced so far. This whole mission was not about to save my life then, for it never can get in danger, as long as I don't leave this dimension. Also nothing evil ever can reach it, we are save here for eternity.
In fact all the danger affects another dimension – more than one, the dimensions of Santa Claus! And yes to your next question, if you want to ask me, he is a real living person, and all those Earth legends about him, they are true. At least parts of them, because at a certain point truth and legends always begin to intermingle. But he is the one being in danger, and if we can't save him all his dimensions will disappear forever. And more, also all the good deeds he is responsible for around your world and beyond…
Well, somehow I'm not surprised, not at all. I began to intuit about something like that within the last chapter of this mission, and after all I saw so far, how could I not believe even Santa Claus is a real living person? And if it is true, that he is in danger, then I will not hesitate to rescue him, if I am able to!
Thank you, Lara, I am so glad to hear about this, for I can not leave my dimension to rescue Santa myself. And yes, you are able to rescue him, now that you have laid the foundation for the last deciding mission. So I tell you about the details now, as I know them, and you will have to find out the rest for yourself. The last answers, however, Santa Claus will give you himself, if you're able to reach him then. But as I believed in you so far, I also do for the future. I know you will rescue Santa and his dimensions, so he can continue with his good work – for eternity.
However, what I still can tell you about this further part of the whole mission is only about the disappearing of Santa, for we presume he has been kidnapped during the evil attack onto his dimensions. All the worlds you visited so far belong to his huge realm, except mine, and there are still more. The evil forces only attacked his dimensions in order to destroy them, but they failed – at least so far. The attack is not over yet, all remaining evil forces on Earth still try to destroy the barriers between the dimensions, but now, with the key and the crowns, the advantage is on our side. We have won time for our last mission, for the enemy can do nothing else now except waiting for the end of the race. This means all further things lying in your hands now…
Please, Luuna, explain this to me!
As long as the dimension key and the seven golden crowns were lost evil had the chance to reveal all secrets every moment and running down all the magical dimensions of Santa Claus. In fact they even partially did, as there was a bloody battle yet between the forces of good and evil. But we could beat off the attack this one time. Now the evil forces are concentrating more and more troops at the barriers of the dimensions of light, and we know Santa's worlds won't be able to survive another wave of attack. Not if the barriers finally would fall. And the dark forces never get tired to run against them – as long as the walls begin to break.
For the moment Santa is only trapped in one of his own dimensions, but if the evil really can conquer his realm, if they can destroy all protection measures there, then Santa will no loner be immortal himself. He would die, and his all his worlds with him. This is the truth, and this is why it is still a race. A race only you can win for us all, Lara. But be careful, it won't be easy! The tasks waiting for you this time will still be harder…
No problem, I am always prepared for the worst! And this is enough to know for me now. Time is still short, and I set out on the next journey at once, if you can bring me into the next destination world. Do you know where I have to start my search?
Yes, I do, Lara. And if you are prepared, then close your eyes. I will get you into the next world of Santa with the dimension key.
Thank you for your faith in me, Luuna! And I will not disappoint you, I promise. I will rescue Santa Claus and Christmas for sure…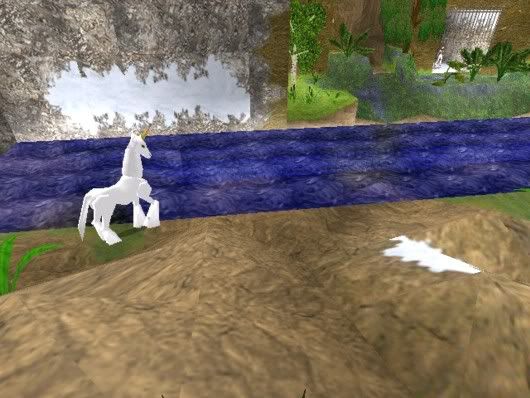 The conversation with Luuna was over again, and I did what she asked me to. Closing my eyes all got dark again around me, and for some few moments I fell asleep again. Then I opened my eyes again and began to smile at once. The world had really changed, and a further part of my whole mission could begin…
---