It has been some years ago again since a new level designer joined our worldwide community of TR Customlevels, trying to create his own levels to contribute the community. Yet his first level, named "The House on a Hill", was a big success, and since then we knew there was shining a new rising star on the heaven of great TR Customlevel designers, and his name is teme9. Until today we received five level projects from, and the way shows us only one thing. The projects only getting better every time.
I had the chance to speak with teme9 again, after my first and early interview with him yet in 2007, and made a new report about it, from looking back to the beginning until the current projects of today. Beacuse teme9 not only works at one new project we can be curious for, no, he works at three new projects at the same time, and I am whole sure, they will only be great successes again.
So, follow me now to have a look behind the scenes of the projects from teme9, on what he works at the moment, and beyond. Let me tell you about his thoughts for the so far way in the community and his work on TR Customlevels. I hope you enjoy like me and will even be more curious for the new projects to come...
The personal site of teme9
- What is your age?
I am 21 years young. Turning 22 during summer.
- Where do you come from?
I am from Finland and my name is Teemu Kettunen.
- Could we also see you on a picture, so we know who the person is behind this talented level designer teme9?
Here is a photo from me:
Older Screenshots:
Nauticus: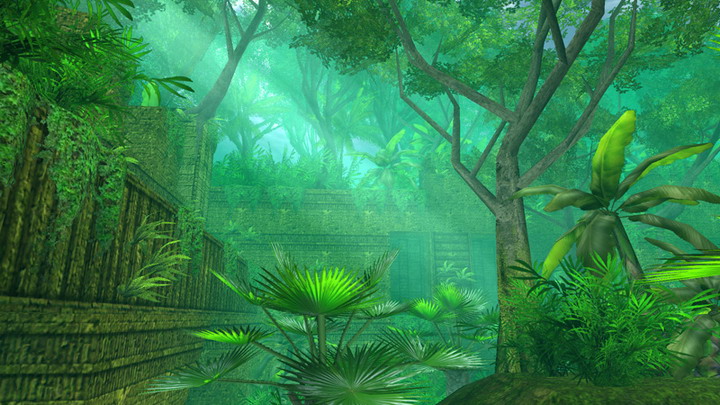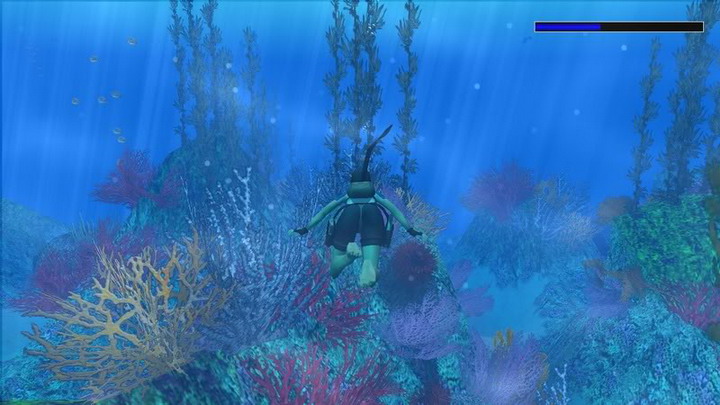 The Mystery 2: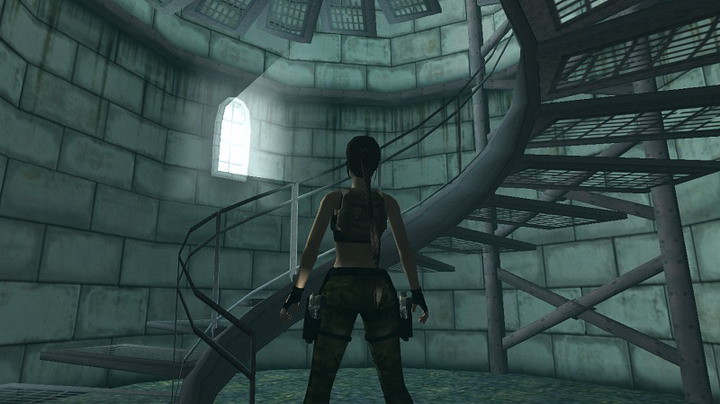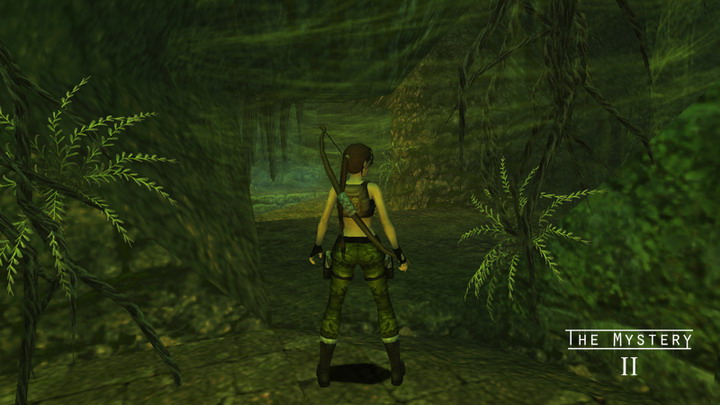 Snowblind: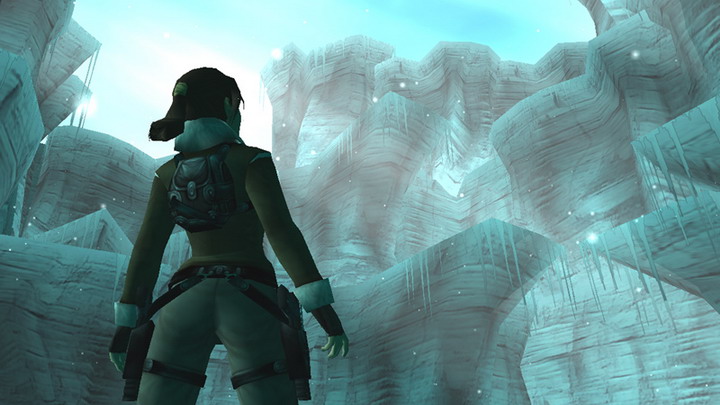 - Well, let us now speak about the past first. Your debut level was released in 2006, so you belong to the newer generation of level designers (as the oldest Customlevel ever was released in 29-Aug-1999).
So, what was the beginning in Customlevels for you? Did you play first? How did you get into creating customlevels? And which tools in addition to the editor did you use in the beginning?
Oh wow... It's has been a while from since when I got my hands on the level editor for the very first time. I think my beginning with custom levels began once I heard that there was a level editor included with TR: Chronicles. It was a must buy for me after that. After having a couple of tries with it I registered myself into Tratlantis which is a Finnish TR fansite. I was able to learn more of TRLE from there with the help of user called Jun. His help helped me to get this far! Later I discovered tombraiderforums and started chatting of level editing there.
My first custom level I played was Lara at the Movies I think. I was stunned by the detail and the hard work the builders had done! Im not sure when I played it though! It was quite near when I heard about TRLE for the first time I think. I can't remember exactly!
When I got my hands on TRLE for the first time I had no extra tools. Only the basic wad and textures. Later on I heard about the Wadmerger and TBuilder. After that I was able to change and add new objects and textures for the old wad and texture files. I can't remember when was the first time I tried to create my own objects. It has been ages since from that.
The Mystery 2 - New Screenshots: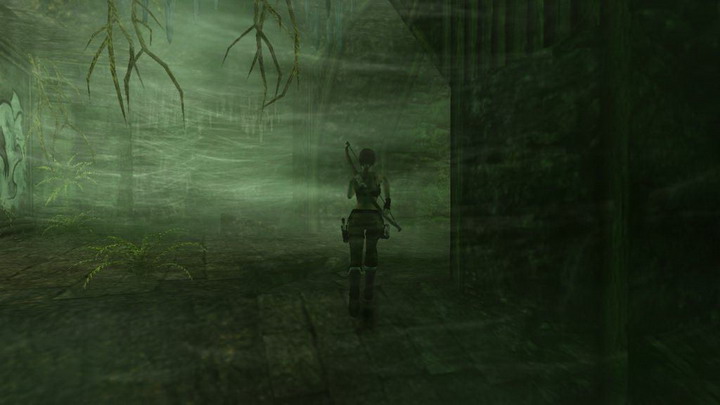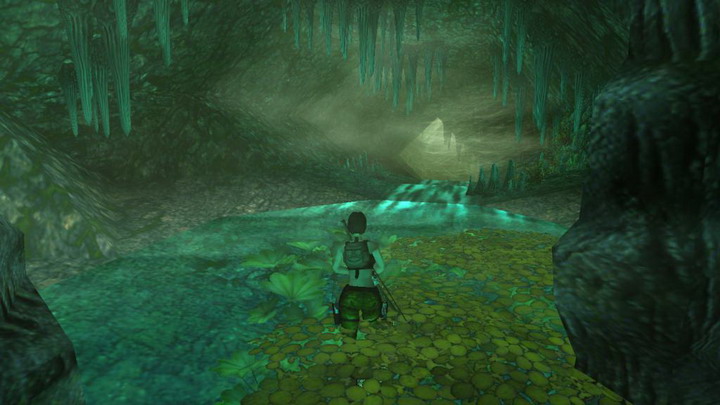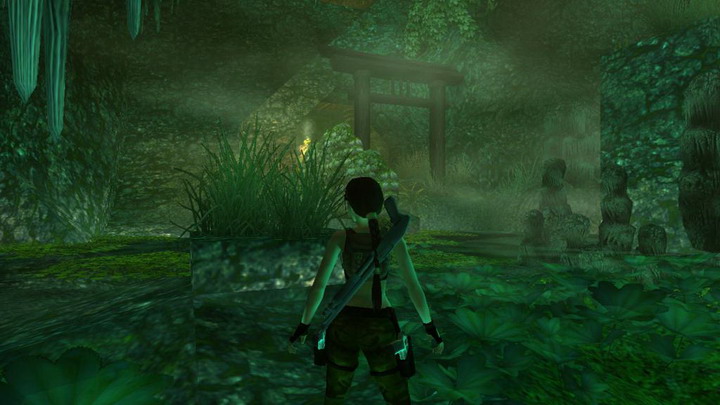 - Since your beginning, from 2006 until today, how did level designing change for you? Are there new challenges today, and does level designing get more interesting with the development of new features?
I think it has changed drastically. When I was building my early levels I did not really plan anything or thought out what kind of story would fit the level. Nowdays Im doing quite a lot of planning before I start doing anything. I collect a lot of material and background info my levels.
The new challenges come with the new features we have gotten with TRNG, TREP and FLEP. Im constantly trying to improve gameplay creating a something unique and really fun to play. Im also trying to do very good looking games but since we're working with very old engine Im not able to do everything as I want. This causes me to experiment with things so I can get the graphics as I want. It is really tough job but usually the work pays off! I've been able to gather a lot of info about the engine so I can create mostly whatever I desire!
- Which new features can you tell us about your level projects, which new elements could we expect?
Well... There will be new gameplay mechanics and new puzzles. Currently im trying to create some improvements on combat. Im still having some issues with it but Im pretty sure that I will get it working sometime. I can't really tell about the details yet! Im also working on to create these "events" in some of my levels which will bring more cinematic or action element to the game. In few levels there will be also some boss fights which will have new mechanics so the player can't just jump and shoot them in order to kill them. There will be also quite a big bunch of new graphical ideas and features which haven't been seen yet anywhere else. So there are quite many new things coming and hopefully they will leave the community stunned! I hope!
- Can you tell us when you started each of your three current levels, which are now in development?
I wish I could remember. There are so many of them! I think the oldest level I'm currently working on is back from 2006 perhaps? That level is from The Mystery levelset. I can't just remember exact years or months. The time flies so very fast! Snowblind is the newest project from me and it was started about an year ago, I think. Nauticus project was started on 2010? I think I need to start writing a timeline of some sort to keep track of these!
Nauticus - New Screenshots: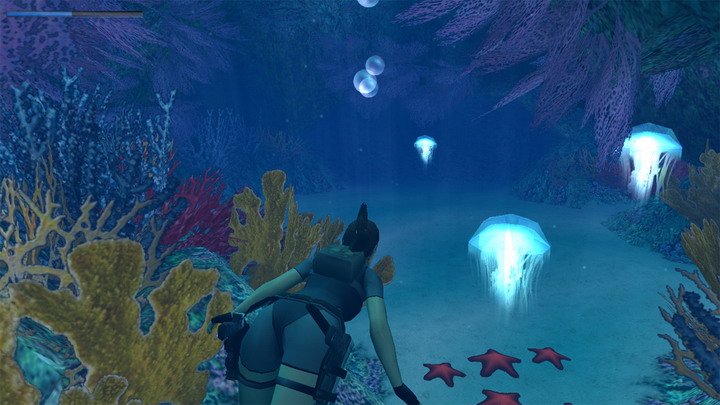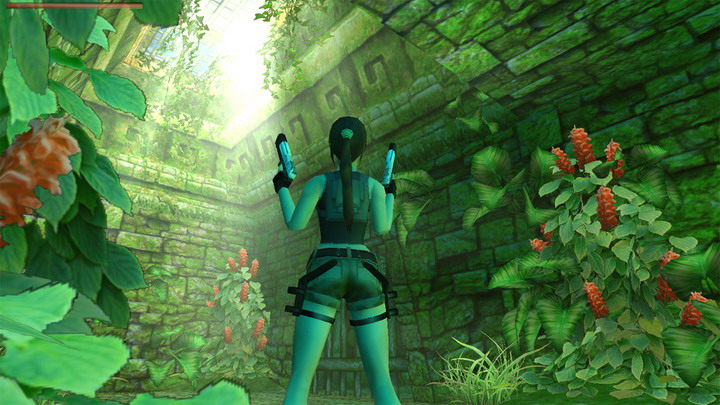 - Can you tell us some more about stories and backgrounds?
Yes! The Mystery is basically about an old artifact which is very powerful and has also caused some disappearences on a small island near Japan. Lara was sent on that small isle to look for the artifact and for the missing persons too. But the objective isn't that easy when there's evil organized group involved who wants the artifact for themselves. The group wants to kill Lara and now Lara must survive and solve the mystery of that Isle. It's basically a survival story with hint of mystery and horror.
Nauticus does not have a very big story but it is basically an ordinary adventure for Lara. Lara is looking for a lost treasure in the depths of the Carribbean sea. It's a pirate treasure she is looking for. She will find the treasure in a sunken pirate galleon, but the galleon will reveal that there is more! So basically Lara goes out for a treasure hunt!
Snowblind... This is project which story is quite hard to tell about without spoiling it! im trying to keep the plot in secret because it is quite suprising at the end. This level set will tell a story of a research base and archelogical team which have found a lost tomb. Lara was supposed to be on time to uncover the tomb but Laras trip was delayed because of a snowstorm. So the other members of the team opened the tomb before Lara. Lara will be late but almost everyone is missing the very next morning when she wakes up at the base. What happened, what is going on? Those are the questions Lara will find answers for! This levelset is basically a horror story.
- Which tools to create do you use for your current level projects?
I use the basic tools: TRNG, Wadmerger, strpix, Flep and the other usual TRLE related programs. But for creating textures and models I use Photoshop and Metasequioa. For FMV videos I use 3ds Max to set up the scenes, lights and animations. I create some new 3d models for the FMVs using a program called Sculptris. I don't use many different kinds of programs to create stuff. Pretty much the same programs that everyone else uses to create their levels I think.
- Can you tell us something about your inspirations? Before creating levels, and also new objects/elements, where do you get ideas from? And how do you create your stories?
I usually do quite a lot of inspiration finding before I start anything. I usually watch movies, pictures and whatnot to gather enough inspiration and ideas for levels. After I have enough inspiration I start creating some basic concepts and ideas where I can see what I want to and need to build. Usually most of my inspiration comes from movies and games. I sometimes borrow some elements from here and there and dress it up differently so it isn't recognized easily that it is from some movie or so on. I don't do that often but sometimes it is fun to create these kinds of easter eggs.
I've written all of my stories by myself. I usually borrow soe elements from real world, from real myths and stories. Also some stories have elements from certain movies. Then I bend them to fit my level. Story writing isn't my strongest side so I usually don't write complicated stories. I like to build few twists here and there but presenting them with gameplay and cutscenes can be really hard at times.
- Another point of interest, as we players have no idea about, are always also the difficulties with working at TR Customlevels, generally and with own projects especially. Working at Customlevels certainly is not only fun, can you tell us about the difficulties you have to deal with at your own projects?
The biggest problem is lack of time. Im having a quite busy life currently and I can't just concentrate on building much. I have quite good plans though which help me keep on going without any wasted time. There are also those days when I don't have any energy to do anything creative so.. that is also one of the biggest difficulties I've ecountered. There are always those technical limations too which cause a lot of trouble sometimes. Usually these are about the engine not being enough powerful to run the scenery or just my flaws in my TRNG scripts. Scripting isn't easy for me!
Snowblind - New Screenshots: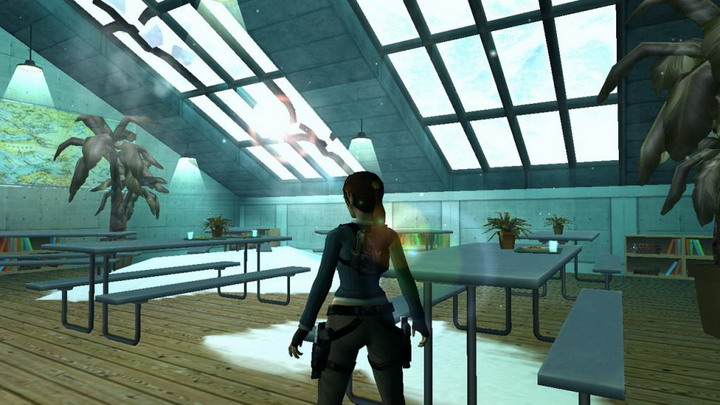 - Have there been limits, or even frontiers, you had to give up things you actually wanted to create for your levels?
There are a lot of them! I wish I was able to list all of them, haha! The biggest limit is the engine which is getting really old now. The engine limits quite a lot but I think that makes doing things more interesting. Without these limits I would've never experimented with things so much as I have now! Without these experiments I would never have succeeded creating some of the unique things I've created so far.
As for example I wanted to create a very realistic water surface for the Nauticus starting level. The editor does not support realtime water reflections so I had to think another way to do it. I was able to create quite convincing water surface with few tricks! It can be seen on youtube:
There are also some compromises done - they're mostly about the detail in my levels. I need to tone down the amount of details on some the sceneries - I don't like doing that. I wish the engine could handle all the detail I want to put into my levels. But I think that the levels are looking pretty good after reducing the details. So I think this isn't so big problem after all.
Most of the time I'm able to overcome these obstacles with a lot of brainstorming but sometimes that does not work though! The biggest limit or frontier which I haven't been able to vanquish is the amount of hours in a day! I need more hours per day...
- And the final question, of course always one of the most interesting for the community, can you tell us something about the release dates yet?
The release days tend to get pushed and pushed. Especially since I've been very busy lately. I've been hoping to be able to build more but time is really limited currently. I was hoping to get Snowblind out for the public during Christmas 2013 but im not sure will I make it. I just have to hope and work intensively during summer if I want to finish the level set in time.
The Mystery and Nauticus does not have a release date set in stone yet, but they're slowly getting done. I hopefully will be able to release these in a few years! But I can't really say anything for sure yet.
- Thank you very much for taking the time to answer my questions and to let the community take part at your work at the new projects.
BONUS
Making of the new projects - a look behind the scenes of working with the editor and additional tools:
Concepts:
Concept1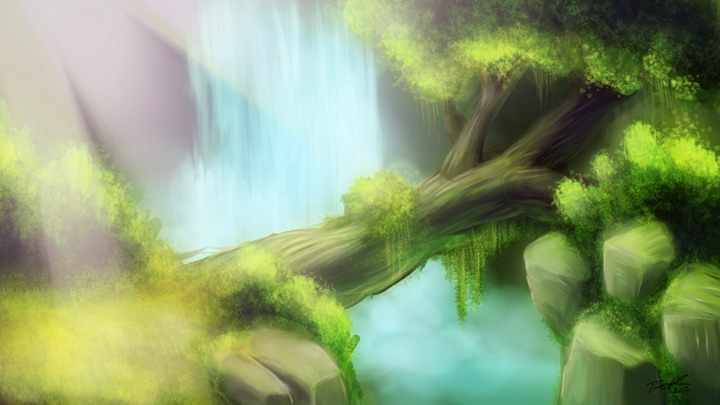 This is a mood picture for the Nauticus. I sometimes paint these mood pictures so I can remember how the game is supposed to feel while it is being played. This picture sends quite clear signal that the place is little bit magical, warm, sunny and untouched by humans.
Concept2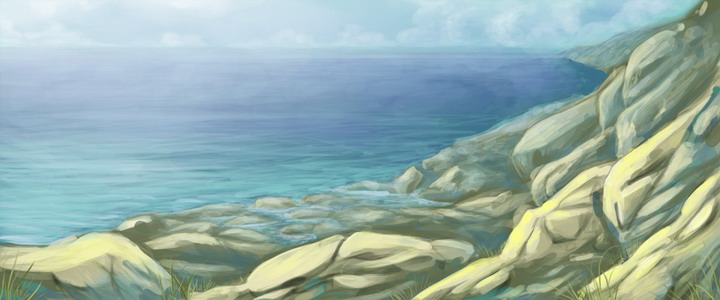 This is a concept art for The Mystery. I wanted to create a barren shore for the level set. I ended up drawing the beach during daylight with clear skies even though the place will be foggy. This basically shows what kind of elements the shore should have.
Concept3
Mayan ruins. In this picture I'm looking for certain colourscheme for my level. This is a concept art picture for the Nauticus level set. This is from the third level.
Pictures from the editor:
edit_mys1
Here's an editor shot from the Mystery. This place can also be seen in one of the screenshots in this interview.
edit_nauti1
This a rough level shape for the beach level for the Nauticus level set. This is pretty early work still. In this phase there are no objects or textures. Im only building shape here.
edit_snow1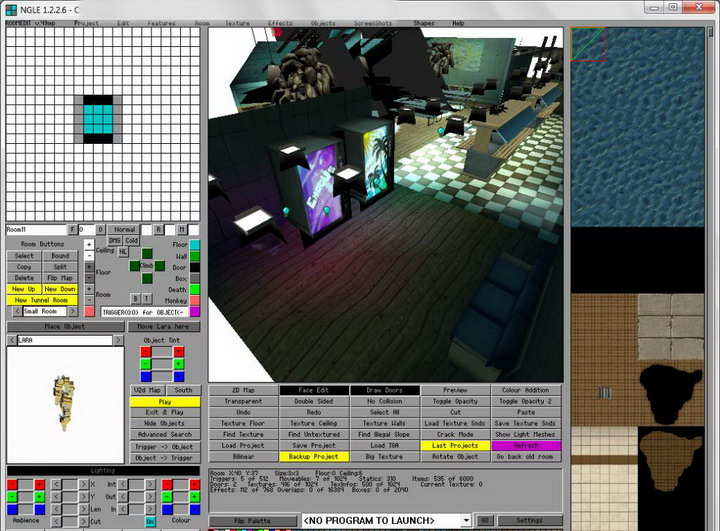 Here you can see a small glimpse how the adventure Snowblind is shaping up.
edit_snow2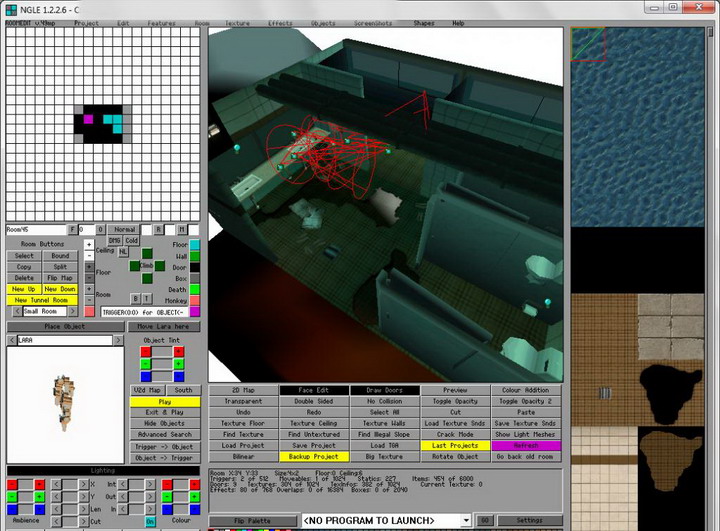 This a bathroom from Snowblind adventure as you can see there is quite an interesting flyby camera scene. In this screen you can also spot two fake reflection rooms. One grey at the right and one reddish at the bottom. I use a lot these since they can make some of the detail look like that they're shining! Im using the grey room to fake mirror reflection and the reddish room at the bottom to create water reflection on the floor.
Meta Pictures:
meta_enemy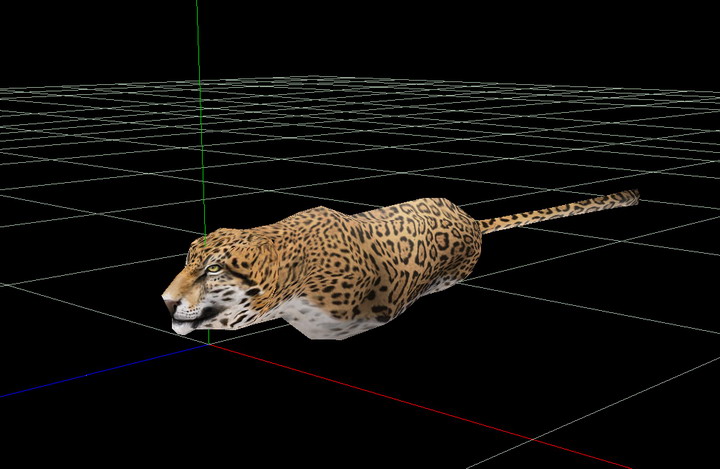 Jaquar for the Nauticus. This enemy is going to see daylight in the Nauticus adventure. I have painted almost all of the textures for this enemy by hand. There are some photomatipulation involved in the creating process though! It can speed up the process by a lot if I don't need to paint every detail by hand.
meta_plant
Decorative item for Nauticus. Im using lush and big plants to decorate the environments. Textures on this item are mix between photos and hand painting.
meta_plant2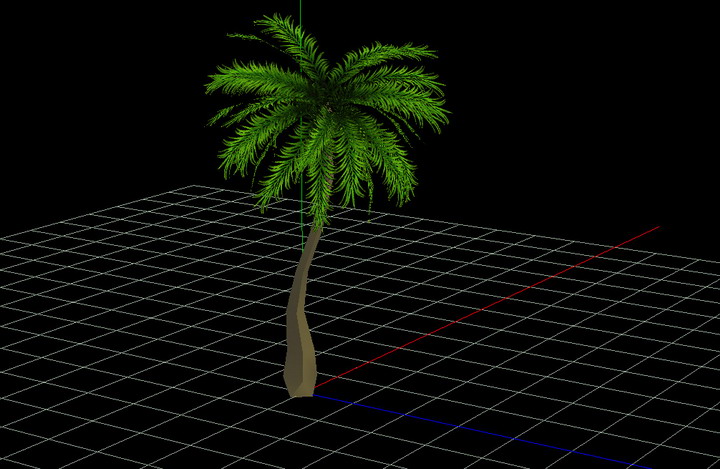 This is a new palm for Nauticus adventure. This must the fift or sixth version I guess? Im almost never satisfied with the palm trees I create but this one is looking pretty good so far! The leaves are painted 100% by hand. This palm tree has less than 250 vertices so this palm would also work on the old version of the editor and engine! The bark is unfinished.
untextured_1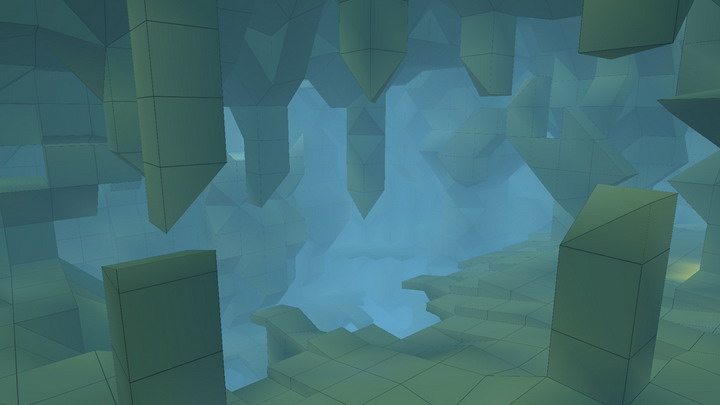 Here you can see a glimpse of the scale of one level from the Mystery. This is pretty early piece of work since It does not have any texturing on it. Texturing is probably the most tedious phase in level building. I wish we were able to paint textures directly to surfaces!.