Decorated Easter cookies
by Blu
Sweet cookies to cheer this Easter time (or every moment) ^^
INGREDIENTS
500gr flour
250gr butter
200g sugar
2 eggs
½ packet of yeast (ca 8gr)
lemon zest or ½ vial of lemon flavor (1ml), 1 tablespoon of cinnamon powder, cocoa powder (or whatever you prefer to differentiate the cookies taste)
sugar glaze (made with powdered sugar, some tablespoons of warm water, food coloring
colored sprinkles (decorations)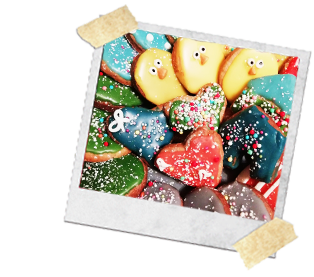 METHOD
Prepare the shortcrust pastry: in a large bowl combine the butter and sugar; then add the eggs, the flour with a pinch of salt and the yeast. Knead the dough until is soft, elastic but not sticky, then divide it into parts as many as the tastes (in this case three) and in each add the ingredient to give different flavor. Make a balls, wrap the pastry in plastic wrap and store in the refrigerator for at least 30 minutes. Preheat oven 180°C. Roll out the dough on a floured work surface (or between two sheets of baking paper) to about 4-5 mm thick. Use your favorite cookie cutter and cut into different shapes; I had no egg-shaped molds at home, so we cut the biscuits with the help of cardboard tubes (toilet paper) and detergent caps (obviously washed) pressed with fingers to ovalize them.
Bake the cookies for 10 to 15 minutes, until the edges begin to brown. Allow to cool to room temperature then glazing the cookies with the icing and decorate as you wish.
DECORATIONS
Put the icing sugar into individual bowls and add food coloring; add additional water, about 1 teaspoon at a time until you've reached the consistency you need. It should be thick enough that it does not run off the edge of the cookie, but thin enough that it will flow and fill in all the surface. When the icing is still wet added sprinkles to decorate.