ROTTR 20 Year Celebration: 100.000 Crediti in regalo
Rise of the Tomb Raider: 20 Year Celebration verrà rilasciato la settimana prossima per la gioia di tutti i giocatori su Playstation che hanno dovuto attendere tutto questo tempo, ma anche di quelli per PC e Xbox One che potranno accedere, con l'occasione, a "Blood Ties" (Legami di Sangue), il nuovo capitolo della storia ambientato nella Croft Manor e "Lara's Nightmare" (L'incubo di Lara), stesso livello in zombie mode, nonché otterranno il supporto della modalità cooperativa per l'Endurance Mode (Modalità Stoicismo), il nuovo livello di difficoltà "Extreme Survivor" senza checkpoints (Questione di Sopravvivenza), i nuovi completi classici, armi e carte aggiuntive.
Crystal Dynamics per festeggiare regalerà 100.000 crediti del gioco per l'acquisto di Pacchetti Carte Spedizione; tutto quello che bisognerà fare sarà giocare a Rise of Tomb Raider in qualsiasi momento dal lancio fino a martedì 18 Ottobre alle 11:59 pm PST (08:59 am del 19.10 in Italia) .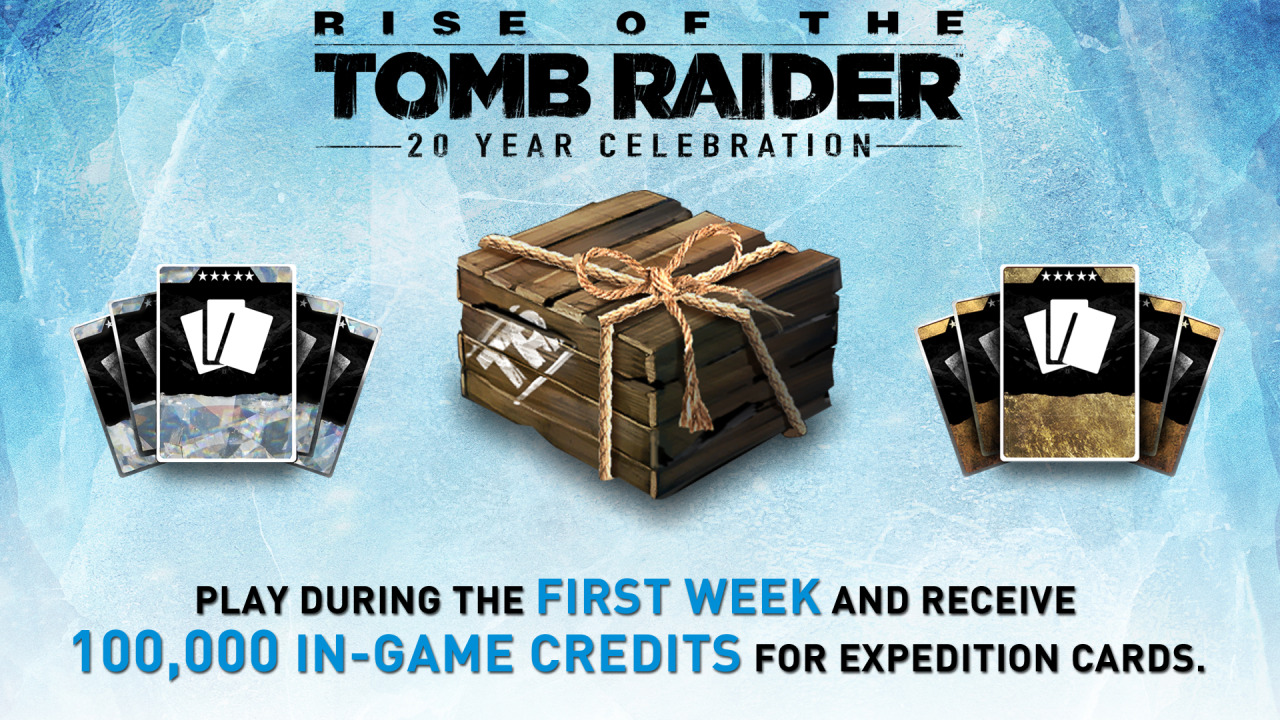 Questa promozione è valida su qualsiasi piattaforma in ogni paese del mondo, quindi sia se si sta giocando sulla PS4, Xbox One, Xbox 360 o PC, l'unico requisito è quello di disporre di una connessione a internet per accedere al server.
Preordina il gioco su BuyROTTR.com, a breve il nuovo trailer di lancio ufficiale di Rise of the Tomb Raider: 20 Year Celebration, stay tuned ^^
Link Utili: Articolo sul Blog ufficiale di Tomb Raider | Topic dedicato sul forum