[Aspidetr.com 13th Anniversary] 2004-2017
Oggi festeggiamo il 13° compleanno del sito/forum di aspidetr.com!! Come sempre un ringraziamento speciale a tutti voi raiders che ci seguite e contribuite a rendere questo luogo unico e particolare, e naturalmente a tutto lo Staff e a tutti i collaboratori per il tempo e la passione che mettono in tutto quel che fanno.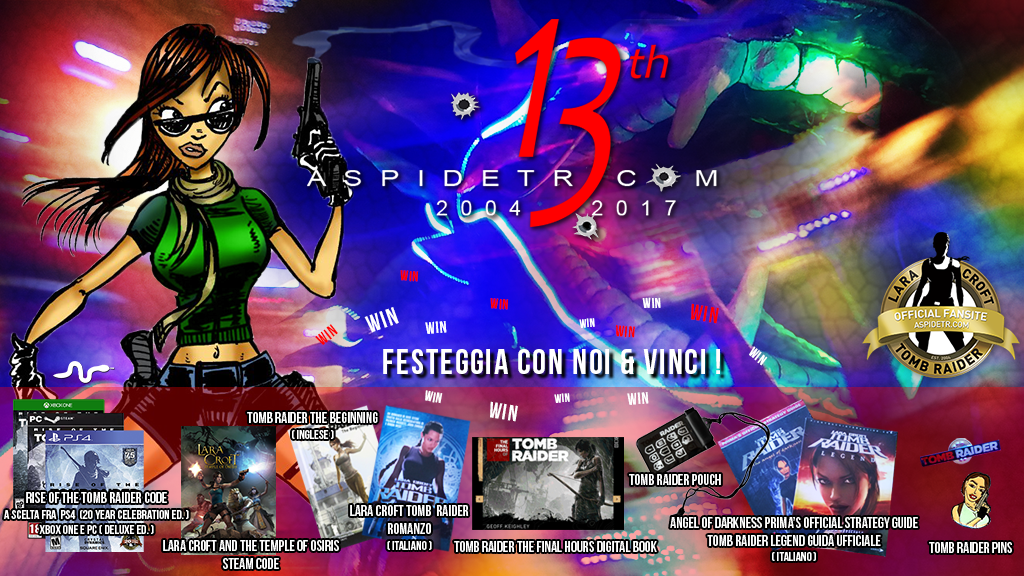 E' tempo di regali! Per festeggiare assieme l'anniversario abbiamo deciso di organizzare un veloce contest su FB: se non lo avete ancora fatto mettete "mi piace" alla pagina Facebook di Aspidetr.com e al post del giveaway, inserite nei commenti il premio che vorreste, potreste essere fra i cinque fortunati vincitori!
Premi
Rise of the Tomb Raider code: a scelta fra PS4 (20 Year Celebration ed.), Xbox One e PC (Deluxe edition)
Lara Croft and the Temple of Osiris Steam code
Tomb Raider: the Beginning, comics (english language)
Lara Croft Tomb Raider by Dave Stern, romanzo (italiano)
Tomb Raider the final hours digital book (en)
Tomb Raider Pouch
Angel of Darkness Prima's Official Strategy Guide (italiano)
Tomb Raider Legend Guida Official (italiano)
Tomb Raider Pin: a scelta fra scritta Tomb Raider e Lara Croft
Info
I nomi dei vincitori verranno estratti tramite random.org dalla lista dei partecipanti e potranno, in ordine di estrazione, ottenere uno dei premi fra quelli elencati. I vincitori verranno contattati per PM e avranno 7 giorni per rispondere altrimenti il premio passerà a un altro partecipante.
Scadenza: 18.06.2017
Felice Anniversario
!!!
AspideTR & Blu
(and miniadmin Leo
)
Link Utili: 13th Anniversary topic dedicato | Giveaway post on FB