Video Games Live annuncia 14 nuovi shows in Nord America
Annunciate 14 nuove date in Nord America per il Video Games Live: il tour dello spettacolo videomusicale questa volta toccherà città come Los Angeles, Houston, Dallas, New Haven, Columbus, Calgary, Louisville, Salt Lake City e molte altre.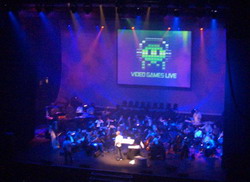 Video Games Live™
è uno spettacolo nato da un'idea di due famosi compositori di musica per videogames,
Tommy Tallarico
(
Advent Rising, Tony Hawk Pro Skater, Earthworm Jim
) e
Jack Wall
(
Jade Empire, Myst III: Exile, Splinter Cell
), e si presenta come un'
esperienza videomusicale totale
, con musica e videoclip a fare da protagonisti in uno spettacolo della durata di due ore. Lo show ha visto la luce nel
2005
all'Hollywood Bowlevard in Los Angeles con la collaborazione della LA Philharmonic Orchestra alla presenza di oltre 11.000 spettatori. Da allora lo spettacolo è stato portato in tour in tutto il mondo ottenendo un largo successo di pubblico (oltre 60.000 spettatori) e di critica.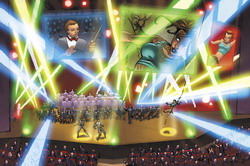 Durante il
Video Games Live™
vengono riproposte dall'orchestra e dai cori
le musiche dei videogames più famosi
, dall'inizio del videogaming ad oggi,
combinati con video footage, lasers, luci e azioni per uno spettacolo indimenticabile.
Il concerto propone musiche tratte da:
Mario™, Zelda®, Halo®, Metal Gear Solid®, Warcraft®, Myst®, Final Fantasy®, God of War™, Kingdom Hearts, Castlevania®, Medal of Honor™, Sonic™, Tron, Tomb Raider®, Advent Rising, Headhunter, Beyond Good & Evil™, Splinter Cell®, Ghost Recon™, Rainbow Six®, EverQuest® II, un Medley di oltre 20 Classic Arcade da Pong® a Donkey Kong® , fino a classici come Dragon's Lair, Tetris, Frogger, Gauntlet, Space Invaders & Outrun!

Ogni concerto è accompagnato da importanti convegni/conferenze con relatori i protagonisti del mondo del videogaming. Oltre alle annunciate date in Nord America, il VGL prevede di portare lo spettacolo in Europa (Italia compresa), Asia e Sud America; le informazioni relative al calendario e all'acquisto dei biglietti si possono trovare alla pagina dedicata sul sito del VGL: www.videogameslive.com/dates .