XPC SN45G – "Limited Tomb-Raider Edition"
Per gli appassionati di Tomb Raider e di modding oggi in rete è possibile trovare l'XPC SN45G nella "Limited Tomb-Raider Edition".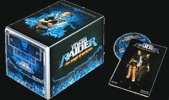 Gli XPC sono mini-pc il cui concept pubblicitario era inizialmente improntato tutto sul risparmio e sulle dimensioni ridotte e che ora punta con decisione sul design e sulla qualità dell'hardware in dotazione, con particolare attenzione alle capacità multimediali. Una delle aziende più conosciute nella produzione di questa serie di sistemi compatti è la Shuttle, un produttore taiwanese che in questo campo sta conoscendo un momento di successo commerciale realmente importante.
Quando è nel 2003 è stato pubblicato AOD la Shuttle ha realizzato per il suo lancio una versione speciale del suo XPC SN45G, la "Limited Tomb-Raider Edition" comprensiva di:
– XPC e confezione dal "Tomb Raider – the angel of darkness" design
– una copia del gioco con i due CDROMs ed il manuale
Questa edizione è stata rilasciata in solo 1000 pezzi ed il prezzo oscilla tra i 200 e i 380 euro a seconda dei siti di vendita.

Per ulteriori informazioni ed immagini clicca qui.