Shadow of the Tomb Raider, guida ufficiale
Direttamente dalla rete le prime indiscrezioni sulla Guida ufficiale di Shadow of the Tomb Raider realizzata da Prima Games.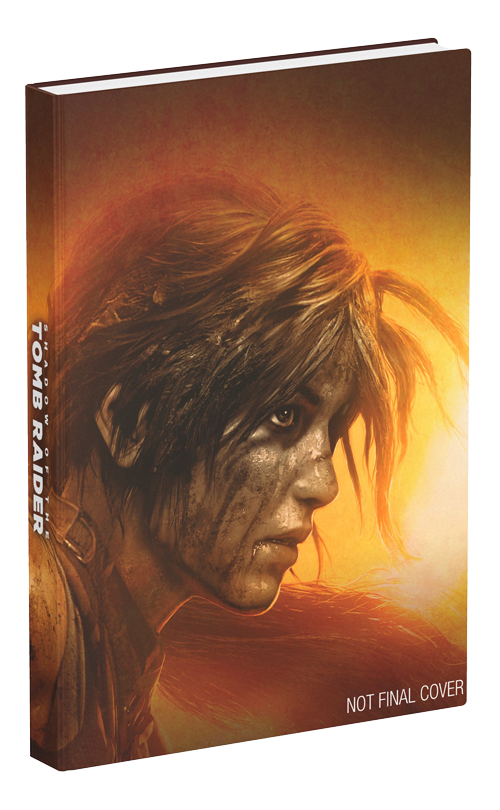 (cover provvisoria)
Sul sito internazionale di Amazon e e su quello francese è stata aperta la prevendita per acquistare l'Official Collector's Edition Guide di Shadow of the Tomb Raider; il prezzo è di circa 35,00€ e sarà disponibile, come per il gioco, dal 14 Settembre 2018.
Questa la scheda con i contenuti della guida:
Go Beyond Strategy

—Immerse yourself in Lara's world with this Collector's Edition Companion Tome from Prima Games!

Experience Lara Croft's defining moment as she becomes the Tomb Raider. In Shadow of the Tomb Raider, Lara must master a deadly jungle, overcome terrifying tombs, and persevere through her darkest hour. As she races to save the world from a Maya apocalypse, Lara will ultimately be forged into the Tomb Raider she is destined to be.

Compelling Interviews and Look Behind the Scenes: Hear from the talented minds behind Shadow of the Tomb Raider! Includes original, hand-drawn sketches from the Puzzle Designer!

Stunning Fan Art Section: Features pieces from dedicated and talented Tomb Raider fans!

Exclusive Foreword: Written by Gameplay Director, Daniel Drapeau.

Shadow Band Resource Pack: With the in-game resources included in this pack, totaling 30 gold and 15 jade, you can obtain your choice of either a weapon upgrade, outfit top, or outfit bottom, customizing Lara throughout your journey!

Premium Hardcover Book: The gorgeous, exclusive design is a must have for any fan, and features the signatures of the entire development team!

Comprehensive Walkthrough: We lead the way from start to finish—experience everything!

Detailed Maps: Our exclusive, custom maps reveal key locations, crucial items, and hidden secrets—never lose your way!

Digital Bonus: Unlock your digital version of this guide with the free code card included inside. Access your digital guide anytime, anywhere, on any web-enabled device.
Ancora non si sa nulla di ufficiale sulla traduzione in italiano, vi terremo aggiornati.
Link Utili: Topic dedicato sul forum