BtB 2010: Back to Basics Venezia
Torna l'appuntamento annuale con la
Back to Basics Competition
, la competizione che coinvolge Level Designers e giocatori di livelli custom di Tomb Raider in tutto il mondo, organizzata dal sito di
trle.net
quest'anno in colleborazione con
TRForge
.
Mentre l'anno scorso per Lara era stato un vero e proprio ritorno alle origini (
Back to the Roots
), quest'anno la competizione assume una colorazione assolutamente particolare: soprattutto per noi italiani quest'anno infatti il tema selezionato è
Venezia
, con le sue calli, canali e caratteristiche architetture.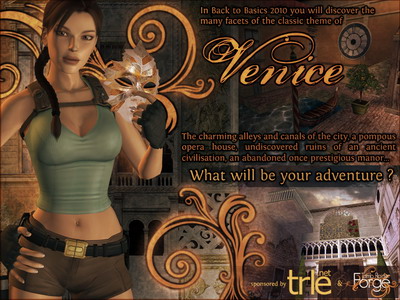 Come per le scorse edizioni la sfida sarà per i Level Designers quella di realizzare un progetto, di circa un'ora di gioco, utilizzando tutti lo stesso materiale di base (il vincitore verrà deciso in base alle recensioni rilasciate dai giocatori), mentre per i Level Players la sfida sarà quella di indovinare il maggior numero di associazioni livello/autore. Maggiori dettagli saranno rilasciati nei prossimi mesi.
Link Utili: Topic dedicato | Topic ufficiale TRLE.net