Magic: The Gathering e Tomb Raider crossover
Con un'anteprima esclusiva su IGN USA, Secret Lair ha annunciato la collaborazione fra Magic: The Gathering e Tomb Raider mostrando per la prima volta il nuovo set di carte da collezione dedicate alla serie di Tomb Raider.
Nel Secret Lair Secretversary Superdrop previsto per la prossima settimana Secret Lair inserirà un drop dedicato a Lara Croft: questo includerà cinque carte ristampate con la nuova grafica di Tomb Raider, un treasure token unico e una nuovissima carta di Lara Croft.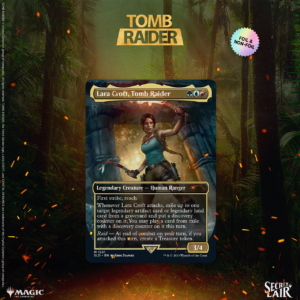 In passato Secret Lairs ha realizzato altri crossover con videogames, in genere si trattava di carte meccanicamente uniche come il drop di Street Fighter oppure di ristampe con nuove illustrazioni come per il drop di Fortnite, ma in questo caso abbiamo entrambe le cose: il Coast Senior Product Designer Daniel Nguyen ha affermato che "L'obiettivo è sempre quello di creare prodotti che rispettino e celebrino i partner e i fan, e contemporaneamente far sì che le carte nel drop sembrino appartenere al deck di qualcuno", spiega Nguyen. "Tutto è importante, ed è un delicato equilibrio da raggiungere. Sono molte le conversazioni che avvengono durante lo sviluppo del prodotto tenendo conto di una serie di fattori diversi, e l'inclusione di carte meccanicamente uniche è uno di questi." E questo spiega il motivo per cui non è una coincidenza che, mentre quella di Lara Croft è una carta unica che potrebbe essere usata come Comandante, le altre carte sono tutte quelle che potreste giocare in un mazzo con lei al timone.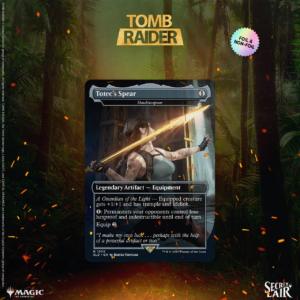 Il drop con le carte di Tomb Raider sarà disponibile a partire dal 20 novembre sul sito di Secret Lair.
(Immagini ufficiali da Wizards of the Coast)
Fonti: IGN USA | Wizards of the Coast
Link Utili: Secret Lair